June 2023 PCS Newsletter
The Pez Collectors Store has had a busy month with new pez releases and a trip to Chicago for the Sweets and Snacks Expo! There are so many new and wonderful pez coming to us soon! It is exciting to know what to watch for and when to watch for it, so we are giving you a rundown in this month's Pez Collectors Store Newsletter! Enjoy!!!
Ghost-Spider has arrived and she looks great with her white hood lined with blue webbing on a pink background and pink outlined eyes. She is known as Spider Gwen to some fans. Ghost Spider looks great and is available as a single pez mint in bag or as part of the Spiderman and Ghost-Spider twin packs that feature Spiderman with Ghost-Spider and Spiderman with Miles Morales. They have awesome Marvel Spiderman Graphics! Both are in stock now in the Pez Collectors Store!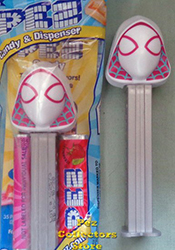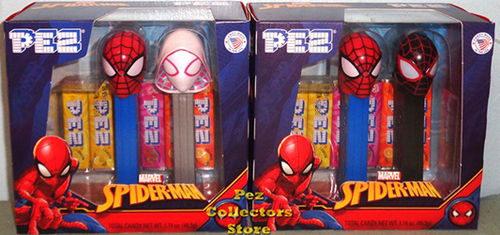 My Little Pony Twin packs featuring Sunny with Izzy and Sunny with Pipp in My Little Pony graphic boxes. These twin packs will surely add some sparkle to your pez collection!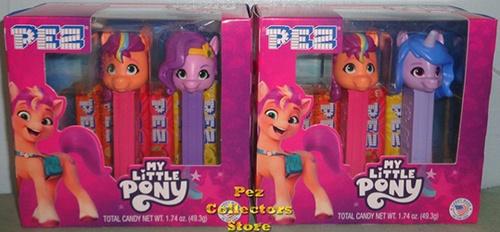 We have just a few of the Pez 1960 VW delivery van in 1/64 scale, featuring the Pez Girl M2 machines back in stock in the Pez Collectors Store. They don't stay in stock long, so be sure to get yours today!
European Playmobil pez are expected to arrive in the Pez Collectors Store by the end of this week!
The new Warner Bros. Looney Tunes Pez will be coming soon! Sylvester and Daffy are the new additions. The full set also includes Bugs Bunny and Tweety which were released as part of the Space Jam pez assortment in 2021.
We attended the 2024 Sweets and Snacks Expo to see all of the various new Pez scheduled for the rest of 2023 and get peeks at those coming to us in 2024! We took lots of pictures and talked at great length with Pez Sales Reps at the expo. While at the Pez booth, we received a 2023 Sweets and Snacks Expo limited edition exclusive Pizza. One wall of the booth shows the design of the card with the Chicago skyline and In Pizza we Crust saying which is printed on the stem of the pizza Treats dispenser.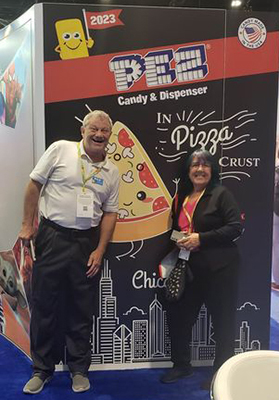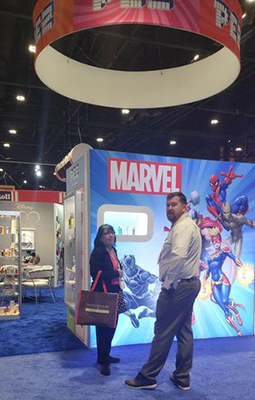 We expect the following to be coming in 2023:
June 1, 2023 Superman new mold with outlined S in the Superman logo

July 1, 2023 Pokemon Pez Twin Pack Pair with Winking and Laughing Pikachu and Pokeballs
September 1 new Ahsoka joins Mandalorian pez asst.

September 1 Disney 100 years Disney Gift Tin with 'Platinum' metallic silver Disney characters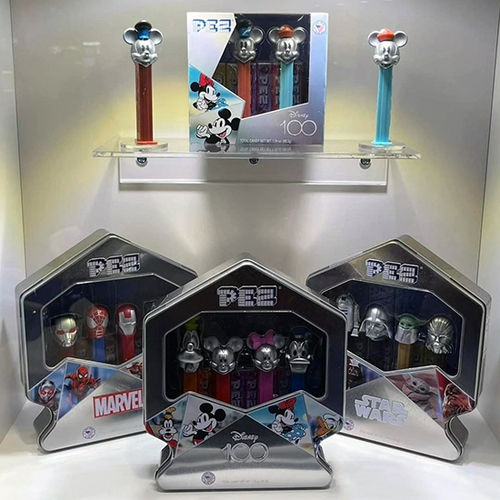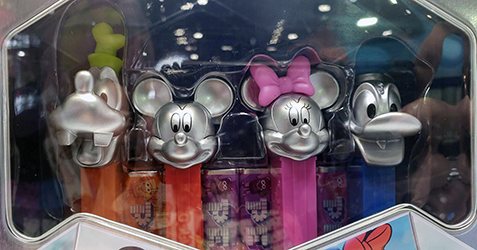 September 1 Disney 100 years Marvel Gift Tin with 'Platinum' Marvel characters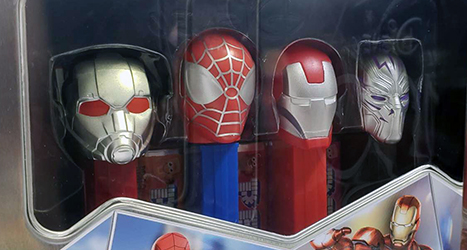 September 1 Disney 100 years Star Wars Gift Tin with 'Platinum' Star Wars characters
September 1 Disney 100 years 'Platinum' retro Mickey and Minnie twin pack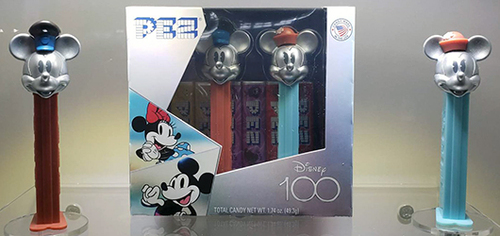 September 1 Disney 100 years 'Platinum' Giant Mickey
September 1 Liberty joins Paw Patrol asst. and twin pack with updated Liberty graphics

September 1 new Reindeer added to Christmas asst.
September 1 Christmas Tree with lights on Red Stem (only in tubes)
September 1 Snowman full body ornament in Gift Box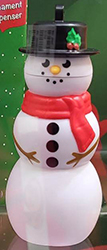 September ? Paskesz Chanukah Kosher Dreidel Pez
November 1 Valentine Bear Twin Pack
December 15 Easter tubes Bunny with Carrot on green egg

December 15 Full Body Bunny 'Ornament' Happy Easter Gift Box. Notice that the bunny even has a little tail molded on the backside!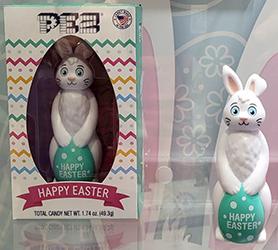 2024 pez releases on display at the 2023 Sweets and Snacks Expo include some paint-ups – model dispensers that have been painted instead of molded with the desired color plastics and these appear shinier than the molded finished pez. The carded pez are also often mockups with a new image pasted to an existing card since the final card versions have not been made yet.
January 15 Popcorn joins Pez Treats asst.
January 15 Mickey Sorcerer Hat
February 1 Gabby wearing a Pandy Paws Ears headband joins Gabby's Dollhouse asst. and in a new Twin Pack

February 1 Barbie assortment blonde, brown, purple and brunette. Notice that the Blonde Barbie on card is actually a mockup with the Barbie card graphics pasted to a What-A-Burger card. Notice the blister is loose at the top and the hanging hole can be seen on the What-A-Burger card but not from the front of the graphics card.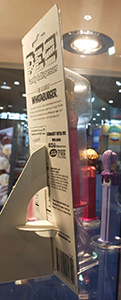 April 1 Sam Wilson the Falcon New World Order Captain America
April 1 Zipp joins My Little Pony asst.

August 1 New Tiana Princess joins the Disney Princesses

The 2023 - 2024 plan is always under development and subject to change, but we hope that most of these dispensers will be available as planned, and, of course, we will have them for you in the Pez Collectors Store! The following items are mentioned on the 2024 Calendar of Events cards distributed at the Sweets and Snacks Expo:
October 1, 2023 New character added to Trolls asst. and twin packs

March 1, 2024 new mold full body Hello Kitty for 50th anniversary

April 1 Space Mission Astronaut and Space Ship

June 1 Despicable Me 4 package update, potential dispenser update

June 1 Lion King asst. update with Simba, Timon and Pumba that will be made with new molds and new Twin Packs

July 1 Moana (one or 2 new dispensers - not confirmed) and Moana Twin Packs

July 1 Blue and Orange Bat for Halloween

July 1 Green girl witch with red hair for Halloween

July 1 Giant Pikachu dispenser

September 1 Amy added to Sonic asst.

September 1 Pineapple shaped 25th Anniversary SpongeBob Gift Tin with 4 new dispensers
Of course, there are always additional pez on the way that we can look forward to. We can likely expect to see an exclusive Sours Pineapple Candy Brick Mascot pez since the other sours flavors have been made. There were also hints of another possible exclusive Care Bear Pez. There will likely be special dispensers released for some holidays as we have seen in the past with New Years dispensers, St. Patrick's Day dispensers, etc. The great thing about pez collecting is there is always something new just released or on the horizon and we will share information as soon as we are able!
Pez Convention season is truly underway with the Northeast Pez Convention and Maryland Pez Gathering behind us, we can look forward to the Michigan Pez Convention coming up June 22 – 24. This convention is so much fun and it is new and very different every year! This year we will go back to the 80's for game night, there will be multiple Pop Up CONtests at various scheduled times, the traditional Bean Bag Tournaments and a VIP Dinner and After Party following the general public show on Saturday. For more information, visit www.mnpezcon.com We can't wait to see you in Farmington Hills, MI!
Pezamania is coming up quickly, too. July 19 – 22! The new hosts Landon and Christene Proctor and Morgan Rhinehart and Jeffery Baker have been hard at work to give you a convention you won't forget! Transport yourself to the wild, wild, west at PEZamania 32! Unleash your inner cowboy or cowgirl with PEZ duels, rodeo games, and a farewell hoe down event that will be fun for the whole family. Paint PEZ Art, Seminars, Kids Games. LCR game, Game night, Team Trivia, Speed PEZ, Pezamania Duel, and of course, room hopping and the open to the public show in the ballroom on Saturday. There will be plenty to do for the whole family and pez galore! We hope to see you at Pezamania 32! If you haven't registered yet, you really need to do so immediately! Visit www.pezamania.com and get registered!
August 17 – 19 is the Northwest Pez Convention in Spokane Valley, WA. Hosts Bob and Faye Tipton have been active collectors since the early 90s and are now hosting their first convention. It is sure to be a good time and while their website http://nwpc.pezworld.com says 'where everything is black and white', I have no doubt that Bob and Faye will add a lot of color to this convention! Registration is open so get registered now!
August 18-19 is the Slovenian Pez Convention in Ljubljana, Slovenia. There will be room hopping and then the show is open to the public on Saturday, followed by a group lunch, then Bingo. Host Ivan has an entire week of activities and group adventures and tours throughout Slovenia planned for the following week right up to transportation to Vienna. We are excited to attend Ivan's Slovenian Pez Convention! Visit https://ivanspez.com/product-category/convention-2023/ for more information.
The Vienna International Pez Convention takes place just after the Slovenia convention. VIP III is one of the biggest in Europe, and happens only every 4 years. It will be held from Thursday August 24th to Saturday 26th, 2023 in the middle of Europe, in Vienna, the wonderful capital of Austria where the story of PEZ began. Spend three days full of surprises, have fun, visit a cosmopolitan city and meet PEZ collectors and PEZ dealers from all over the world. Various sightseeing tours are scheduled, there is a public show, games, pez talks, buying and trading Group lunch, Bingo and games and more. We hope to see you there! Information can be found at www.vip-gathering.com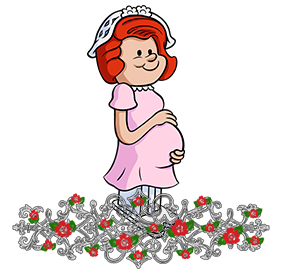 September 7 – 9 is the 10th Pez on the River Convention in Winona MN, which started in 2014. Hosts Sandy and Cheryl go above and beyond in taking care of their attendees! From the cookout to the end of the show, and group dinner and games, they see to it that everyone has everything they need or could possibly ask for! The convention is a slower pace and provides lots of opportunities to gather and chat with fellow pez collectors and friends. The atmosphere is like a family reunion with people you choose to be part of your family! There are many activities including a costume contest based on this year's theme "River Dragon". Dress your pez dispenser in a manner that reflects the theme! There will be a seminar, scavenger hunt, game night, charity auction, room hopping throughout the convention, a show open to the public on Saturday, dinner with pezheads, River Party then River games! Loads of fun in a friendly environment! Be sure to get your reservation at the hotel and your registration done asap! Early registration helps the hosts in planning for convention packets and assures that you will get the right size shirt, etc. We look forward to seeing you at the Pez on the River convention! Registration and convention information can be found at www.pezontheriver.com

The IN Crowd Pez Gathering will be hosted by Karen Pachowicz in Lowell, IN on October 7. This gathering of Indiana Pez collectors and even Pez collectors who are not from Indiana is an informal gathering hosted by various collectors and provides a chance to get together for a day of friendship and fun!
That's all the news for now! Happy Pezzing!
All the best,
Chris Jordan
www.pezcollectors.com