May 2023 PCS Newsletter
It seems hard to believe that May is here already. There have already been so many new pez releases this year and there are more to come. Convention season is getting in full swing and we are already looking at the lineup for pez releases expected in 2024! With the Sweets and Snacks Expo coming up, we will be able to add pictures to some of the expected releases in next month's newsletter. Meanwhile, plenty of new items have been added to the Pez Collectors Store!
The Little Mermaid Pez assortment has arrived and the new Ariel, Flounder and Sebastian dispensers are a great addition to the new Disney Princess assortment line. Ariel is a completely revised mold with her hair completely behind her shoulders. Flounder and Sebastian are all new dispensers in the new Disney Princess Little Mermaid set.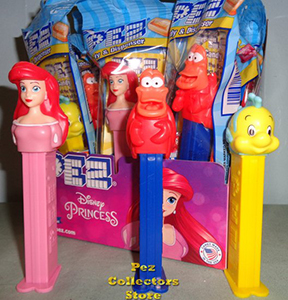 The Little Mermaid Pez Twin Pack features Ariel and Flounder. Founder on a full size stem which is a bit disappointing as the previous concept for this set indicated it would be on a mini stem which would have been much cuter. Still, Flounder is pretty cute anyway and the graphics on the boxed set are wonderful! The twin pack includes 6 rolls of pez candy. We have these in stock now!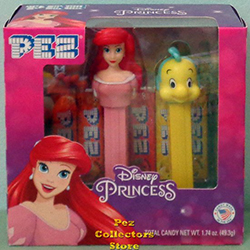 The Hello Kitty Pez Twin Pack includes Hello Kitty with pink bow and tiny yellow dots and Hello Kitty Puppy. The Hello Kitty graphics have the rainbow design. Each twin pack comes with 6 rolls of pez candy. These are in stock now in the Pez Collectors Store.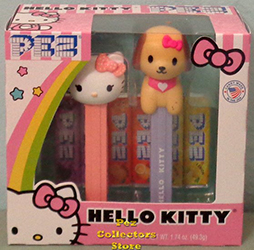 The Exclusive Sours Green Apple Candy Brick Mascot Pez was released and quickly sold out. We have just a few of these in stock and they won't last long. This is your chance to add this Mascot to your collection!
Suzy Sheep is Peppa the Pig's best friend. This new European dispenser has small eyes, a pink smile and blush pink cheeks. It is a great addition to the Peppa the Pig assortment and is available now in the Pez Collectors Store.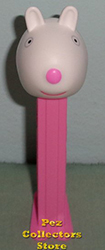 The 2023 LaSpina Price Guide to Pez 34th ed. Is available now in the Pez Collectors Store. This book includes all the newest pez in addition to all those previously released. It also includes prices for several other candy collectibles such as Funny Face, Totem, TV Pals, Yummy and Zepher dispensers. It includes updated prices, many of which have changed significantly from previous versions and all the different variations, all with a handy checkbox format to help you keep track of your collection and prices. Insurance companies will often recognize this as evidence of value in case a collection is lost or damaged in an insured event, and it is important to keep your records updated with current prices! It is great for helping you remember which versions or variations you have and what you are looking out for when attending conventions or shopping!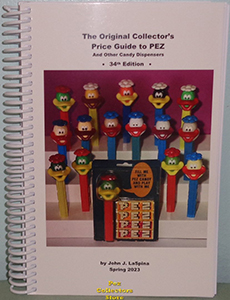 M2 Machines has created a new Pez 1960 VW delivery van in 1/64 scale, featuring the Pez Girl. This is a great match for the VW Van candy tin! The model is on its way to us and will be in stock soon!
My Little Pony Pez Twin Packs are due to begin shipping May 1. The ponies have been available in the Pez Collectors Store from Europe but the twin packs are to be available only in the USA. The twin pack pair features Sunny with Izzy and Sunny with Pipp.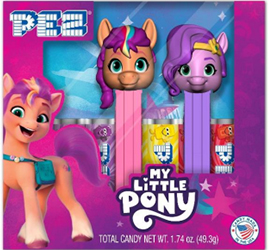 The European Playmobil set is scheduled to be released in April and will be on its way to us soon. This set is a European only release. We will have these available just as soon as possible!
May 1 is the scheduled release date for the Spiderman assortment including the new Ghost Spider. She is new to the Marvel Spiderman series and comes in a twin pack pair with Spiderman with Ghost Spider and Spiderman with Miles Morales! We will have these in stock just as soon as possible!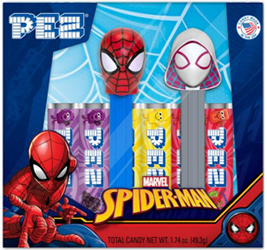 June 1 is the first scheduled release date for the Looney Tunes Assortment in the USA. This set has been released in Europe already and the USA is not too far behind! Daffy Duck and Sylvester are new dispensers and the Bugs Bunny and Tweety are the same molds as those released with the Space Jam assortment. There may be some variations in paint or plastic colors with the new releases, so it remains to be seen if these will be important variations.
In May, we will attend the Sweets and Snacks Expo to discover all the new releases planned for the remainder of the 2023 year as well as some of the 2024 lineup! We hope to see and get actual photos of some of the pez shown in early plans for 2024 pez releases, include the following:

July 1, 2023 Pokemon Pez Twin Pack Pair with Winking and Laughing Pikachu and Pokeballs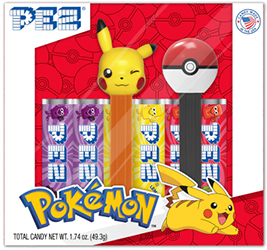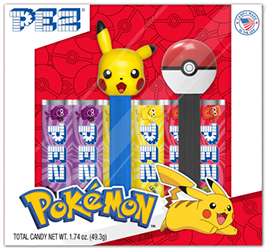 September 1 new Ahsoka joins Mandalorian pez asst.

September 1 Disney 100 years Disney Gift Tin with 'Platinum' metallic silver Disney characters
September 1 Disney 100 years Marvel Gift Tin with 'Platinum' Marvel characters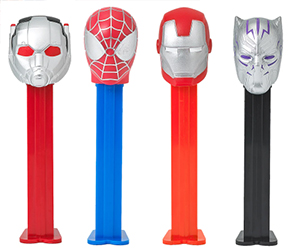 September 1 Disney 100 years Star Wars Gift Tin with 'Platinum' Star Wars characters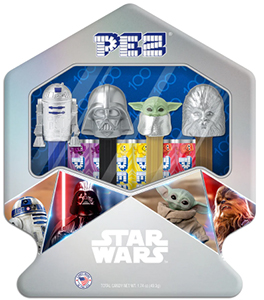 September 1 Disney 100 years 'Platinum' retro Mickey and Minnie twin pack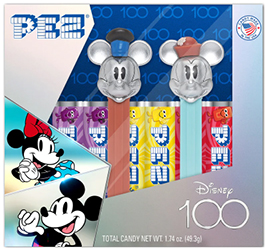 September 1 Disney 100 years 'Platinum' Giant Mickey
September 1 Liberty joins Paw Patrol asst.
September 1 new Reindeer added to Christmas asst.

September 1 Christmas Tree on Red Stem in Tubes

September 1 Snowman full body ornament in gift Box
September Paskesz Chanukah Kosher Dreidel Pez
​​​​​​​
​​​​​​​
New character added to Trolls asst

.

October 1 New character added to Trolls asst

.

​​​​​​​

We will share pictures of the new items on display at the Sweets and Snacks Expo in the newsletter next month, so stay tuned!
The Northeast Pez Convention kicks off May 3 – 6. Unfortunately, registration closed over a month ago, but you can still attend the Public Show on Saturday May 6 from 9 am – 2 pm in the hotel ballroom at the Courtyard Marriott in Orange Ct.
The Maryland Pez Gathering will be held from noon to 5pm on May 20 in Woodlawn, MD. Visit www.Marylandpezgathering.com for all the details and registration information!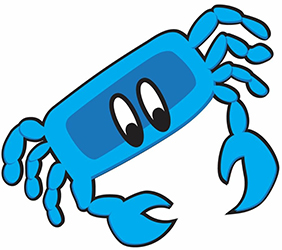 The Michigan Pez Convention is coming up June 22 – 25 and it is sure to be a blast! Get your registration in immediately and get your hotel room booked so you don't miss out! Checkout all the details on www.mipezcon.com
Pezamania Is July 19 – 22 in Cleveland OH and it's going to be a great hoe-down! Maybe even be prepared for a Hoedown Throwdown! The antics and fun will be phenomenal and it is the largest and longest running convention. Get your room booked before the hotel sells out – you can always cancel up to 24 hrs before the reservation at no charge! The website has all the info you need at www.pezamania.com
Other Conventions to plan for:
August 17 – 19, Northwest Pez Convention, Spokane, WA, Facebook Northwest PEZ Convention, www.nwpc.pezworld.com

August 17 – 19, Slovenian Pez Convention, Ljubljana, Slovenia, Facebook Slovenian Pez Convention

August 24 – 26, VIP3 – 3rd Vienna International Pez Gathering in Vienna, Austria, Facebook V.I.P. Gathering, www.vip-gathering.com
September 7 – 9, 10th Pez On The River in Winona, MN www.pezontheriver.com

October 7, The IN Crowd Pez Gathering, Indiana Facebook The In. Crowd PEZ Gathering Group

October ???, Pezylvania XIII in Kutztown, PA http://pezylvania.com
That's all the news for this month!
All the best,
Chris Jordan
www.pezcollectors.com