July 2023 PCS Newsletter
Summer is heating up and so are the pez releases! There are always new pez on the horizon and this month is no different.
The Playmobil pez set arrived from Europe and the dispensers are adorable! The Police Officer, Firefighter, Princess and Knight pez have small rounded heads, and head gear and a bust decorated to match the character. This set is not scheduled for release in the USA. We have them in stock now in the Pez Collectors Store.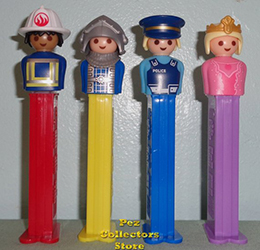 The new Warner Bros. Looney Tunes pez set arrived and Daffy and Sylvester have all new molds! Bugs and Tweety are the same as those released with Space Jam which also included LeBron James. The set or just the two new characters can be purchased now – just click the pictures to go directly to the assortment you want!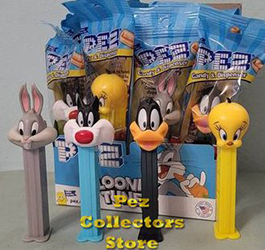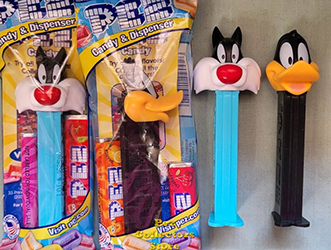 An exclusive new Limited Edition Sassy Treats Cheeseburger dispenser was released. The green dispenser stem says Grill then Chill and it comes on a limited-edition card with an image of a BBQ grill and a double burger that says Grill & Chill. The cheese is still on the bottom which seems like a weird way to build a cheeseburger, but no need to stress over it – just Chill! These are available now through the Pez Collectors Store.
The Candy Brick Mascot assortment has now added the last Sours flavor – Sours Pineapple which was released by Pez as a limited edition exclusive. It was released on the first day of Summer – June 21 and is sold out! We have a few of these in stock now in the Pez Collectors Store.

While attending the Michigan Pez Convention, we were able to add some new items to the Pez Collectors Store. Check out the Crystal Good Luck Bear and Cheer Bear from Europe, mint on European cards which are different than the USA cards. We also added Karlchen, Globi, Golden Baloo, and various Johnny Lightning Pez Cars in stock now!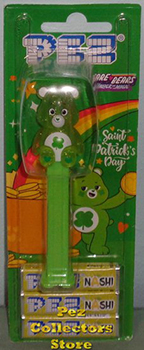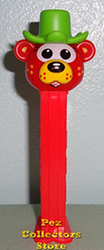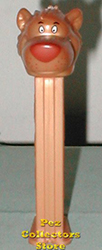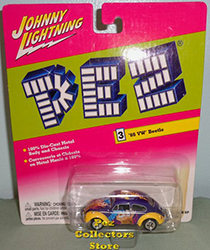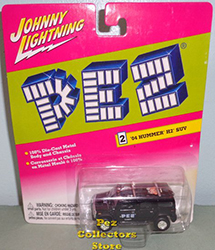 Zipp is joining the European My Little Pony pez assortment and is on its way to us now. We expect to have them within a few weeks, but exactly when always depends on the postal service. Princess Zipp Storm (short for Princess Zephyrina Storm) is Pipp's older sister and she is a Pegasus, but cannot fly. The new generation My Little Pony friends Sunny and Izzy have many escapades with Pipp and Zipp! We look forward to adding Zipp to the Pez Collectors Store!

The new mold for Superman has been rescheduled for release later in July or August. We are anxiously waiting for it to be released. The Justice League assortment will have the new Superman pez flowed in, so it could be quite some time before the Superman with no blue collar and an outlined S is available in stores. We will have them in stock just as soon as possible.

The new Pokemon pez twin pack pairs with a Laughing Pikachu and new Pokeball, and a Winking Pikachu and new Pokeball are scheduled for release July 1. The Pikachu pez are the same as the European release, except the European set also includes a green stem smiling, eyes open Pikachu. The Pokeball is being released in the USA, but is not part of the European set. The new Pokeball has been found on card here and there, so the Twin Pack pairs should be coming soon! Our order is placed and we will add these to our website as soon as possible.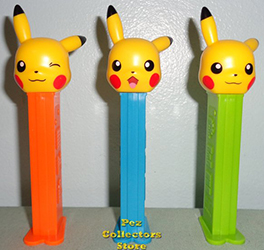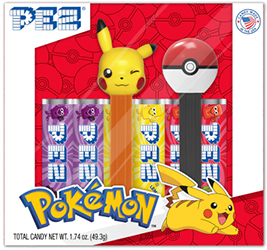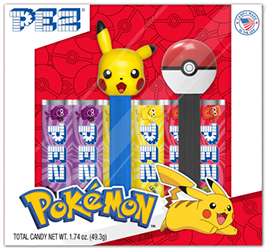 There is currently nothing officially scheduled for release in August (assuming Superman and Pokemon twin packs are released in July as scheduled), but never fear! New information has come to light that there will be an online exclusive crystal Summer Edition Pez dispenser set of three. We can't tell you what they will be yet, but they will be awesome! These are going to be released in Europe and in the USA, so we have more to look forward to! Don't you just love waiting for new surprises? Okay, we don't either, but we do love new dispensers! More information as soon as we are allowed to share!
The Michigan Pez Convention just concluded and it was a blast! We were thankful to see many of our loyal customers in attendance and it is always great to catch up with pez friends at conventions!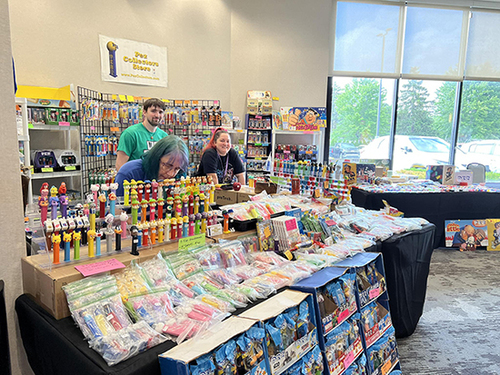 Pezamania is the next convention coming July 19 – 22 in Cleveland Ohio. This is the world's longest running pez convention, established in 1991. The hosts have changed through the years, but the new hosts, Landon and Christene Proctor, Morgan Rhinehart and Jeffrey Baker are not new to hosting pez events. They are also the hosts of the Virtual Pez Convention! They have many activities planned for Pezamania 32. They have sold out of registration packets but the hosts are keeping a small waitlist, in case anyone can't attend. The Holiday Inn hotel is completely full for Wednesday and Thursday nights, but Embassy Suites, Candlewood Suites and La Quinta nearby may still have openings and you can still make a reservation at the Holiday Inn for Friday and Saturday nights. For those who have already registered, there are a VERY small number of dealer tables left. There are also spots in the Pez Painting event scheduled at 3:00 pm on Wednesday. The hosts are still gratefully accepting auction donations - just reach out to either Morgan or Landon!!!!
It will be so much fun for all cowboys and cowgirls with PEZ duels, rodeo games and a farewell hoe down event in addition to informational pez seminars, kids games, room hopping, Lounge Lizards and all the other traditions that have kept Pezamania going for all these years! Contact information is available on their website at www.pezamania.com. You will find us in room 115 beginning Wednesday July 19! We look forward to seeing you at Pezamania!
Registration is open for the Northwest Pez Convention hosted by Bob and Faye Tipton, August 17 – 19. All the details can be found at www.nwpc.pezworld.com
August 18-19 is the Slovenian Pez Convention in Ljubljana, Slovenia. There will be room hopping and then the show is open to the public on Saturday, followed by a group lunch, then Bingo. Host Ivan has an entire week of activities and group adventures and tours throughout Slovenia planned for the following week right up to transportation to Vienna. We are excited to attend Ivan's Slovenian Pez Convention! Visit https://ivanspez.com/product-category/convention-2023/ for more information.
The Vienna International Pez Convention takes place just after the Slovenia convention. VIP III is one of the biggest in Europe, and happens only every 4 years. It will be held from Thursday August 24th to Saturday 26th, 2023 in the middle of Europe, in Vienna, the wonderful capital of Austria where the story of PEZ began. Spend three days full of surprises, have fun, visit a cosmopolitan city and meet PEZ collectors and PEZ dealers from all over the world. Various sightseeing tours are scheduled, there is a public show, games, pez talks, buying and trading Group lunch, Bingo and games and more. We hope to see you there! Information can be found at www.vip-gathering.com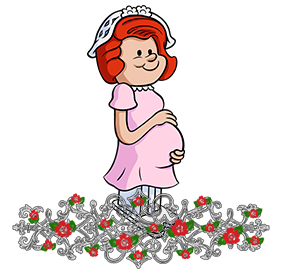 September 7 – 9 is the 10th Pez on the River Convention in Winona MN, which started in 2014. Hosts Sandy and Cheryl go above and beyond in taking care of their attendees! From the cookout to the end of the show, and group dinner and games, they see to it that everyone has everything they need or could possibly ask for! The convention is a slower pace and provides lots of opportunities to gather and chat with fellow pez collectors and friends. The atmosphere is like a family reunion with people you choose to be part of your family! There are many activities including a costume contest based on this year's theme "River Dragon". Dress your pez dispenser in a manner that reflects the theme! There will be a seminar, scavenger hunt, game night, charity auction, room hopping throughout the convention, a show open to the public on Saturday, dinner with pezheads, River Party then River games! Loads of fun in a friendly environment! Be sure to get your reservation at the hotel and your registration done asap! Early registration helps the hosts in planning for convention packets and assures that you will get the right size shirt, etc. We look forward to seeing you at the Pez on the River convention! Registration and convention information can be found at www.pezontheriver.com

The IN Crowd Pez Gathering will be hosted by Karen Pachowicz in Lowell, IN on October 7. This gathering of Indiana Pez collectors and even Pez collectors who are not from Indiana is an informal gathering hosted by various collectors and provides a chance to get together for a day of friendship and fun!
That's all the news for now! Happy Pezzing!
All the best,
Chris Jordan
www.pezcollectors.com