September 2023 PCS Newsletter
It is hard to believe that the year is ¾ of the way over and final quarter pez are now being released! We always enjoy new pez releases, but it seems that September and October always bring an abundance of new dispensers! Just in time to consider for holiday shopping, there are lots of great new pez releases this fall!
The Disney 100 Years of Wonder Gift tins arrived in the Pez Collectors Store! There are three different gift tins with platinum looking finish on the dispensers to celebrate the Platinum 100 Year anniversary. The Disney set includes Mickey, Minnie, Goofy, and Donald. The Star Wars tin has Baby Yoda (Grogu), Chewbacca, R2D2, and Darth Vader, and the Marvel gift tin comes with Spiderman, Ironman, Ant-Man, and Black Panther. The Disney, Star Wars and Marvel Pez gift tins features the characters in colorful sections on the front, a large window for viewing, and include 6 rolls of Pez Candy. We also sell the platinum dispensers from the gift tins loose for those who prefer to display loose and save on shipping! These sold quickly when we first listed them, but never fear, we have more on the way and will get more so if they show as out of stock, they will be replenished as soon as our orders arrive from Pez Co. and we will have them available at Pez on The River as well!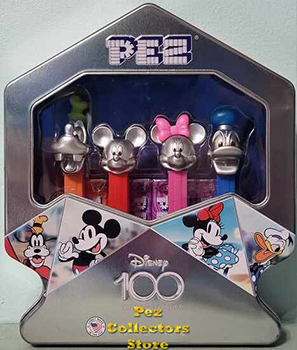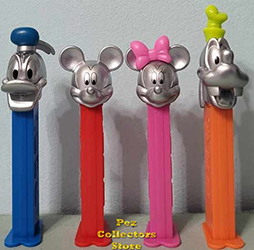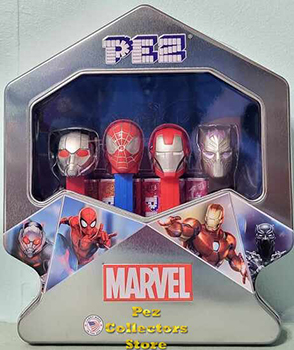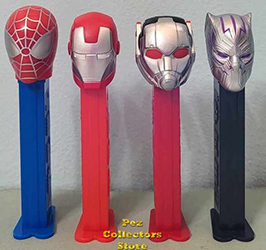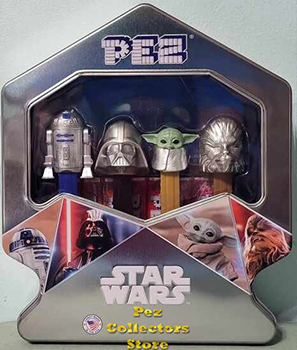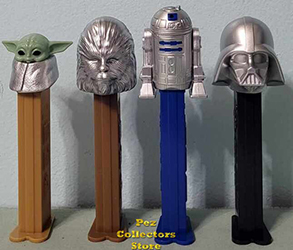 The Disney 100 Years of Wonder Platinum finish Retro Steamboat Willie and Pillbox Hat Minnie in the Pez Twin Packs will be in stock, though our order quantities were reduced by Pez Co., so we won't get as many as we had originally planned.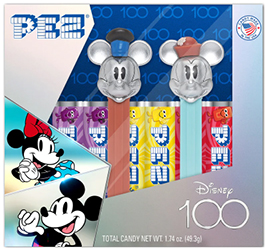 We also will be adding the Giant Platinum Mickey and will have these in stock, though Pez Co. also cut our quantities for this item, so we will have very limited numbers of these and will not be able to order more when they are gone.
The Exclusive Crystal Summer Edition Pez Dispenser Set of 3 was finally released, straight from the African Savannah! The Exclusive Summer Edition PEZimals collection includes Ella the Elephant, Milo the Monkey and Gigi the Giraffe in Crystal. These come on a different limited-edition card. The set looks great in crystal! The dispensers were quite limited in quantity and sold out very quickly. We have only a few sets available.
The Pokemon Gift sets are shipping to us at the hotel for Pez On The River. They were expected in July, but have just been released. The Pokeball is available now, along with the two Pikachu pez in the twin pack boxes, plus a third Pikachu that was released only in Europe. There is no need to wait for the twin packs to have all the Pokemon pez – gotta catch them all!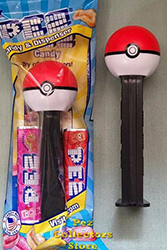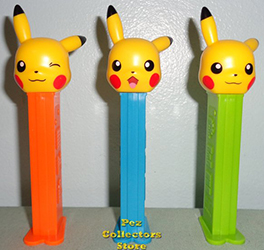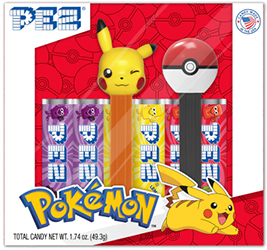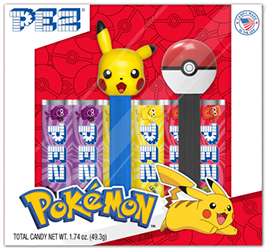 Likewise, the new Superman mold with the outlined S was expected to be released in June, and we are still waiting! As soon as it becomes available, we will get it in stock!

The September releases should begin coming in soon! We expect Ahsoka to join the Star Wars Mandalorian assortment. She looks great with lots of detail and we will add these to the Pez Collectors Store as soon as possible.

Liberty should be joining the Paw Patrol pez assortment beginning September 1. It has been released in Europe and we hope to have it in stock soon!
New Christmas pez should be coming out soon. There is a new Reindeer pez in the Christmas assortment and a Christmas Tree with lights on a red stem that will come only in the tubes this year.


The Full Body Snowman ornament in gift box will be shipped to us at the hotel at Pez On the River, and remaining inventory will be added to the Pez Collectors Store upon our return!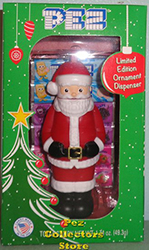 Europe has released a new Pez Pal Groom with Mustache! He looks quite dapper and will be available in the Pez Collectors Store in a few weeks!

In mid-October, the 2023 European Emoji pez set will be released. The 2023 European Emoji set will include a new Nerdy pez with glasses, Brown Poop emoji with small eyes and small black pupils and tongue instead of teeth, a new Kisses emoji and a bonkers looking Crazy emoji. The faces are all new for the 2023 European Emoji set.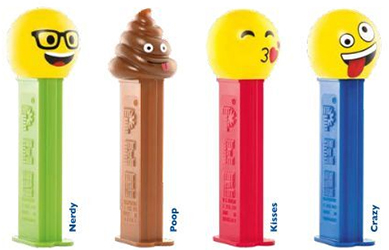 Funko POP! PEZ are still slowly being trickled out! Dwight Schrute as Elf, Dwight Schrute as Belsnickel and hopefully Michael Scott as Classy Santa POP PEZ will be available in the Pez Collectors Store on October 26. This is a Limited Edition of 3000 pieces and we have been anticipating their release for a since March, 2022! We will have them in stock just as soon as we physically have them in hand, but they are finally coming!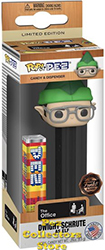 There will also be a new holiday set of Five Nights at Freddy's. The Pop! Pez Five Nights at Freddy's set will include Freddy (Holiday), Foxy (Candy Cane), Chica (Gift), and Bonnie (Lights). We have orders placed, but are unsure when these will actually be released. Hopefully soon, in time for the holidays!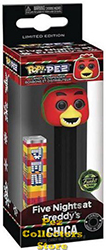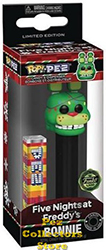 Rumors have it that the first Northwest Pez Convention, hosted by Bob and Faye Tipton was a hit! Congratulations to the Tiptons and to those who had the opportunity to enjoy the festivities in Spokane, WA! We attended Ivan's Slovenian Pez Convention in Ljubljana, Slovenia and then the Vienna International Pez Convention, hosted by TurkPez Yasin, and Pez Ghosty Nenad and Vesna Markov! These conventions were fabulous and the host went above and beyond in taking great care of all their guests, native and international alike! The hobby of collecting Pez is enhanced enormously by the relationships and friendships formed between and among collectors and the opportunity to interact personally with these fellow collectors is most rewarding! Thank you to everyone for welcoming us with open arms and embracing our shared love of these little plastic toys! And, thanks to our loyal customers for being patient and understanding our delay in shipping orders during the time we were abroad!

The next opportunity in the USA for a convention is coming in just over a week! We will be attending Pez on the River in Winona, MN and hosts Sandy and Cheryl are looking forward to celebrating their 10th Pez On the River Convention with everyone September 7 – 9th! The costume contest theme River Dragon is a great opportunity to let your creativity shine. Decorate or dress up a pez dispenser in some manner, following the concept of River Dragon and be sure to have it turned in for viewing. There will be a scavenger hunt, a search for Larry's Friends around the hotel, a seminar, captain's log games, room hopping, a cookout, a charity auction and, of course, the ballroom show! We hope to see you at POTR!

The IN Crowd Pez Gathering hosted by Karen Pachowicz in Lowell, IN is on October 7. This is an informal gathering of Indiana Pez collectors and even Pez collectors who are not from Indiana. It is hosted each year by different collectors and provides a chance to get together for a day of friendship and fun! Karen asks that you RSVP to the event for the IN. Crowd Pez Gathering Group at https://www.facebook.com/groups/576039133161573
The 13th Pezylvania Pez Gathering will be held at Renninger's Market in Kutztown, PA on October 14, 2023. It is a one-day event filled with activities and PEZ. Information can be found at www.pezylvania.com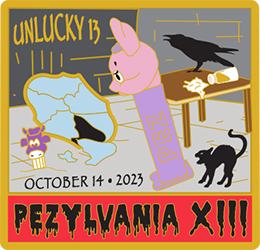 That's all the news for this month! Happy Pezzing!
All the best,
Chris Jordan
www.pezcollectors.com