April 2023 PCS Newsletter
Easter is coming up in less than two weeks and there are plenty of new pez for the Easter Basket! There is an exclusive Limited Edition Easter Egg for Easter 2023. This year's Easter egg features a white outlined Bunny head with 2023 glasses on an ombré tri-color gradient dyed Easter Egg. The exclusive 2023 Bunny Egg is in stock now.

The 2023 PAMP Suisse Easter Bunny boxed set has arrived. The limited edition Full Body White Bunny Rabbit Easter Pez with 6 pez candies made with 5 grams of silver comes in the boxed set. The production run of 2500 is the fewest of the 8 different PAMP Suisse PEZ boxed sets ever produced. The front of the 5-gram Pez Candy features the weight and purity of the bar, sandwiched between the letters P.A.M.P and a bunny head on the front. The back of the silver Pez Candy bricks displays the iconic PEZ logo. The silver candies are in a plastic box with the PEZ logo on the lid of the box. Each box has a certificate of authenticity. What a wonderful addition to the Pez collection! Hurry before we sell out of the few we have available.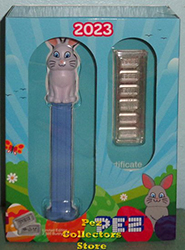 We have just a few sets of the Pez Easter Plush Rabbit, Lamb and Chick. These soft velour pez are well made with embroidered features and a weighted bottom to aide in standing upright. Only a few sets remain!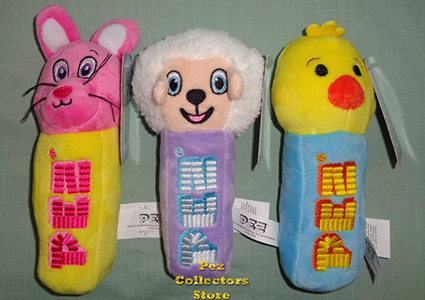 The Easter Tube with the Egg decorated with the Bee and Flower is cute as can 'bee'. The Full body Blue Bunny on a green stem is also new for 2023. We have stock on both of these pez in the Pez Collectors Store.
The Bitcoin dispenser is an awesome new limited edition exclusive dispenser, a custom design commissioned by a new family owned business called ProSnacktive Sales. Only 30,000 of the dispensers will ever be made, making it a Limited Edition. Limited Edition doesn't mean only a few are made, it means that there is a single production run of a certain number and that no more will be made again, so a limited edition can be 300, 3,000, 30,000 or 300,000, but no more than the original production run will be produced. The Bitcoin dispenser is an Exclusive because it was made by Pez Candy for sale to ProSnacktive only. The dispenser was featured in Bitcoin Magazine, so the Bitcoin dispenser will be purchased not only by pez collectors, but crypto enthusiasts, investment brokers and individuals playing the cryptocurrency market. Elon Musk will probably get one just for giggles! Since pez collectors will be sharing the distribution with lots of people who have money to throw around and gamble on the rise and fall and rise again of the cryptocurrency, pez collectors will ultimately have a relatively small percentage of the 30,000 dispensers and I suspect the price will go up in the future because fewer collectors will be willing to pay $28 (the price in the Pez Collectors Store). But, like Bitcoin, it is all just speculation!
A new Belle has arrived! The 2023 Disney Princess Belle C is a revised mold for this Beauty and the Beast pez dispenser. The Belle bust is on a light yellow stem and the off the shoulder neckline is slightly paler yellow than the bust. Her hair in this mold is completely behind her shoulders and her features include a dainty closed mouth and small yellow earrings. The original Belle was introduced in 2005, Belle version B was released in 2014, each version having different features molded. They are in stock now!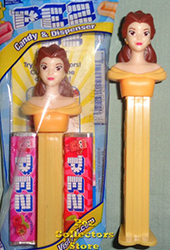 Gabby's Dollhouse twin packs have finally been restocked in the Pez Collectors Store. The Gabby's Dollhouse Twin packs feature Pandy Paws with Mercat and Pandy Paws with Cakey Cat and have great Gabby's Dollhouse graphics. The windowed boxes allow for some fun dollhouse play as well as looking great in the pez collection!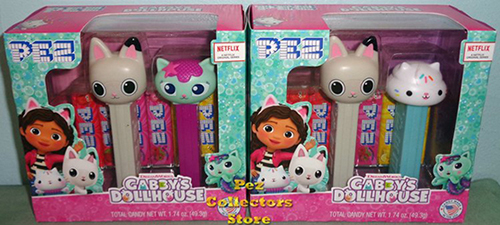 Funko has finally released a new POP! PEZ. The Funko Limited Edition Wonderous Convention Masked Freddy POP!+PEZ features Funko Mascot Freddy with a crown and a mask. This pop pez was a Wondercon exclusive sold only through Funko so it won't be available in most retail stores.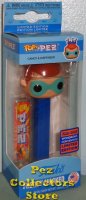 Little Mermaid Pez are supposed to be released April 1. It looks like our order for the polybag and blister cards will be arriving on Monday, April 3! Ariel, Flounder and Sebastian are included in the set and the Twin Pack pack features Ariel and Mini Flounder. Founder on a mini stem will be adorable! We will have the twin packs with mini stem Flounder available just as soon as they are released!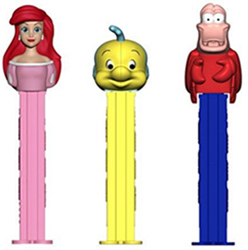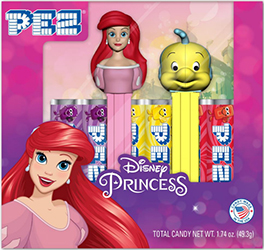 We are waiting anxiously for our order of Hello Kitty Pez Twin packs to be shipped to us. The twin pack features Hello Kitty with pink bow and tiny yellow dots and Hello Kitty Puppy. We will have them available just as soon as the order arrived from Pez Candy!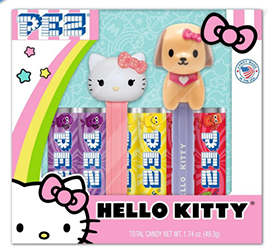 My Little Pony Pez Twin Packs are due to begin shipping April 1. The ponies have been available in the Pez Collectors Store from Europe but the twin packs are to be available only in the USA. The twin pack pair features Sunny with Izzy and Sunny with Pipp.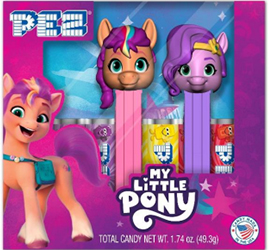 The European Playmobil set is scheduled to be released in April as well. This set is a European only release. We will have these available just as soon as possible!
May 1 is the scheduled release date for the Spiderman assortment including the new Ghost Spider. She is new to the Marvel Spiderman series and comes in a twin pack pair with Spiderman with Ghost Spider and Spiderman with Miles Morales! We will have these in stock just as soon as possible!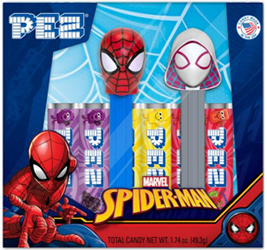 In May, we will attend the Sweets and Snacks Expo to discover all the new releases planned for the remainder of the 2023 year as well as some of the 2024 lineup! It is always fun to be able to share the newest news with fellow pez collectors so we all know what to be on the lookout for. Of course, we will have as much as possible available to you direct from the Pez Collectors Store so you can save your time, save your gas and save frustration since we all know that the thrill of the find is amazing, but the thrill of the hunt can be quite discouraging when you come up empty store after store after store!
It is not too late to register for the Spring 2023 VPC event. The Virtual Pez Convention will be held Saturday April 15 from 5pm – 9 pm Eastern. Be sure to register to get your bingo card and link to join in from the comfort of your own home. Meet other collectors online and get to know folks that you will then be able to meet in person at another convention! Registration is now open at www.virtualpezconvention.com and it is FREE!
The Maryland Pez Gathering will be held from noon to 5pm on May 20 in Woodlawn, MD. Visit www.Marylandpezgathering.com for all the details and registration information!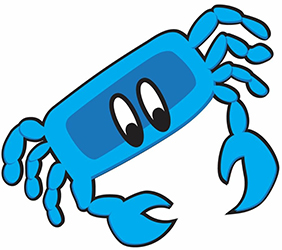 The Michigan Pez Convention is coming up June 22 – 25 and it is sure to be a blast! Get your registration in immediately and get your hotel room booked so you don't miss out! Checkout all the details on www.mipezcon.com
Pezamania Is July 19 – 22 in Cleveland OH and it's going to be a great hoe-down! Maybe even be prepared for a Hoedown Throwdown! The antics and fun will be phenomenal and it is the largest and longest running convention. Get your room booked before the hotel sells out – you can always cancel up to 24 hrs before the reservation at no charge! The website has all the info you need at www.pezamania.com
Other Conventions to plan for:
August 17 – 19, Northwest Pez Convention, Spokane, WA, Facebook Northwest PEZ Convention

August 17 – 19, Slovenian Pez Convention, Ljubljana, Slovenia, Facebook Slovenian Pez Convention

August 24 – 26, VIP3 – 3rd Vienna International Pez Gathering in Vienna, Austria, Facebook V.I.P. Gathering

September 7 – 9, 10th Pez On The River in Winona, MN www.pezontheriver.com

October 7, The IN Crowd Pez Gathering, Indiana Facebook The In. Crowd PEZ Gathering Group

October ???, Pezylvania XIII in Kutztown, PA http://pezylvania.com
That's all the news for this month!
All the best,
Chris Jordan
www.pezcollectors.com