March 2023 PCS Newsletter
We have received lots of new additions in the past month from Pez USA and Pez International! It is always fun to share all the information and now we are able to share some images of upcoming USA releases as well! And, who knows, there may be a surprise release from Pez for St. Patrick's Day or for Easter or maybe both! It is getting close to time for conventions to kick off and if you haven't made your plans yet, it is definitely time to decide which conventions you will attend and get your registrations in!
Gabby's Dollhouse has finally arrived in the Pez Collectors Store. The set of 3 cats from Gabby's Dollhouse include Pandy Paws, Cakey Cat and MerCat. The set of 3 is available now and Pandy Paws is also available individually.
Gabby's Dollhouse Pez Twin Packs have also arrived. This pair of twin packs feature Pandy Paws with Cakey Cat and Pandy Paws with MerCat and the twin pack boxes have great Gabby's Dollhouse graphics. These are available now in the Pez Collectors Store.
Good Luck Bear is one of the Care Bears. He has been added to the assortment for 2023. He has a four leaf clover on his belly, a heart shaped nose, hearts on his feet and a heart on his rump! This Good Luck Bear is adorable and perfect for St. Patrick's Day or just a perfect addition to the pez collection! It comes mint in bag with pez candies. We have sold out of these but hope to get more in stock soon in the Pez Collectors Store.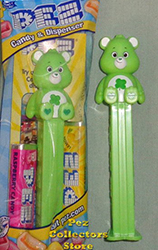 The exclusive 2023 Crystal Glitter Cheer Care Bear Pez comes mint on card that says Love You on a background of hearts with Cheer, Funshine and Share Bear pictured on the card. This is an exclusive dispenser that will not be found in retail stores! It comes mint with pez candies - a great addition to the pez collection or a great way to say I Love You to someone you care about! We have a few of these available now.
Plush Easter Pez stuffed toy set includes the adorable pink head Mr. Bunny pez, Lamb pez and Ducky pez! They are weighted on the bottom, so they can be made to stand upright. They are each approximately 7" tall and are a soft velour fabric with PEZ embroidered on the stem! The facial features are all embroidered as well! This set is really cute and cuddly! We have just a few sets in stock now in the Pez Collectors Store.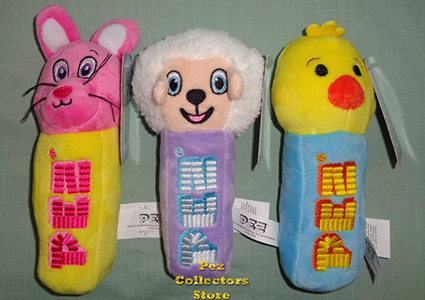 We have the new Easter dispenser for 2023. It is a blue full body Bunny on a green stem. The blue full body bunny was previously released on a yellow stem but looks great on green! These are mint on a Happy Easter card and come with pez candies.
The 2023 Easter Egg with the bee and the smiling flower is in stock now. The Easter Egg comes only in tubes, along with multiple rolls of pez candies including Vanilla Cupcake Flavored pez candies!
New for 2023 are three Pokemon Pikachu Pez from Europe. The three different Pikachu pez include an orange stem Winking Pikachu, a blue stem Open Mouth or Laughing Pikachu and a green stem smiling, open eyed Pikachu. This set of 3 new Pikachu pez are European only releases. We have them available now!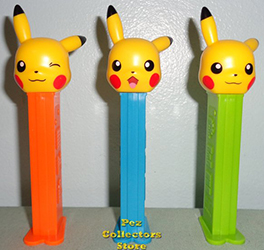 Also new from Europe are the 2023 Hello Kitty pez. Hello Kitty Yoga is on a purple stem printed with Yoga and has a crystal pink bow with purple trim in the center. Hello Kitty with Hawaiian Hibiscus Flower has closed eyes and the teal blueish stem says Namaste. Hello Kitty with a pink bow and dark pink trim in the center also has closed eyes and says Inhale Exhale on the pink stem. This set of 3 is a European release. They are in stock now!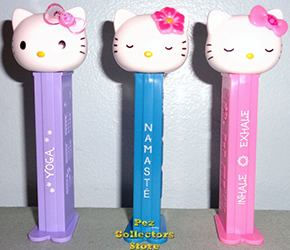 March 1, a new Hello Kitty twin pack is due to be released. Unfortunately, it does not include new characters – it features the Hello Kitty with Pink bow from 2022 and the Hello Kitty Puppy from 2022. The only new Hello Kitty pez being released in the USA is Hello Kitty Namaste. This pez is included in the European Hello Kitty Yoga set shown above.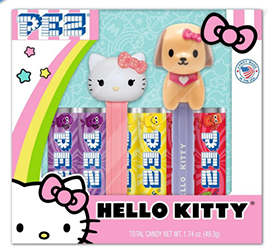 A Little Mermaid pez set including Ariel, Flounder and Sebastian is supposed to be released April 1. Ariel is a new mold, and Flounder and Sebastian are brand new characters. There is also a twin pack featuring Ariel and Flounder. We have our orders placed and will have these new pez in stock just as soon as they are released.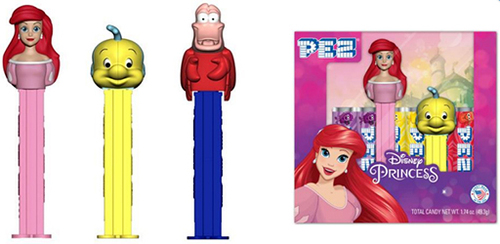 April 1, the My Little Pony Twin Packs with Sunny and Izzy and Sunny and Pipp are due to be released in the USA. We already have the pez from Europe available now. We have orders placed for all of the twin packs, but they seem to be behind schedule. We will have them in stock as soon as they are released.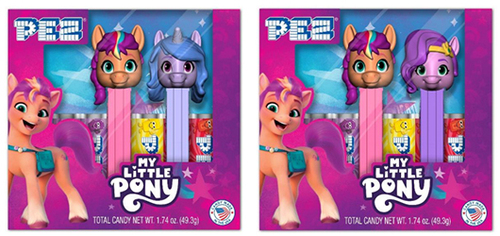 The European Playmobil set is scheduled to be released in April as well. This set is a European only release. We will have these available just as soon as possible!
Pez is now sharing the images of additional sets scheduled for release in the USA for 2023! So, it can be presumed that the usual rule of no sharing images more than 30 days prior to the first scheduled release is not applicable to these photos! Here is what we can expect.
May 1 Ghost Spider will be added to the Marvel Spiderman assortment. There will also be Spiderman Twin Packs featuring Spiderman with Ghost Spider and Spiderman with Miles Morales.
June 1 a new Superman with a new mold and outlined S logo on his chest will be released in the Justice League assortment.

Also scheduled for release June 1 is the Looney Tunes Pez Assortment with a new Sylvester and new Daffy Duck. We really hoped that Wile E. Coyote and Road Runner would be included in the assortment since it is being released in conjunction with the Coyote vs. Acme premiere on HBO Max on July 21. Maybe next time! Meanwhile a new Sylvester and Daffy Duck are welcome!
July 1 a new Pokemon Pez Set will be released in the USA with a Pokeball! The pokeball will be included in a twin pack along with winking Pikachu on orange. The USA Set of Pokemon does not include the closed mouth Pokemon on green stem that is included in the European set that is shown above and available now.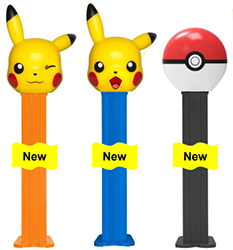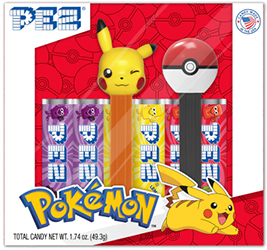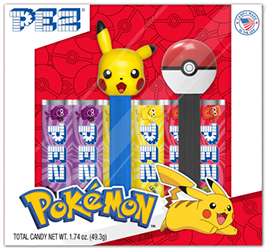 September 1 there will be three new Disney 100 Years of Wonder Pez gift tins,all with the same shape, but featuring different Platinum assortments.
The Disney tin will feature Goofy Mickey, Minnie, and Donald with silver platinum metallic faces and the front of the gift tin says Disney 100 Years of Wonder, with images of Goofy, Mickey, Minnie and Donald.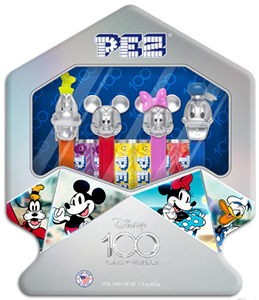 The Marvel 100 Years gift tin will feature silver platinum metallic faced Antman, Spiderman, Ironman and new Black Panther. The front of the tin has the Marvel logo and features images of each of the characters.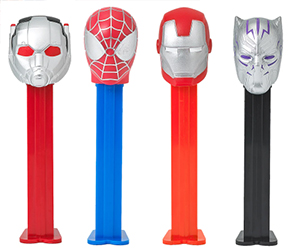 The Star Wars 100 Years gift tin has silver platinum metallic faced R2D2, Darth Vader, Baby Yoda (Grogu) and Chewbacca. The front of the tin has the Star Wars logo and images of each of the characters.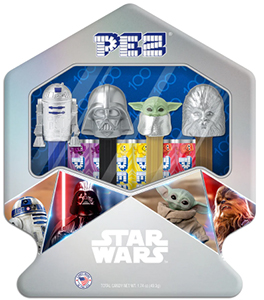 September 1 a Disney 100 Years of Wonder twin pack with silver platinum metallic Steamboat Mickey and Pillbox Hat Minnie wil also be released!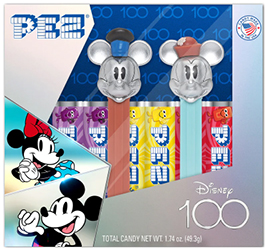 September 1, a new Ahsoka dispenser will be available in the Star Wars Mandalorian set to kick off the Ahsoka series and Mandalorian season 3. Images will be available later.
October 1, Paw Patrol Liberty is being added to the Paw Patrol assortment and twin packs will also be available. This is the 10 year anniversary and limited edition gold dispensers are expected! Images will be available soon!
Of course, the reindeer and full body Snowman dispenser will also be released for Christmas!
Pez International has shared a sneak peek at the concepts for the new European Barbie set that will be released later this year! They look great! Thanks to Pez Ghosty for sharing this image in the pezpalz blogspot!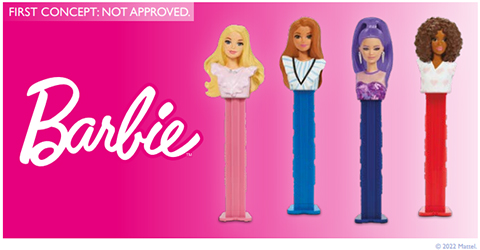 The PIG4All pez gathering will take place April 1 in West Chester Township, OH. Details can be found at www.thepigevents.com
The Spring 2023 Virtual Pez Convention is scheduled for Saturday April 15 from 5pm – 9pm eastern. Fun and games with prizes, collector features and collection tours are all part of the fun and every one can join in from the comfort of their own home. It is a great opportunity to learn more about other collectors and share a laugh during the group chat times! Registration is now open at www.virtualpezconvention.com and it is FREE! Just provide your information so you can get a bingo card and join in on all the fun via Zoom.
Part of the fun leading up to the Spring VPC was a contest to design a new ladybug which will be made available as a patch and on other merchandise that helps fund the VPC Scholarships! The entry by Kelley Drageland was chosen by pez collectors as the favorite among 25 different artistic submissions! Congrats Kelley and nice job to all the entrants!
The Northeast Pez Convention returns May 4 – 6 in Orange, CT. Hurry, because there are only a few hotel rooms left and registration closes March 1 so check before you send in your registration! Visit www.peznews.com/nepezcon-23 for all the details!
It is also time to get registered for the May 20, 2023 Maryland Pez Gathering in Woodlawn, MD. Details can be found at www.marylandpezgathering.com
Other convention and gathering dates coming soon:
June 22 – 25, MIPezCon, Michigan Pez Convention in Farmington Hills, MI www.mipezcon.com
July 19 – 22, Pezamania 32 in Independence, OH www.pezamania.com
August 17 – 19, Northwest Pez Convention, Spokane, WA, Facebook Northwest PEZ Convention
August 17 – 19, Slovenian Pez Convention, Ljubljana, Slovenia, Facebook Slovenian Pez Convention
August 24 – 26, VIP3 – 3rd Vienna International Pez Gathering in Vienna, Austria, Facebook V.I.P. Gathering
September 7 – 9, 10th Pez On The River in Winona, MN www.pezontheriver.com
October 7, The IN Crowd Pez Gathering, Indiana Facebook The In. Crowd PEZ Gathering Group
October ???, Pezylvania XIII in Kutztown, PA http://pezylvania.com
That all for now! My brain is spinning! Happy Pezzing!
All the best,
Chris Jordan
www.pezcollectors.com