January 2023 PCS Newsletter
Happy New Year! We wish you all the very best for 2023! May the new year bring you all that you hope for!
It's hard to believe another year has come and gone! 2022 brought us lots of fun new pez, and 2023 promises to be just as great with tons of new releases scheduled! We were able to share sneak peeks at many of the 2023 planned pez that were on display at the 2022 Sweets and Snacks Expo, and now these new pez will finally begin arriving! December brought us new pez to close out the year or kick start the new year!
The new Kosher Pez Paskesz Collector's Edition Trucks arrived. Created for Paskesz, the trucks feature white, blue, and red cabs and corresponding yellow, deep fuchsia or Raspberry, and blue trailers. The sides of the trucks advertise the Paskesz World of Sours candies, Paskesz logo with Oodles candies, and Paskesz Real Fruit Snacks. These three advertising trucks are in stock now in the Pez Collectors Store, mint on card with kosher pez candies!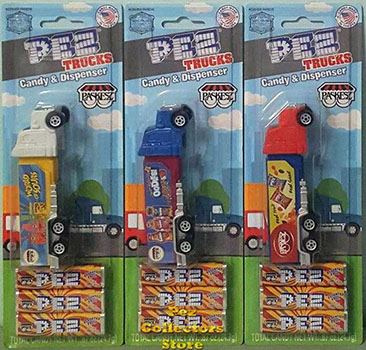 With the production of a Raspberry colored trailer, Pez didn't let them go to waste! New promotional Raspberry Mascot trucks were released, featuring the Pez Logo and Raspberry mascot on the sides of the raspberry colored trailer with a white cab and a blue cab. These join the other PEZ promotional rigs trucks! They come mint on card with pez candies.
The 2022 Canadian NHL Zamboni Pez Set features white Zamboni machines with logos for 6 NHL Teams: Chicago Blackhawks, New York Rangers, Montreal Canadiens, Detroit Red Wings, Toronto Maple Leafs and Boston Bruins. Each Zamboni ice cleaning machine has a printed stem with the earliest stylized NHL shield, with the lettering in a diagonal slash from upper left to lower right of the shield. The sides of the Zamboni machines all display a fanned design. This set of 2022 Zamboni pez include some of the same and some different teams than the earlier Zamboni pez set of 7 and have a very different appearance! The NHL Zamboni pez are a Canadian release and they come loose and ready to display. They are in stock now!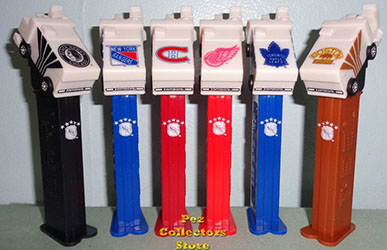 As a Christmas surprise, Pez released an exclusive, limited edition Bronze Snowman on a white stem. The head and scarf are all painted bronze with an orange carrot nose and black printed eyes and mouth. The Let It Snow card indicates it is a limited edition and it comes with 3 packs of Mystery Flavor Pez Candies. These sold out quite quickly online and are now retired. We have just a few in stock!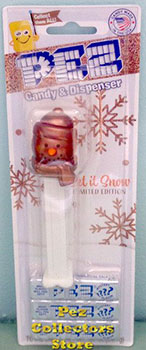 Pez created a 2023 Clock for New Years. This Limited Edition exclusive was a production run of 2023 pieces and the puck dispenser features a clock face that is dated 2023. The black stem is printed with Happy New Year in gold print. This is a fun addition to the exclusive, limited edition holiday pez! Of course, they sold out within minutes and are now retired! We have only a few in stock!

2023 is the 100th Anniversary of Disney and Pez will be celebrating Disney's 100 Years of Wonder throughout the year, so Disney and Starwars packaging may feature the platinum theme. Assortment updates are expected in August 2023 and updated dispensers are expected in October, 2023. Disney, Star Wars and Marvel licences will all join Pez in celebrating 100 Years of Wonder with special gift tins later in the year!
The Donut Pez will be added to the Pez Treats assortment in mid -January. The donut shape is frosted with white icing and has colorful sprinkles. It's anthropomorphic features include eyes looking upward and a half a smile, making it look kind of shy. These will be added to the existing assortment with Taco, Burger, Pizza and Cupcake Treats Pez and we will have them in stock as soon as possible!

Gabby's Dollhouse is an animated TV series streaming on Netflix. Gabby's Dollhouse is filled with mini-worlds, cute kitty characters and fun adventures that she shares with her stuffed animal pal, Pandy Paws. The new pez assortment will include Pandy Paws, Mercat and Cakey Cat in poly bag and also in Twin packs that feature Pandy Paws with Mercat and Pandy Paws with Cakey Cat. We will have these in stock just as soon as our order is shipped to us from Pez in late January or early February!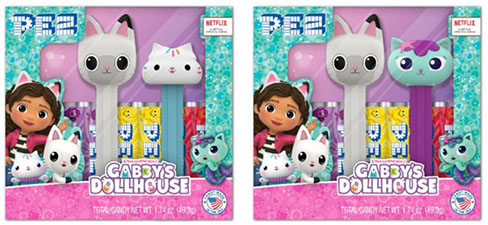 Good Luck Bear will join Cheer Bear, Funshine Bear and Grumpy Bear in assortments in February. Share Bear will be removed from the assortment. There will also be a new Care Bears Twin Pack Pair to include Cheer Bear and Good Luck Bear and a second twin pack with Funshine Bear and Grumpy Bear. This is a different arrangement than the original twin pack pair where Cheer Bear was with Funshine Bear and Grumpy Bear was with Share Bear. The twin pack graphics seem to be unchanged with Share Bear still being featured and Good Luck Bear absent, but that could change in final production. We will have these in stock as soon as they are released and shipped to us from Pez!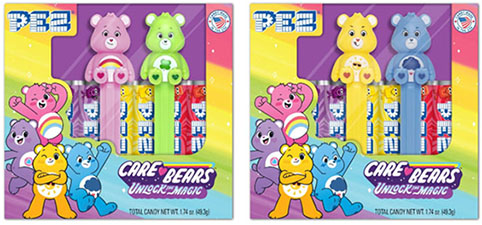 In early 2023, we expect to receive the new European Asterix pez. Asterix and Obelix have all new molds and Obelix's loyal white terrier watchdog, Idefix will also be included in the new assortment. We will have these in stock just as soon as they are released in Europe and make their way through the post to us!
The European Pokemon Pikachu pez with different expressions and eyes are also due to be released in January and we will have them in stock just as soon as possible!
Also scheduled for release in January are the European Hello Kitty Yoga Pez. The 2023 European Hello Kitty Yoga pez set includes three Hello Kitty Pez with printing on the stems. The pink bow with lotus flower and pink stem Hello Kitty says Inhale Exhale and her eyes are closed. The pink Hawaiian flower kitty also has closed eyes and her blue stem says Namaste. Hello Kitty with a crystal pink bow and purple lotus flower has open eyes and the purple stem says Yoga. We will have them as soon as possible.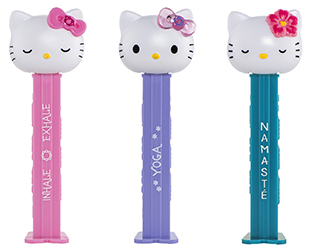 Now is the time when many people begin planning vacations and requesting time off, so be sure to add the following Pez Convention dates to your calendar!
April 1, ThePIG4All in West Chester Township, OH www.thepigevents.com
May 4 – 6, NEPEZCON 23 in Orange, CT www.peznews.com/nepezcon
May 20, Maryland Pez Gathering, Woodlawn, MD https://www.marylandpezgathering.com/
June 22 – 25, MIPezCon, Michigan Pez Convention in Farmington Hills, MI www.mipezcon.com
July 19 – 22, Pezamania 32 in Independence, OH www.pezamania.com
August 17 – 19, Northwest Pez Convention, Spokane, WA, Facebook Northwest PEZ Convention
August 17 – 19, Slovenian Pez Convention, Ljubljana, Slovenia, Facebook Slovenian Pez Convention
August 24 – 26, VIP3 – 3rd Vienna International Pez Gathering in Vienna, Austria, Facebook V.I.P. Gathering
September 7 – 9, 10th Pez On The River in Winona, MN www.pezontheriver.com
October 7, The IN Crowd Pez Gathering, Indiana Facebook The In. Crowd PEZ Gathering Group
October ???, Pezylvania XIII in Kutztown, PA http://pezylvania.com
There are lots more conventions and gatherings abroad, but for the USA, these are a few highlights, including the Vienna International Pez Gathering since it happens only every 4 years, and the Slovenian Pez Convention which is the weekend before VIP. We look forward to seeing you at a convention or gathering in 2023!
That's all for now, but look forward to many new pez releases in 2023. Most of all, enjoy the hobby and let these bright cheerful characters bring a smile to you face every day!
All the best,

Chris Jordan
www.pezcollectors.com