Trias Family Pez-a-Saur Dinosaur Pez
The Pez-a-Saurs that were released first in Europe were known as the Trias Family and include Brutus, Titus, Chaos and Venesia. These are known as He-Saur, She-Saur, Fly-Saur and I-Saur in the USA. The European versions often came on different colored stems than those seen in the US.
Displaying 1 to 2 (of 2 Products)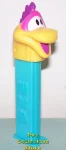 This He-Saur pez comes on a light blue stem. The colors of the European versions of the Trias Family and the USA versions of the Pez-a-Saurs are different. In the USA version, he-saur pez-a-saur is on a purple stem and the hood over the eyes is purple, but the European version has a pink eye hood and light blue stem. This Pezasaur from the European Trias Family comes loose and ready to display!
Buy Now
This is a European I-Saur Pez from the 1990's Pez-A-Saur series comes loose and ready to display on a purple stem!
Buy Now
Displaying 1 to 2 (of 2 Products)