May 2019 PCS Newsletter
New Pez have been popping up like spring flowers in the Pez Collectors Store! It is exciting to get these much anticipated new releases and we are expecting even more in the next month! Funko POP PEZ are not slowing down any either and there are more surprises in store for us from Funko!
Pokemon Pez are in stock now in the Pez Collectors Store. The Pokemon Pez assortment includes Pikachu, Bulbasaur, Charmander and Squirtle. These pez dispensers come mint in bag with pez candies!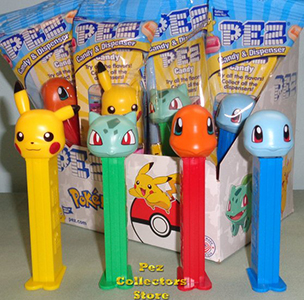 Pokemon Gift Set The Nintendo Pokemon Pez assortment includes Pikachu, Bulbasaur, Charmander and Squirtle. These Pokemon characters have their names printed on the stems, unlike those in the Pokemon Pez polybag assortment. These pez dispensers come in the Pokemon Gift box with Pokeball graphics and include a 6 pack of pez candies and are in stock now in the Pez Collectors Store.
The Disney Aladdin pez assortment includes Princess Jasmine, Aladdin and Genie. The Princess Jasmine is a revised version with a lighter blue bodice, yellow earrings and a yellow necklace (the previous versions were a dark gold color), and Aladdin and Genie are new dispensers. The Disney Aladdin pez come mint in bag with pez candies.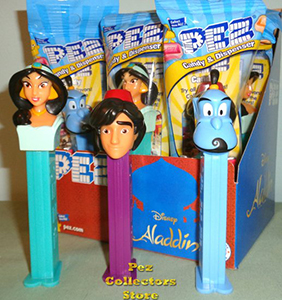 The Toy Story 4 pez assortment for 2019 has arrived and it has all new dispensers! The 2019 assortment includes a revised Buzz Lightyear on a white stem with a white suit, a revised Woody with no extra spot and wide open eyes, and an all new Little Bo Peep. These new dispensers are great additions and variations for the Toy Story pez line. These are in stock now and come mint in bag with candies!
The Toy Story 4 pez twin packs include a revised Woody with a new Little Bo Peep and a revised Buzz Lightyear and mini Space Alien. The new Bo Peep and the revised Woody and Buzz are joined by a new Space Alien on a mini stem that has a Pizza Planet logo printed on the stem! The Twin Packs each have a 6 pack of pez candy with the Toy Story 4 pez. These are in stock now!
Whataburger is a fast food restaurant chain in the Southeastern and Southwestern United States regions. These restaurants historically featured an A-framed orange and white stripe roof and the company logo is an orange and white striped W. The restaurant teamed up with PEZ to have a uniquely molded dispenser with their logo! The typical Whataburger restaurant is featured on the card graphics. This is a great promotional pez and it is so nice to have something with a unique head instead of a printed truck or puck or ball! Kudos to Whataburger for a great promotional pez! We have these available mint on card or loose to save on shipping!
2019 Original Collector's Price Guide to Pez, 30th Edition by John LaSpina is now available. This handy spiral bound book now has 258 pages and lists many different head variations for different dispensers from vintage to current, providing a price range and handy check boxes for tracking your collection! The 30th edition has all the newest dispensers and sections for mini pez, Funko POP!+PEZ, and for non-pez candy collectibles such as Totems, TV Pals, Yummy and Zepher dispensers!
The Hello Kitty Mermaid pez set is coming from Europe in the next few weeks. We are looking forward to this adorable addition to the Hello Kitty Pez line with a full body pink tailed Hello Kitty Mermaid, a full body blue tailed Hello Kitty Mermaid, a Hello Kitty with a purple stem printed with clam shells and a clam shell in her bow and Hello Kitty with a blue bow with clam shell and a fuschia colored stem and tiny blue polka-dots. Keep watching for these to arrive soon in the Pez Collectors Store!
The Kactus Pez are scheduled to begin shipping June 1. These anthropomorphic Saguaro cacti appear as male and female versions and we think Spike and Barb would be excellent names for them! They are cute as can be! These will come mint on card with pez candies.
We are looking forward to the June release of the new Lion King Pez assortment which is supposed to include updated dispensers with new stem colors. The assortment will still include Mufasa, Simba, Nala, Pumbaa, and Timon. Just as Disney is producing a remake of the 1994 Disney classic for release this summer, an update to the the original 2004 Lion King pez set is definitely welcome!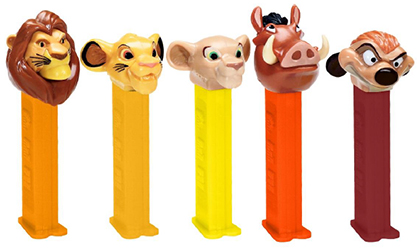 There will also be a pair of twin pack with the updated Simba and Nala dispensers and a second with Pumbaa and Timon, both featuring new Lion King graphics!
Funko POP! +PEZ variations are lots of fun! The Quaker Oats Crunchberry Beast A has spots with no outline and the B version has a black outline around each of the spots. The original Jean LaFoote (Version A) does not have black lines between the teeth and the skull on the pirate hat is completely different than the one in version B. We have a few of the original Crunchberry Beast and Jean LaFoote remaining and we also have the B versions in stock.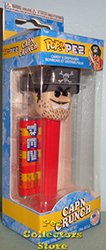 Luna Lovegood joined the rest of the Harry Potter POP PEZ and we are now offering a Harry Potter Bundle with Harry, Ron, Hermione, Dobby and Luna, or any of them can still be purchased separately!
We now have more Star Wars Ponda Baba Error Chase POP PEZ in stock. The name is incorrectly spelled on the box as Ponda Boba and it is expected that soon this error will be fixed and new ones will be released with the correct spelling of Ponda Baba. Factory errors are always more sought after once they are corrected, so get them while you can!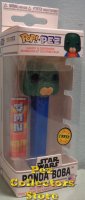 The Star Wars Funko Galactic Convention Exclusive POP!+PEZ are in stock in the Pez Collectors Store. This convention exclusive includes Gamorrean Guard, Jabba the Hutt and Salacious Crumb. We offer a convenient bundle pack for this set of 3 and we have just a few more sets on their way - keep checking back for these!
We have added a Star Wars Bundle which includes Funko POP!+PEZ Star Wars Series 1 Bounty Hunters Bossk and Greedo (NYCC version), Series 2 Tattooine Tusken Raider and Jawa, Series 3 Cantina Snaggletooth and Ponda Baba (misspelled as Ponda Boba).
Funko POP! PEZ Caddyshack Carl Spackler and the Gopher are expected to arrive within a few weeks! These two hilarious characters will make awesome pez!
We are expecting to receive Ghostbusters - Slimer, Stay Puft and Winston Zeddemore this month and the rest of the Ghostbusters crew are expected in June.
We also expect to receive the new Hanna-Barbera Atom Ant, Ricochet Rabbit, Wally Gator and Dick Dastardly around the end of the month!


Funko has announced several new additions to the anticipated POP! PEZ releases. Classic Betty Boop will be released along with a black and white chase version in late July!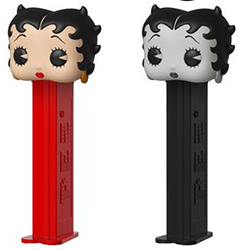 The Lord of the ThunderCats, Lion-O is expected in late July along with Mumm-Ra POP!+PEZ!

Funko has more great surprises for POP PEZ that will be coming soon, so to always keep up to date on the new announcements and releases, be sure to subscribe to our free Funko POP! +PEZ notifications email and we will share the newest information with you! Just click this link and provide your email address to get subscribed!
The Northeast Pez Convention is about to get under way in Stamford, CT! We wish we were able to attend, and we know Richie and Mary will host a very successful convention! I am sure everyone in attendance will have a fabulous time!
Be sure to plan for the 4th Michigan Pez Convention by getting registered and booking your hotel room! Jim and Jody Blaine work hard to put together a great event and it is always a lot of fun! We will look forward to seeing you in Ann Arbor, Michigan, June 20 – 23rd! Visit www.mipezcon.com for all the details!
Other conventions and gatherings coming soon include:
​We will be attending the 2019 Sweets and Snacks Expo this month and look forward to sharing all the newest information about upcoming pez in our June newsletter!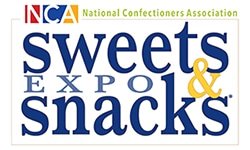 That's all for now! Until next month, Happy Pezzing!
All the best,
Chris Jordan
www.pezcollectors.com