March 2013 Newsletter
It has been an icy cold, snowy month and we could use a bit of spring and some new spring pez to brighten the days!  Thankfully, that should be just what we will be getting with spring just a few weeks away!
Moshi Monsters Poppet, Furi and Katsuma pez are in stock in the Pez Collectors Store. These are really cute characters from Europe! We have plenty available to ship now!
The 2013 Silver Glow Pez have arrived and they are icy cool with their sugar free peppermint pez candy! 
The dispenser is different than the previous silver glow released as it features the older, original style cap design making it more like the vintage regulars. It has a 7.5 patent number and the raised back spine, so no one should make the mistake of thinking it is truly a vintage piece! The card has an old style feel about the graphics as well – great nostalgia for a limited edition piece!
Major League Baseball spring training is beginning and the new MLB Baseball cap pez are on their way, too! We are told that "Pez has run into some issues on the baseball Pez that include the caps. Production is delayed…" and I was offered the opportunity to order "from what little inventory they have of the new assortment…and there's still no guarantee".  The cases of 36 pez I can order would include 27 of the old baseball mold pez and just 9 new baseball caps for each team. This means that the caps are going to be really hard to get, at least for a good while! We have ordered a small number of each of the 17 baseball caps that are currently available and we expect them to arrive within a few weeks! The teams we expect are:
Atlanta Braves Cap, 
Boston Red Sox Cap, C
hicago Cubs Cap, 
Chicago White Sox Cap, 
Cincinnati Reds Cap, 
Cleveland Indians Cap, 
Colorado Rockies Cap, 
Detroit Tigers Cap, 
LA Dodgers Cap, 
Los Angeles Angels of Anaheim Cap, 
New York Mets Cap, 
New York Yankees Cap, 
Philadelphia Phillies Cap,
San Francisco Giants Cap, 
Seattle Mariners Cap, 
St. Louis Cardinals Cap, and 
Texas Rangers Cap. It seems that the Houston 
Astros cap is not available yet.
Last month we told you about the Red Nose Day Pez and we indicated that we were trying to find a source for these that wouldn't cost an arm and a leg! We had several very good leads that would have been great, but every lead has fallen through. The going price seems to be excessively high and we hope that perhaps there will be more available in the future at a much better price, but for now, we are unable to offer these cute pez through the Pez Collectors Store at a reasonable price! We will keep trying!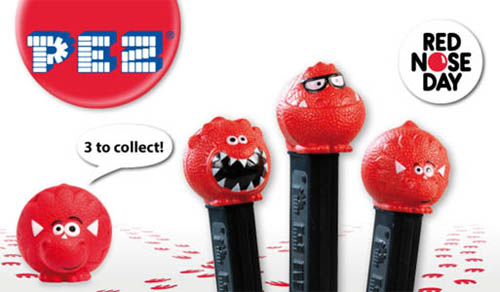 In April, we will have a new promotional Pez Truck for Hy-Vee. This Midwest grocery store chain had a promo truck for 2012 and a new truck for 2013 is scheduled for release around the first of April. 
Super Mario pez are scheduled for release in European countries in April. Our orders are placed and these should be in stock just as soon as they can be shipped to us after release!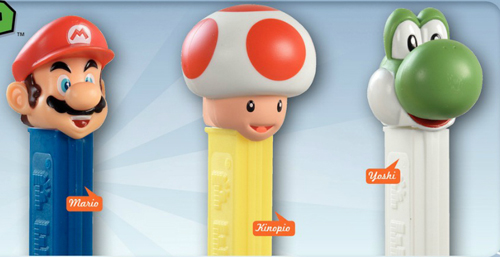 The floppy Ear Easter Bunny, in package or in tubes and the Easter Egg pez which only come in tubes are still available through the Pez Collectors Store. We also are offering these loose for those who prefer not to pay for added shipping expenses for the tubes and candies!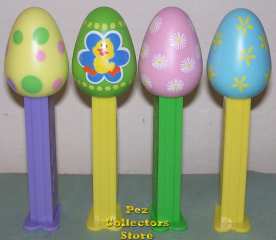 We tried in October to place an order through Pez Co for the Hello Kitty Plush and we were told that the product had been canceled. Now, it turns out that Pez Co did produce these, but they offered them for sale only to Walmart and Target. I am not sure why the limited distribution, but keep your eyes out if you enjoy the Plush Pez!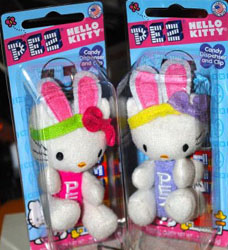 A hospitalization for a three level spinal fusion surgery on Feb 13 prevented me from attending the 2013 Pez Convention kickoff in California, but based on the reports we are reading about the PezCific convention, the convention season is officially off to a great start! It sounds like Maheba and her crew pulled of yet another fabulous convention with plenty of pez and fun for everyone in California!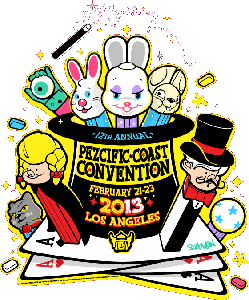 One of the best parts of PezCific is the announcement of the PezHead of the Year award recipient. This year, there could be no better choice than the named honorees – Tom and Ruth Ream. Tom may claim that he is merely the enabler and that Ruth is the collector, but there is no distinction between them when one considers the love and dedication they both bring to the hobby. Tom and Ruth travel to almost every convention and gathering, often selling pez fabric and wonderful fabric creations and Tom can usually be found with a few custom wooden convention pins that he has made and is handing out. Tom's woodworking skills are second to none and his creations from intricately carved fans, baskets, clocks and even a Pez carousel swing that was phenomenal can be seen in the Ream's room at conventions. The honor bestowed on Tom and Ruth as PezHead of the Year scarcely goes far enough to describe and honor what this couple means to the pez collecting community. We could have no better ambassadors of our wonderful hobby than Tom and Ruth! Enjoy your year and know that the title is truly deserved!
If you were not able to make it to PezCific, perhaps the Green Bay Pez Gathering will work out for you April 4 - 5! Information can be found on facebook at https://www.facebook.com/events/106977669455582/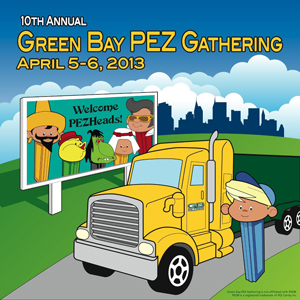 There is still time to register for the Northeast Pez Collectors Gathering, May 2-4, 2013. The early registration deadline was extended to March 15. This convention is a lot of fun and is held in Stanford, CT which is very near the Pez Visitor Center. For more information, visit 
http://www.PezGathering.com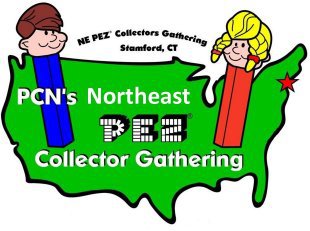 No spare room for a pez room got you down? With adjustable Pez Wall Displays, any wall or even hallway can become your pez room! The new fully adjustable Pez Wall Displays are nearly ready and hopefully will be in stock and ready to ship later this month. A standard display will come with 6 shelves which spaced evenly across the 17 shelf slots allows 6 rows of standard size pez – footed, thin feet or even vintage in shoes to be displayed, with approximately 17 to 18 per shelf for a nice display of over 100 pez. You can order 3 additional shelves and space them for 9 rows of mini pez, easily displaying 17-18 mini pez per shelf, for a total of around 160 mini pez per display. If you prefer a truck display, you can order 11 additional shelfs to fit in all 17 slots and display 4 or 5 trucks per shelf, for a total of around 70 trucks per display. Of course, you can mix and match – you can display a few rows of trucks, some mini pez rows and several rows of full size pez, all in the same display case if you choose. These displays are fully customizable – you can arrange them any way you want! The displays come with or without a hinged cover door for added protection from dust, grabby hands or random flying objects!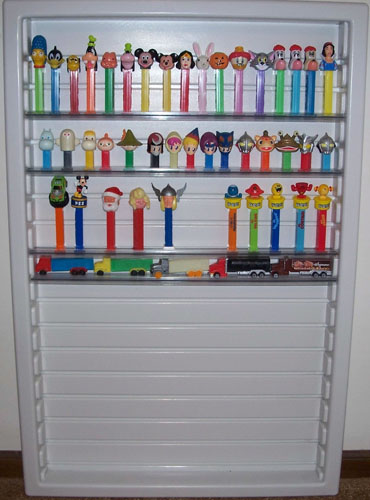 Being rather incapacitated this month by surgery has meant that the Jordan clan has had to pitch in and keep the Pez Collectors Store going! Many, many thanks to Todd, Bethany and Kyle for all you do! I am still moving very slowly, but hopefully there will be less pain every day! Meanwhile, pez certainly brighten the day and make everyone smile!
Next month, we hope to be able to share some news about more new soccer ball pez. The German teams call it football, but who cares – more new pez will be on their way soon!
Happy Pezzing!
All the best,
Chris
www.pezcollectors.com