July 2013 Newsletter
There have been several new arrivals to the Pez Collectors Store this past month and new pez are always welcome! There are more conventions coming this summer and lots to look forward to!
The German Football team pez have arrived. In June, 2013, 8 different German Football clubs (soccer to us, football to them) have new Pez soccer balls with their logos. These teams are from the Deutsche Bundesliga, a professional association of football teams in Germany. The 8 teams are Hamburg HSV, Schalke 04, Dortmund Borussia BVB, FC Koln, Werder Bremen, Borussia Gladbach, Eintracht Frankfurt and Fortuna Dusseldorf. The set of 8 German football (soccer) team pez dispensers comes loose and ready to display for those who would prefer to save on shipping, or mint on card with individual cards for each team.

The Houston Astros major league baseball cap has been added to the Pez Collectors Store. This is the 18th baseball cap that was unavailable when the first 17 team caps were released.
Keeping stock on the Major League Baseball team cap pez have been a challenge because Pez Candy is trying to get rid of all their leftover baseball ball pez, so they are packing only 3 caps in a 12 count box and the rest are the same old ball pez. We have some stock on all of the baseball cap pez except the Cleveland Indians, but we will try to get more of those when we go to the Pezamania Convention at the end of July. The caps are being sold individually now, so you can pick the teams you like or that you are missing! Again, choose loose to save on shipping or mint on card!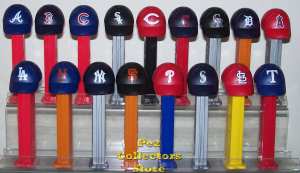 We have added a couple of new sets of candy poopers for those who collect other candy items. The wind-up, walking Robot Poopers and Pirate Poopers are the newest additions to the Treat Street Candy Poopers line!
We made some purchases at the St. Louis Annual National Pez Convention and have restocked our inventory on things like Funky Face pez, Teenage Mutant Ninja Turtles and some of the other 90s pez.
We also have added some pieces to the Vintage and many more to other categories.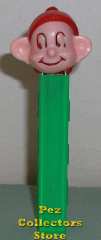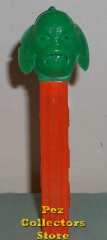 We have many of the hard to find FX pez, including the decoder, staff and entrance pez, through all the years.
Hello Kitty Plush pez were supposed to begin shipping on June 1, but pez has a new policy. I've been instructed that "on future orders that have a running change on an assortment, that the first ship date will be 30 days after the announced release date." I am not sure what this means, other than that my order arrived and included the Hello Kitty with Keroppi, but not the new Hello Kitty plush. We hope the new Hello Kitty Plush pez will arrive soon!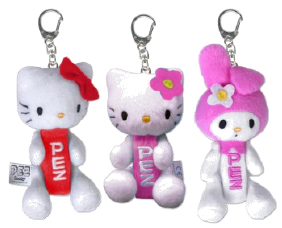 We have a few sets of Warner Brothers Looney Tunes shipping to us now from Europe and they should arrive within a week.
Just as we begin to heat up for summer, the Halloween pez will begin shipping. This year, we look forward to the two newest holiday pez being added to the mix with left over older releases. The Ghost and the Vampire are very cartoonish and just as cute as can be. Perhaps Pez is worried about frightening their primary customers with scary Halloween dispensers, but there can be no fear with these adorable little spooks! It is amazing to see the change in the characters as you compare previous Halloween releases to the newest.  For a while, Pez artists seemed to get more accurate and realistic, and now they seem to be moving back to cute, cuddly, cartoonish characters.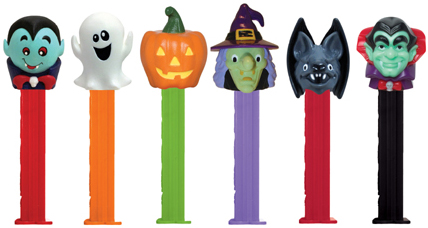 According to the rumor mill, there is a new WaWa truck that should be coming out sometime soon. We will get these in stock just as soon as they are released!
Convention season is well underway with a tremendous Annual National Pez Convention behind us! We had the chance to debut our new customizable pez wall displays which we used to show the pez we had for sale. The adjustable, customizable wall displays are now available in the Pez Collectors Store! Each approximately 24" x 36" unit comes with 6 shelves for displaying standard size pez, but you can order additional shelves to display mini pez or up to 17 rows of trucks. You may choose a covered display to prevent dust and larger airborne objects from meeting your pez or you may choose the less expensive open display. Covers can always be ordered separately and added later! Slide your pez side to side to rearrange – no need to move each one individually just to insert a new addition! The 6 shelf display will hold over 100 regular sized pez. Order the components you want – the open case with 6 shelves, extra shelves and a cover can be added now or later!
The July Convention is Pezamania hosted by John and Linda Gliha in Cleveland Ohio. We will be attending but will be traveling light with just the most popular of items. We want to save room for purchasing pez to stock and restock the Pez Collectors Store. This year, Pezamania is the 4th weekend of July – July 25 – 27. We will have a few days of travel to get there and back so orders placed during the week of July 22 will ship July 29.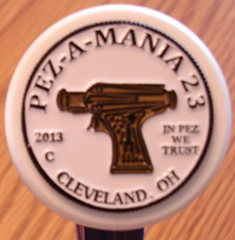 The MNPezCon is being held August 1-3. The hosts Chris and Leslie Sloan have announced that this will be the last convention they will host. There is no word about anyone taking over the convention, so this year could be the last chance to attend. We have enjoyed attending the MN Pez Con hosted for years by Dana and Juli Kraft and for the past two years as hosted by the Sloans. It is very sad to see it end so suddenly. Unfortunately, we made plans to attend the Cleveland convention this year and with less than a week between it and Minnesota this year, we cannot attend both.
That's all our news for this month. We hope to see many of you in Cleveland!
Happy Pezzing!
All the best,
Chris Jordan
www.pezcollectors.com