October 2008 Newsletter
It is hard to believe that another month has gone by and it is time for more news from the Pez Collectors Store. We have lots of news to share this month as Pez has just released some of the information regarding the 2009 Pez releases. There are a lot of new pez to look forward to and we can't wait to share them all with you. We also have important updates for the Star Trek release and lots of new items added to the Pez Collectors Store over the past month. We also have news about the Pez Collectors Store and the next pez convention in Myrtle Beach as well as information about the 2nd Annual Kansas City PezHead Gathering!
What do Pez, Walt Disney, the Heart of America and the University of Missouri – Kansas City have in common? The second annual Kansas City PezHead Gathering! We are working on all of the details, but UMKC and the Pez Collectors Store will play host to the 2nd Annual PezHead Gathering on May 23, 2009. The Saturday of Memorial Weekend is a great time in the Heart of America – the grass is green and the sun is warm and it is a great opportunity to connect with your fellow collectors for a fun filled day of Pezzy events. Details of the event, registration information and all the news will be coming in later newsletters, but be sure to mark your calendar now and plan to attend!
The much anticipated Star Trek release still has not been released. The original ship date from Pez Company was scheduled for September 1. We were then told it was delayed until September 15 and we are now being told it will not begin shipping until October 15.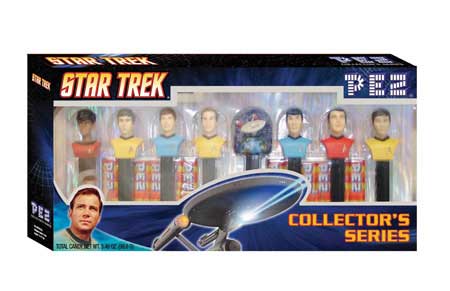 Many of our loyal customers have emailed to ask if we will take pre-orders for these. We cannot be certain of the arrival of any new release from Pez Company, so we will never sell an item unless we have it our own hands. People who may have pre-ordered these, expecting them in early September would be greatly disappointed by now, especially if they were ordering them as gifts for some loved one's special day. Rest assured that pre-orders are not really necessary anyway – we have ordered several hundred of the Star Trek Gift sets, so we do not anticipate running out of them soon once they finally arrive. We also will not be charging the overly inflated prices we have seen on some websites offering pre-orders. Keep watching the Pez Collectors Store and as soon as they arrive, we will have them available for immediate sale and shipment!
Just in time for Halloween, we have a few more of the very limited special crystal Halloween pumpkins on test stems back in stock.
Buster and Darby have arrived and they are really cute! We were a bit disappointed that there were relatively few included in each case as compared to the number of the rest of the Winnie the Pooh dispensers in the set, but we have ordered more cases just to be sure we have plenty of Buster and Darby in stock for you.
Skipper and Melman from the 2008 European Madagascar series arrived in our shipment from Europe after a delay in customs. It is often difficult to get Pez to the USA in large quantities as transit can be slow and customs can further delay the arrival time. Nonetheless, these are great new characters. Melman the Giraffe has a rubbery head, so that it is much different than the more typical hard plastic. Skipper the penguin has firmly attached wings, so the original design problems with this pez have clearly been worked out.
Much like the delay seen for shipment of Star Trek, we all still anxiously await the arrival of the NCAA Nebraska Football but we are told it is still in the works and we hope to have it available soon. We also believe we have finally found a source for the Washington State Football Pez and University of Washington Pez and we hope to have them available sometime in October.  Keep your fingers crossed and stay tuned!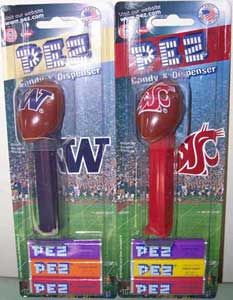 The lineup for 2009 was just released by our Pez Rep and while we cannot share any pictures of items until 30 days prior to the first scheduled ship date, we can at least tell you about what to expect.  The news as we have received it:
January -- Valentine assortment -- Cherub added to the assortment 

January -- Pete The Cat is added to the Disney Classic (Mickey and Friends) assortment

February -- Star Wars Clone Wars introduction

February -- Easter assortment-- Duck and Brown Bunny added to the assortment

May -- Ice Age 3 -- the addition of Scrat w/nut and Dino Momma to the assortment

August -- Marvel Heroes--All new Hulk, Iron Man, Wolverine and Spiderman

August -- Disney's Fairies--Three new Fairies added to the mix--Fawn, Rosetta and Terrance

September -- Toy Story --Woody, Buzz Lightyear and Jesse

September -- WIZARD OF OZ GIFT SET -- 70th Anniversary Limited Edition, numbered gift set--Preliminary artwork shows 8 pieces, including Dorothy, Tin Man, Cowardly Lion, Scarecrow, The Wicked Witch, Glenda the Good Witch, Toto and The Wizard

September --  Disney Princesses --Princess Tiana is added to the assortment

September--Halloween Assortment--Bat added to the assortment

October -- WINNIE THE POOH 4 pack GIFT SET--Includes Winnie Sleuth and Tigger Sleuth, Darby and Buster--The unique configurations of  these versions of Winnie and Tigger will only be available in this special Gift Pack

October --  Christmas assortment -- New Polar Bear added to the assortment
We shared previews of the 2009 Holiday assortment in our newsletter quite some time ago (prior to the ruling that photos could not be shared until 30 days prior to release), so you can still look back to the February 2008 newsletter to see the new 2009 Holiday dispensers. Pete the Cat doesn't look much like a cat, but he is the arch-nemesis of Mickey Mouse and he will be added to the lineup of new Mickey Mouse Clubhouse characters released in the USA. We have seen preliminary artwork of the new Marvel Heroes characters and they look really good!  We are not sure if the Buzz Lightyear in the Toy Story series will change any from the one previously released in the Best of Disney Pixar mixes, so it will be interesting to see. We are definitely looking forward to the Wizard of Oz gift sets – these should be great and we think Aunty Em will be proud! We have been told that the Pooh and Tigger in the special gift packs will be new variations and will only be available in the gift set. We have been told similar things about the Princess pez in the past, only to later discover that the characters were released separately, so we aren't really sure about this official statement from Pez Co! We have also noted that there do not seem to be any new Major League Baseballs in the lineup, but since only 1/3 of the teams have been released, we suspect more will be coming.
Eat Mor Chikin! Be watching the Pez Collectors Store for Chick-fil-A Cows, coming soon! What is this? Well, we aren't saying anything quite yet, but we suggest you keep watching for our new additions on a regular basis throughout the next month to get the answer to this question. We are also expecting to add a few other new and limited release surprises to the store by the middle of the month or in the very near future, but to avoid getting up your hopes and expectations, we won't say what else is coming yet.  You will want to keep checking back and checking out the new listings!
We will announce one special surprise that is being added to our inventory - Pez Collectors Store Lapel Pins. The 1 1/4" Pez Collectors Store lapel pins will be available as soon as our shipment arrives. To reward our loyal customers for their great support, the first pin on gold metal with a white background will be added to each order totaling $100.00 (excluding shipping, insurance and sales tax) at absolutely no additional charge! That's right, order $100.00 in merchandise from the Pez Collectors Store and get this special collectors pin FREE! The second pin on silver metal with a blue colored background will be added to any order, along with the first pin for orders totaling $150.00 in merchandise and the third pin on copper metal with a peach colored background will be added, along with the first and second pins for orders totaling $200.00. The bonus pins will be automatically added to your order - there is no need to add them to your shopping cart! These are our Thank You gifts to our customers, while supplies last!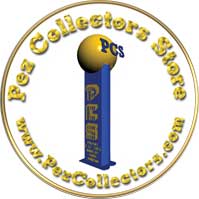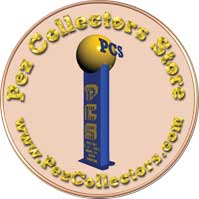 If you would like to order the pins, but don't anticipate placing an order large enough to earn a FREE Thank You pin, you may still purchase the pins separately by adding them to your shopping cart. They are a bargain for pez lapel pin collectors, even if you don't get them free!
This month, Kyle and I look forward to meeting many of our customers from the South East when we attend the Myrtle Beach Pez in the Sun convention October 23 – 26.  We will by flying to Florence, SC then driving a rental car to Myrtle Beach, so we cannot take large amounts of our inventory as we usually do for conventions we drive to. If there is something you are particularly wanting us to bring, please be sure to send us an email ahead of time so that we can be sure to pack whatever you are wanting!
Did you get a chance to listen to the podcast featuring Pez collecting and the Pez Collectors Store? Due to some technical difficulties, WebTalkRadio delayed posting the interview with Harold Nicoll, but the Collectors Show - Pez podcast can still be heard by clicking the link or at http://www.webtalkradio.net/index.php/show-podcasts/69-the-collectors-show-with-harold-nicoll/2116-the-collectors-show-pez-
That is all the news and information we have to share for this month. We hope you enjoy the newsletter and please be sure to visit the Pez Collectors Store for all the latest Pez releases!
Happy Pezzing!
Chris Jordan