May 2015 Newsletter
We have had a couple of new releases which arrived in the Pez Collectors Store in April. The North East Pez Convention is happening right now and PEZ Candy is probably very busy getting ready for the Sweets and Snacks Expo in Chicago where the 2016 pez releases will likely be on display.
The Wildlife Plush Pez arrived and they are really cute! The plush pez work just like an ordinary pez dispenser, but the plastic body and head are soft, plush fabric and they have arms and legs (or 4 legs, depending on the animal). The Wildlife Plush Pez set includes a giraffe, an African Elephant, a White Tiger and a Mountain Gorilla, all of which are on the endangered animal list. The plush pez come with a clip to add the dispenser to a backpack, purse or keyring.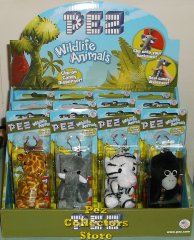 The Marvel Avengers Assemble pez set arrived in the Pez Collectors Store. The 2015 Marvel Superhero pez assortment includes a new Ironman, new Incredible Hulk, new Captain America and Thor. The Thor has a bit darker complexion than the previous release, but no changes in the molding. The 2015 Hulk has a more olive green complexion and longer hair all around, the new Captain America has the wings painted on the side of the head rather than sticking out, and the Ironman has a faceplate that is more notched at the top than previous versions.  There are three completely new molds used for the characters in this pez assortment, so they are a must have for your Superhero pez collection!
The 2015 Original Collector's Price Guide to PEZ and Other Candy Dispensers, 26th edition by John LaSpina has been released and it is packed with information. This handy spiral bound book lists many different head variations for different dispensers from vintage to current, providing a price range and handy check boxes for tracking your collection! The 26th edition has all the newest dispensers and sections for mini pez and for non-pez candy collectibles such as Totems, TV Pals, Yummy and Zepher dispensers!
The My Little Pony Pez assortment is scheduled for release in the USA in May. We expect these dispensers to be the same as the set released in Europe in December, 2014, but until they are released, it is anyone's guess as to whether there will be any variations or differences.  We expect to have these in stock before long and we still have a few sets of the European release available now in the Pez Collectors Store.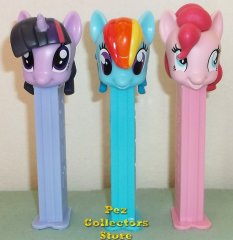 There are no new pez releases scheduled for June in the USA or in Europe, so we are moving into a quiet period for new pez. This will be an excellent time to catch up on previous releases you may have missed and to fill in missing pez to complete your sets!
The Northeast Pez convention is underway now in Stamford, CT, with pezheads arriving at the hotel and some making early trips to the PEZ Visitors Center nearby in Orange, CT. We hope everyone there has a great time connecting with other pezheads and finding the pez they are looking for!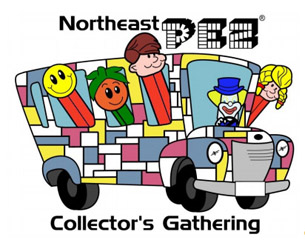 The PEZ Visitors Center has a display of a few of the upcoming releases and these photos were shared by Megan Northrup - the Transformers pez set coming in July and the President Pez Volume 8 and 9 which will be released in November.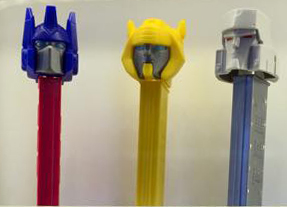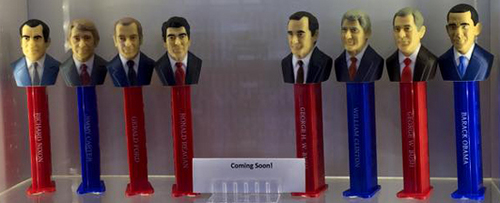 The Sweets and Snacks Expo, May 19 – 21, is an annual event sponsored by the National Confectioners Association. It is a show that most major candy and snack companies use to display their upcoming product line to distributors and for PEZ Candy Inc., it is usually the first hint of what might be expected for the next year. There are usually mockups if not preproduction samples of new Pez dispensers on display. We hope to get a lot of information to share with you next month about the upcoming Pez releases!
The next convention for the year is the 25th Annual Pezamania Pez convention in Cleveland, Ohio. This convention will be huge! The hotel is full, but there are several other hotels very nearby, so no one needs to miss out on this spectacular event! Hurry and send in your registration and make your plans to spend July 23 – July 25 in Cleveland Ohio! All the information can be found at www.pezamania.com so check it out now!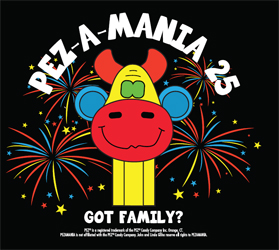 That is all the news that we have for this month, so happy pezzing!
All the best,
Chris Jordan