July 2014 Newsletter
It is an exciting time for pez collectors with all the new releases coming out! There have been new pez from Europe as well as new releases in the USA. And, there has been an announcement of another awesome new set scheduled for release in December and some hints of what is coming in 2015!
Disney has released the World of Cars in the USA and this set includes Dusty and El Chupacabra, along with Mater with announcer headgear and racing flags printed on the stem. The two planes are identical to the Planes 1 released earlier this year in Europe. This set is available mint in bag with pez candy and for those who already have Dusty and El Chupacabra from Europe. Mater with racing flags is also available separately.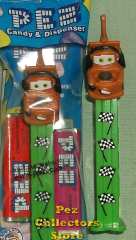 Europe has released the Planes 2 Fire and Rescue set which includes a new Dusty with a blue stripe on the side and with pontoons instead of landing gear. The set also includes Blade Ranger, a helicopter and Lil' Scooper. The Fire and Rescue planes are not scheduled for release in the USA, so they are European only. This set is available now in the Pez Collectors Store.
Just for comparison and clarification the full set of World of Cars / Planes 1 and Planes 2 Fire and Rescue are shown together in this photo. World of Cars is the three on the left, Planes 1 is the second and third in the photo and Planes 2 Fire and Rescue are the three on the right of the photo. Notice the differences in the Dusty!
Flash is a DC Comic character with super-fast speed. He is nicknamed the Crimson Comet or the Scarlet Speedster. This superhero pez dispenser is the latest addition to the DC Comic Super Hero assortment.
Interest in soccer is heating up in the USA with the FIFA World Cup games. The game has always been extremely popular in European countries and there is a great deal of support for various European teams. This year, a pair of Swiss soccer balls was produced for the FC Basel Soccer team from Switzerland. The stem colors of red and blue and they are printed with FC BASEL 1893. The team was formed in 1893 and they are based in Basel, Switzerland, so the team's full official name is FC Basel 1893. These limited edition dispensers are available only through one company in Switzerland. This great pair of FC Basel soccer ball pez is available loose and ready to display or mint on card with great graphics!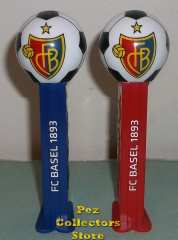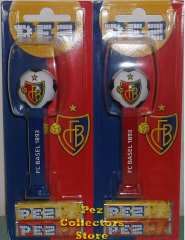 A second set of soccer ball pez was also produced for Switzerland teams. These are plain soccer balls with stems that are printed 2014. The red stem is printed in white and the white stem is printed in red, representing the colors of Switzerland. The card says Hopp Schwiiz - Forza Svizzera - Allez Suisse - Hopp Svizra - all cheers for the Swiss team! These 2014 Swiss soccer ball pez are available mint on card or loose from the Pez Collectors Store.
The German soccer teams are also being cheered on with new soccer pez. The set of 3 soccer balls come on a red, a black and a gold stem, representing the colors of the German flag. These are coming to the Pez Collectors Store soon!
The Disney Junior pez assortment has just been released in the USA. This set includes Sophia the First, a junior princess from the Disney Junior network on the Disney Channel. This charming little princess is the only princess pez that is a head only rather than a bust (perhaps because she is a junior princess and doesn't have a bust yet). She is joined by another Minnie Mouse from Minnie's Bowtique. This Minnie Mouse pez comes on a pink stem with white polka-dots and has a pink bow with white polka-dots, different than any of the other Minnie Mouse pez released previously. Finally, the Disney Junior pez assortment includes Jake and Skully from Jake and the Neverland Pirates, also on the Disney Channel Disney Junior network. Jake and Skully are the same as the pair that was released previously in Europe. This set is shipping to us and will be available in a few days.
Teenage Mutant Ninja Turtle pez series 3 has just been released in honor of the newest TMNT movie release. Leonardo, Michelangelo, Donatello and Raphael are ready to fight more crime and are on their way to the Pez Collectors Store. The 2014 TMNT pez will be available in just a few days!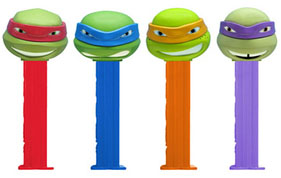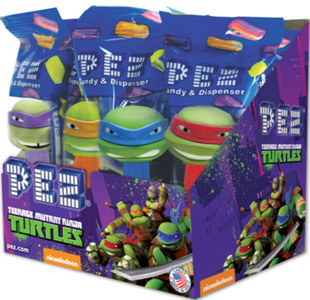 Angry Birds have been released ahead of schedule in the USA. This set of 4 Angry Birds includes Red Bird, Black Bird, Green Pig and Stella, the pink bird. This set comes in a gift tin shaped like the Angry Red Bird. These were scheduled to begin shipping in August, but have arrived early and are now being shipped, so we expect to have them in stock within a week or so.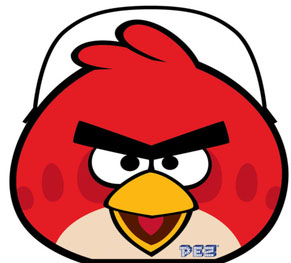 We have been restocking the Pez Collectors Store with several very popular pez that have been hard to come by. The evil Dr. Doofenshmirtz has been very hard to find, but we will have more in stock shortly. We have also restocked the revised Cinderella and Squeeze Toy Space Alien, as well as the Israeli lime green Tanker trucks.
We are anxiously waiting for our shipment of Emoticon pez to come from Australia. They have arrived at the distributor's in Australia and are shipping to us now. The set of 6 different Emoticons will soon be available again in the Pez Collectors Store!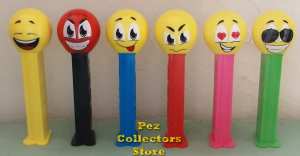 We have been told that later this year, the set of Emoticons will be expanded to include 9 different faces! This explains why the set of 6 which are available now do not match up with the pictures and names on the back of the cards. We are waiting to hear exactly when the three newest emoticons will be released and we will get them in stock, too, just as soon as they are available.
The Hello Kitty 40th Anniversary Pez Tin is scheduled for release in August, 2014. This set includes Papa George, Mama Mary, Sister Mimi and, of course, Hello Kitty, all as full body dispensers. This is a limited edition pez release, though we have no information at this time as to how many are actually being produced or released. These are adorable and we will have them in stock just as soon as they are released from Pez in August!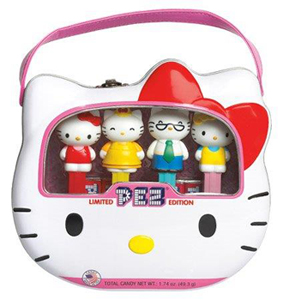 Anna, Elsa and Olaf pez from Frozen will be released in December, 2014! These new pez will be an extremely popular pez release. In addition to the set of 3 which we will have available mint in bag, there will also be a boxed set which will include just Anna and Elsa. What an exciting treat these will be!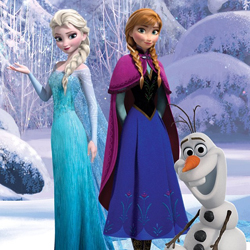 Pez collectors Eddie Santiago and Matthew Meliker attended the Sweets and Snacks Expo in Chicago in May and took photos at the PEZ booth. Looking forward to 2015, we can expect to see a crystal set of 4 Star wars pez – a crystal Darth Vader, crystal Yoda (the revised mold), crystal R2D2 and crystal C3PO, all in a gift tin that is shaped like Darth Vader's head. 
There is also a new Incredible Hulk scheduled for release in 2015, along with Captain America and Ironman from the Marvel Avengers pez set. In the same photo, we see yet another Minnie Mouse and Gary the Snail from the SpongeBob series!
The new elf is absolutely adorable and there will be a new plush Santa for Christmas 2015, as well as a new wildlife plush pez set. For Valentine's Day, we can expect to see some new Hearts with bigger, bolder sayings!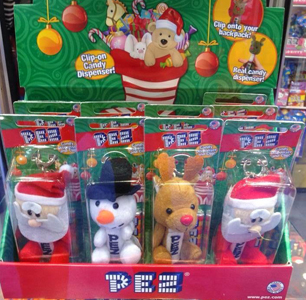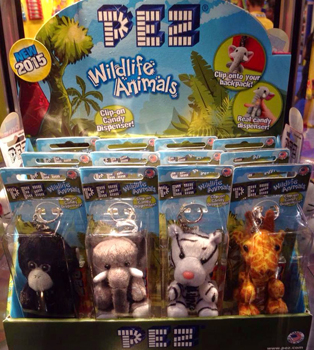 All of these in addition to the expected 65th Anniversary Peanuts, Despicable Me Minions and Jurassic World Dinosaurs that have been hinted at previously. The following photo adds some validity that the 65th Anniversary Peanuts will be released next year, even if they are showing the old Peanuts set beside the new TMNT pez release. 
Yep, it's a good time to be a pez collector!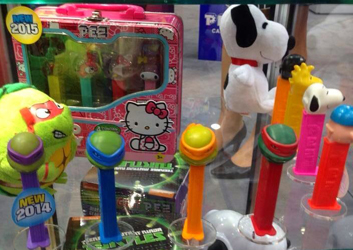 A first look at the President Pez Volumes VI and VII is seen in this final photo.
As an update to our last newsletter, we finally heard back from Pez Candy regarding the touchups done to the President Pez. I received a phone call from the Vice President of Operations at PEZ Candy, Inc. He indicated that there were a 'handful' of pez which were scratched during shipment to the USA and that these were touched up prior to being packaged. He assured me that the permanent marker used for touching up the dispensers meets ASTM safety standards and that the pez are not toxic and will not harm children. I told him that from a collector's standpoint, this touching up is unacceptable and he apologized that the touched up President Pez were not up to the normal PEZ standards. I was assured that the future President Pez releases will not include any touched up dispensers. He did offer to replace any sets that I would like to return, so I will need to go through the cases we have in the warehouse to find any that have touch up showing from the front. I will not be opening all of the factory sealed boxes to see if there is marker on the sides or back of the bust. I am not sure how many a 'handful' is to PEZ - I am sure it is a relative term based on how many hundreds of thousands of President Pez they package.  I have heard from a number of pez collectors who have checked and found touchup marker on their sets which all came from a variety of different retail sources so it does seem that these are widely distributed. The VP of Operations was very nice, very apologetic and was more than willing to provide replacements for substandard sets. Most importantly, I was assured that they won't be doing more of this in the future!
The next Pez Convention is Pezamania in Cleveland, Ohio, July 17 – 19. This is typically the largest pez convention and it looks like this year will be well attended! The Pez Collectors Store will be attending and we look forward to seeing you there! Stop by and say hello!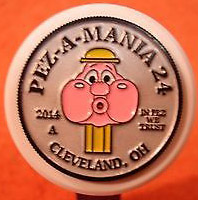 Until next month, Happy Pezzing!
All the best,
Chris Jordan
www.pezcollectors.com