January 2016 Newsletter
Happy New Year to all the Pez Collectors Store Newsletter subscribers and customers! There are many exciting new pez to look forward to in 2016. It is easy to build an impressive collection with so many different pez to choose from and the Pez Collectors Store is happy to help you get the pez you want!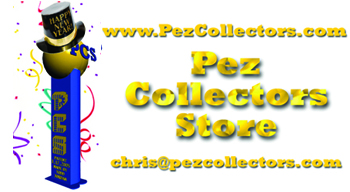 We are very excited about the Pez Collectors Store Shoes for No Feet Pez arriving in the Pez Collectors Store! These shoes are One Size Fits All, so the same shoe will fit a vintage stem of any size or will fit a current no feet stem with a deep spine. There are two different styles - narrow for forward facing pez or wide for pez that display the stem sideways such as Valentine Hearts, Psych Eye, ad regulars or die cut stems. The new shoes are available in transparent colorless plastic to let the color of the stem show through, or in classic opaque black.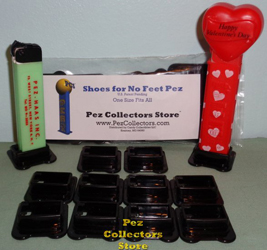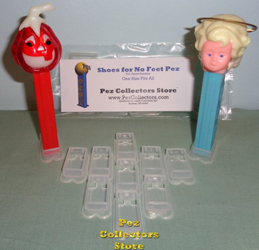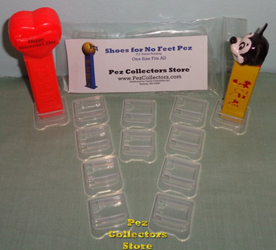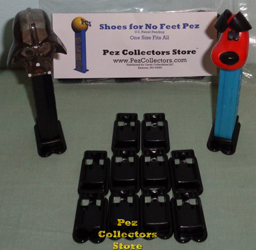 The platform foot of the PCS Shoes are the same thickness as the feet on a current footed pez, and are the same length from front to back of the foot as a current footed pez, so they fit perfectly beside footed pez in a display that uses a front toe clip, such as the Pez Collectors Store Grandstand display or the adjustable 6 shelf PCS wall displays, either covered or without cover. They also fit in some of the other grandstand displays or rails which use a curled front toe clip.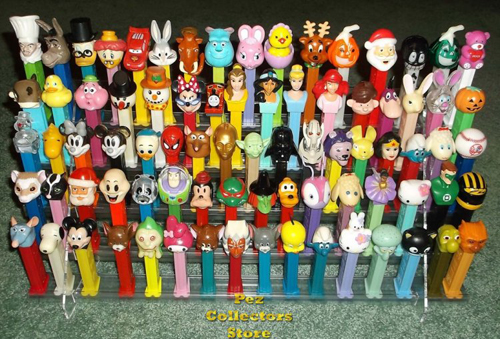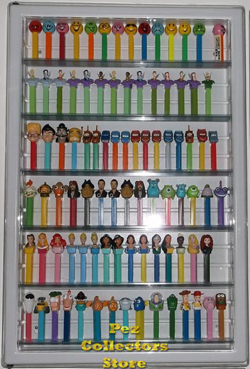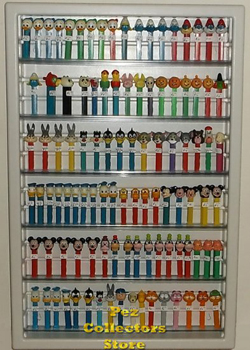 When considering a purchase for the Pez Collectors Store Wall displays, remember that the shelves are adjustable to accommodate regular size dispensers, mini pez or pez trucks, so you can use up to 17 shelves in each display. Extra shelves are available and the optional cover can be added to an open display at a later date. Buying two displays at the same time as a bonus pack allows you to save on shipping as the second one ships free! And, PCS shoes fit perfectly in these units!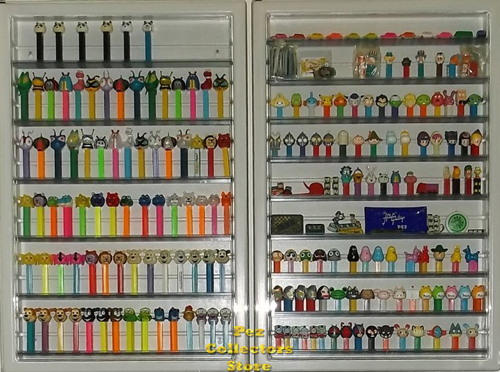 We received our order for Valentines Twin pack boxed sets. The assortment for Valentines day, 2016 includes a new twin pack with Snoopy and Woodstock. The copyright on the back of the package says 2016 Peanuts Worldwide, LLC and 2015 PEZ Candy, Inc. and the front of the box has a heart shaped address label with fill-in lines for To:____ and From:___ just like a classic Valentine card. The rest of the case includes the 2015 Mickey and Minnie twin pack with polkadot Minnie and Mickey with two color Mickey patterns on the stem.
The Valentines Day single pez releases include the Valentine hearts with Happy Heart Day, XOXO and Be Mine in bold lettering, the Valentines Day Monkey and two of the new emoji pez - Love and Kissing. Too bad they didn't at least release these on different colored stems!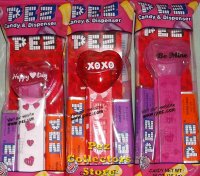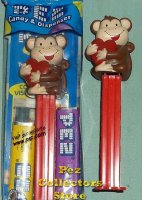 Our order for Emoji pez was apparently misentered for a January 1 delivery and by the time this was discovered, Pez Candy had shut down for inventory, so we are still waiting for our order to arrive. We have been assured that Pez Co. has corrected their error and that our order is shipping to us now.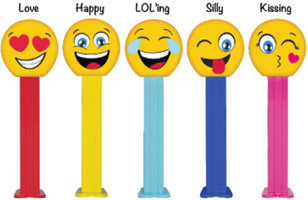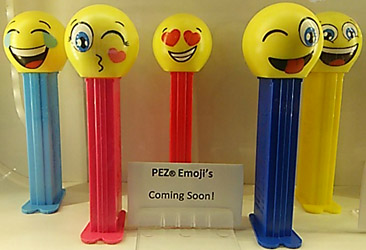 In January, we are looking forward to the release of the new Justice League assortment that will include the new Batman, Superman and Wonder Woman pez. The mockup pez on display at the Sweets and Snacks Expo for Batman and Superman was much more detailed for Batman and Superman than the pez which have already been seen in Europe for this set. It appears that the old bust molds for Batman and Superman have been used and repainted in the new European set and we are guessing that this is what the USA set will also include. Wonderwoman will likely be a new bust mold so she should be completely different than anything previously released. This set is scheduled for January 1 release, meaning that shipping will likely being on January 4 and we hope to get the set in stock early in January!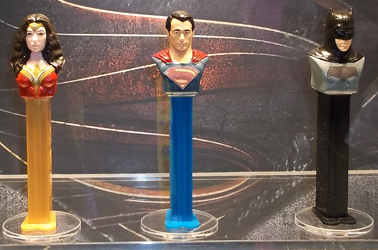 Europe is only releasing Batman and Superman and these actual dispensers photographed by Guenter Haidinger show that the old Batman and Superman molds are being used and are getting new paint jobs. For Superman, the old mold is used and the gap between his hairline and fallen curl is now filled in with black painted hair, and a blue collar is painted in around the neck. The eyes are a bit different and the emblem is a bit different as well.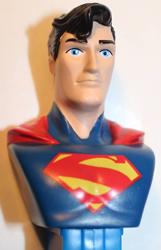 The 2016 European Batman is also the old mold, but it looks quite different in the black and gray tones. There is a difference in the chest emblem and the hood and cowl are black instead of blue on the new Batman.


Pez Easter Egg mini pez will begin shipping from Pez Candy in January 2016 and these are really cute with several different color heads including a blue ducky, a brown floppy ear rabbit and a pinkish purple bunny, all on mini pez stems in eggs.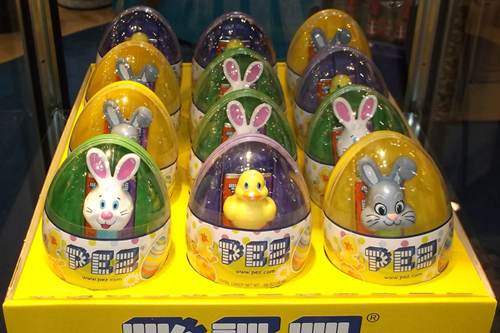 We also expect a white head floppy ear bunny (maybe on a green stem, maybe on a blue stem?) and a new Easter Egg this year though we are not sure if they will just be on card or tubes or in polybags. We will try to get these in stock as soon as possible, but assortments for holiday pez often include the old characters until Pez Co. runs out of old inventory, before they begin shipping the newest releases.
We are also expecting to receive the new Nerdy Kitty from Europe in early January. She is scheduled to be released in the USA in May as a part of the Hello Kitty assortment, but the phase-in of this dispenser into the assortment will likely make it slow to appear in the USA, so we will have them in stock from Europe in the Pez Collectors Store very soon!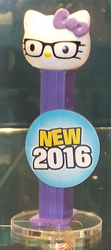 Also coming from Europe in January is the new versions of Kung Fu Panda. These dispenser have different paint and different stems if not different molds, so they will look like different variations of Shifu, Kung Fu Panda and Tigress. These should be arriving within a week or so!
At the end of January or first of February, My Little Pony Fluttershy will be shipping to us from Europe. This sweet addition to the My Little Pony pez set will be a great addition to the existing My Little Pony Pez set.

There seems to be a new trend to release single dispensers as an assortment, then to release them as a boxed set or as a tin or lunchbox. This is true for the Justice League Pez assortment scheduled for release in the USA in January, with a boxed set scheduled to begin shipping February 1 in the USA.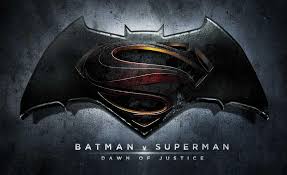 Likewise, in March, a My Little Pony Lunch Tin will be released in Europe featuring Twilight Sparkle, Rainbow Dash and Fluttershy. The dispensers will be the same, they will just come in different packaging.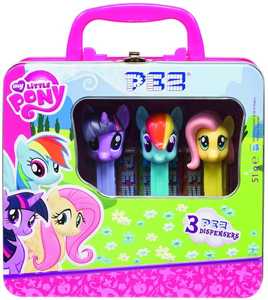 We did a fairly extensive review of the 2016 USA pez lineup for 2016 in our November 2015 Pez Collectors Store newsletter and there is nothing much to add at this time, but we have a sneaking suspicion that perhaps the mystery pez scheduled for the Finding Dory set might include Bailey, the Beluga Whale and / or Destiny, the Whale Shark. Recall that Pez Co. has shown prototypes of the set with characters on blue transparent stems including Nemo, Dory and a mystery character, and, in a fishbowl gift set. Information we have received suggests that there is a possibility that the pez may come on different colored stems - yellow, white and blue in the gift set. While unlikely, there is always the possibility that there could actually be two different mystery characters - one released in the regular set and one released in the fish bowl. Time will tell, but we are taking a guess and are thinking we may be seeing Bailey and / or Destiny in May, 2016.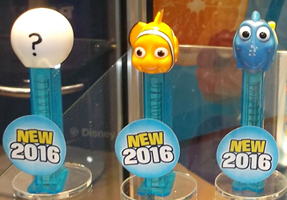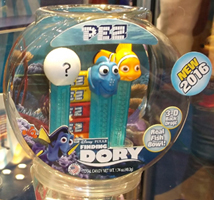 The PezCific Coast convention is celebrating their 15th Anniversary February 18 – 20, 2016. As a special tribute to this Anniversary, a special exclusive dispenser is being made and carded by Pez International. You know you want to be sure to get in on this and now is the time to register! Check out all the details and get registered by visiting the website at www.pezcific.com. We look forward to seeing you at PezCific to share some Pez fun, warm weather and a great time!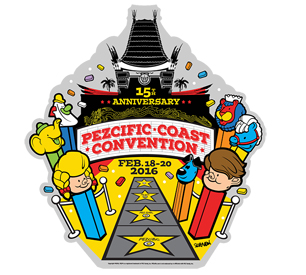 We have been trying to gather information regarding pez gatherings outside the USA, so if you have travel plans abroad or happen to live near any of these gatherings, you might want to make plans to attend! Many of these will have a special dispenser created just for their gathering. At the Vienna International Pez Convention in 2015, it was decided that the head for the dispenser would be the Lovey Emoji with a yellow crystal head. The stems for the dispensers will be chosen by the gathering and will be printed with gathering information. A few of these have been revealed already!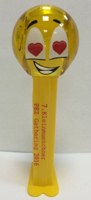 This is the information we have about international Pez Conventions or Gatherings for 2016:
French Pez Gathering, February 12 - 14, 2016, Paris, France

Israeli Pez Gathering, April 2, 2016, Kefar Shmaryahu, Israel

Australian Pez Gathering, April 16, 2016, Brisbane, Australia

FinnPez Gathering, May 18 - 21, 2016, Helsinki, Finland

Kleinmuenchen Gathering, June 23 - 26, 2016, Linz, Austria

Portugal Pez Gathering, Portugal

Swedish Pez Gathering, Stockholm, Sweden

Japan Pez Gathering, Tokyo, Japan

Slovenia Pez Gathering, Ljubljana, Slovenia

Indonesian Pez Gathering, Jakarta, Indonesia​
There is even talk of a few new gatherings starting in 2016, but details are not yet available
Turkey Pez Gathering

Norwegian Pez Gathering, *July 14 - 17, 2016, Haugesund, Norway* (*updated information)

United Kingdom Pez Gathering
​No matter where you are, there is nothing that can be better than getting together with other pez collectors and sharing your love of the hobby!
That's all the news for now. Happy New Year and Happy Pezzing!
All the best,
Chris Jordan
www.pezcollectors.com