January 2013 Newsletter
Happy New Year! We wish to thank our many wonderful customers for a great 2012 and we look forward to serving you with all your pez needs in 2013! Here is hoping that 2013 will bring you all that you wish for, and a lot of new pez, too!
Our first shipment of NICI Jolly Mah sheep pez has arrived in the Pez Collectors Store. The Jolly Mah sheep are from a community where all the sheep are friendly, nice and cute. These pez are a wonderful way to express your thoughts kindly! These new pez come on cards with a sticky note gift card and include 8 different sayings, among three different sheep. Lucy is the sheep with pink pompoms in her hair, on a maroon stem saying "So What!" and "Keep Smiling!", Rosa is the white sheep with a pink flower in her hair on the pink stem saying "Friends Forever!", "Happy Birthday!" or "Thank You!" and Bob is the laid back brown sheep with the colorful cap on a green stem that says "Don't worry!", "Take it easy!", or "Have a break!". We have listed the NICI pez as complete sets of 8, or sets of 3 so you will get one of each sheep pez dispenser, or some as single dispensers with a specific saying. You can also choose between loose or on card!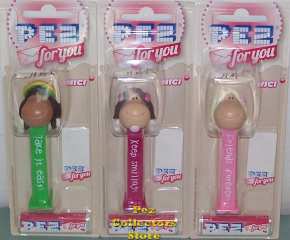 Disney's new Friends Forever Valentine release is a boxed set featuring Mickey and Minnie or Donald and Daisy. Mickey's stem has white printed thumbs up and Mickey ears outlines and Minnie is on a pink stem with white polka-dots. Donald is on a blue stem with sail boats and duck 'lips' while Daisy has daisy flowers printed on her stem. These are packaged in cases with 3 x as many Mickey and Minnie sets as Donald and Daisy, so Donald and Daisy are in very short supply! Hurry while they last!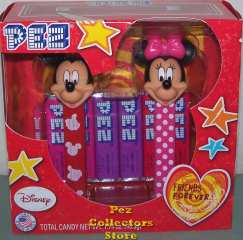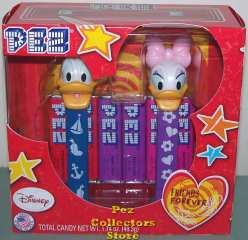 The new Friends Forever Mickey and Minnie are similar to the new European Mickey and Minnie Stylish pez, except that the outlined images on the European Mickey's stem are printed in color and Minnie comes on a red stem with a red bow with dark blue polka-dots and with a red bow and red stem both printed with white polka-dots. So, these are similar, but very different pez!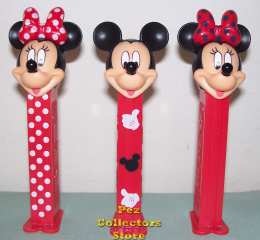 Market Basket is the newest grocery store to join the promotional pez truck lineup. The Market Basket stores are located in Massachusetts and New Hampshire and these have been very hard to get a hold of. We have a shipment of just 24 Market Basket Pez on their way that should arrive in about a week. We are trying to get many more as we know that this small shipment will not be enough for all of our customers. If anyone has access to these, let us know!
Pez will release a Finding Nemo assortment this month. The set includes Nemo, Bruce the Shark and a new Dori dispenser. We will have these in stock just as soon as our shipment arrives from Pez Co.!
Moshi Monster pez will be shipping to us from Europe this month! The Moshi Monsters pez dispenser set features Katsuma, Furi and Poppet. Moshi monsters is an online world of adoptable pet monsters that need to be fed and cared for, similar to the Tamagotchi. The pez dispensers require no care, but they are sure cute!
Also coming to us from Europe in January in a 2013 Silver glow regular dispenser on card with two rolls of sugarfree peppermint pez candies! These new regulars have a 7.5 patent number but the top is the same as the vintage dispensers with a raised thumb catch for hygienic handling!
We realize that Christmas just happened a week ago, New Year's Day is today and there is a month and a half until Valentine's Day, but Easter Pez are being released this month! There is an adorable new floppy ear bunny available in bag or in tube and there will be a new Easter Egg a ducky picture which will be available only in tubes. We have ordered cases of Easter in polybags as well as cases of Easter Tubes so we will have all of the newest pez available!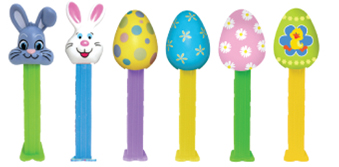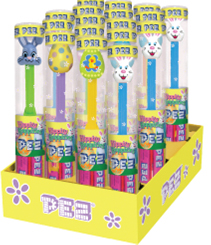 The Pez Collectors Store new display cases are being manufactured now and should be available by the end of the month. These great adjustable shelf wall mounted cases are perfect for displaying all your standard, mini and truck pez in sleek, streamline matching cases. They will be available with or without a door and will come with 6 shelfs for standard pez, and an option for additional shelfs to display trucks or mini pez. We are so excited for these to be finished! I am looking forward to rearranging my pez and extending them down the other side of the hallway to allow more space for adding even more pez in the future! This style of display will allow easy access and easy rearrangement by simply sliding the pez easily side to side on the shelf, while safely preventing the domino effect with the unique toe clip.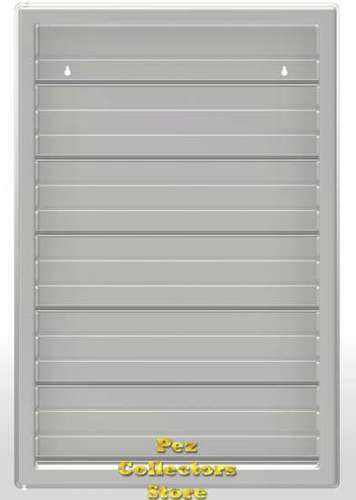 Wishing one and all a Happy, Healthy and Safe New Year! May all your pezzy dreams come true!
Happy Pezzing!
Chris Jordan
www.PezCollectors.com