August 2016 Newsletter
We are in the dog days of summer, but the pez are still pretty cool! We have received a couple new Pez products and we have added the entire remaining inventory of awesome out of production but brand new PEZ licensed t-shirts from Halfmoon Productions from the mid 90s through early 2000s. Preliminary information about 2017 European pez suggests that we will see at least one new European only release and we are sharing as much as we know about these. There are still several opportunities to attend a pez convention, but you need to be making plans now!
Finding Dory twin packs have arrived. Dory and Nemo look great in this wonderful boxed set and their colored crystal stems really stand out! With a Finding Dory pez Twin pack and a Finding Dory Fishbowl set, you will have the 5 different Finding Dory pez released in the USA, because Bailey the whale is the same in the carded and polybag assortments as in the Fishbowl with all on translucent aqua colored stems. This cute twin pack makes a great way to display the pez.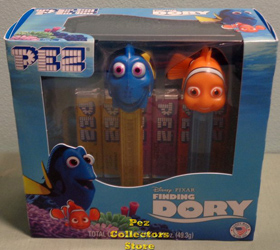 Ben Pakulski represents a real deviation from the standard for PEZ Company. The dispenser features professional body builder Ben Pakulski's head with the PEZ copyright on a standard black PEZ stem. However, the dispenser is packaged on a card that does not mention PEZ Candy, Inc. or PEZ International GmbH anywhere at all. And the PEZ dispenser does not come with PEZ candies, it comes with Scitec Nutrition BCAA Chews.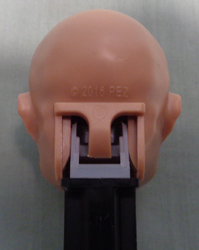 BCAA stands for Branched Chain Amino Acids, specifically, leucine, isoleucine and valine. These are three of the 9 essential amino acids we must consume because humans do not have the ability to build these molecules themselves. Therefore, the BCAA Chews are a nutritional supplement. Enough chemistry! The point is, I believe that this is the first time that a PEZ dispenser has been manufactured to dispense something other than PEZ candies or a product made by PEZ Company, so it isn't technically a PEZ dispenser since it was made to dispense BCAA chews. The dispensers were made by PEZ International for Scitec Nutrition of Scottsdale, Arizona, a USA company.
The BCAA chews (shown on the top in the photo below) themselves are shaped exactly like a PEZ candy brick, but they do not say PEZ in the center of the candy (shown on the bottom in the photo below).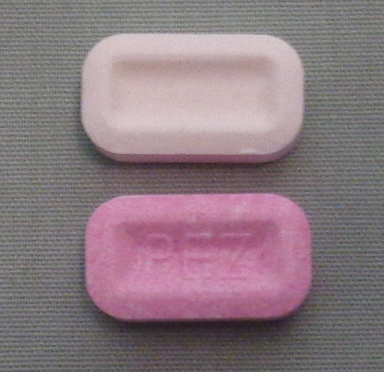 The BCAA Chew packs are not the single piece wrappers used for PEZ Candy packs, but are two piece wrapped with an inner foil and an outer sleeve the way PEZ candies were wrapped in the early 90s and before.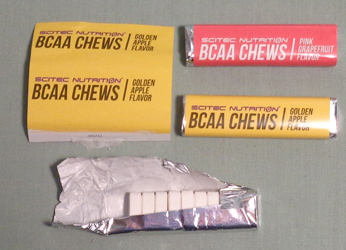 We have added some blue background rocket Pez Fabric back in stock in the Pez Collectors Store. This 100% cotton Broadcloth is perfect for crafts, quilting or making your own Pez shirt. AE Nathan produced the PEZ fabric as a licensed item 5 or 6 years ago and it has been sold out just about everywhere but we recently acquired two 10 yard bolts, so you can buy it by the yard!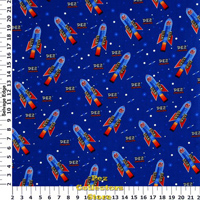 We recently purchased all of the remaining stock of Pez licensed T-shirts from Halfmoon Productions. These are some awesome designs with copyrights from the mid 1990s through the early 2000s. We have many youth sizes and designs as well as adult sizes and designs, thought we don't have all designs in all sizes. Here are images of some of the different designs! Check them out!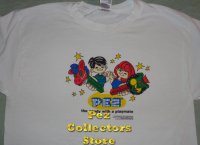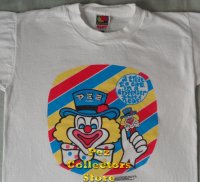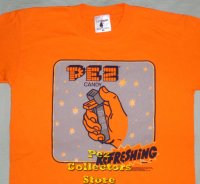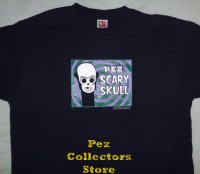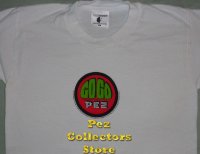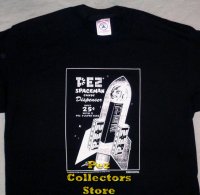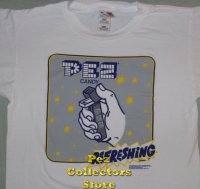 We have been working at adding some of the various lapel pins from different pez convention. It is a rather slow process to photograph all of them and get them listed, so if you don't see what you are looking for, contact us and ask – we may have it but simply have not listed it yet!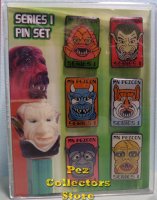 Shawn Peterson is a long time collector who previously authored multiple PEZ Identification and Price Guides. The Collectors Guide to PEZ Identification and Price Guide 3rd Edition, published in 2008 remains one of the most complete picture resources available to the hobby, even if the prices may be a bit dated and despite not including newer releases since its publication date. Shawn became an employee of PEZ Candy, INC. and with the access to old company records, combined with his extensive knowledge of the hobby, he has authored a new book titled "PEZ: From Austrian Invention to American Icon. This new book is scheduled for release August 8, 2016 and it can be preordered through Amazon or downloaded for Kindle reading. I just got a copy from Shawn and this is an extremely informative book about the history of our beloved plastic toys and the company that makes them!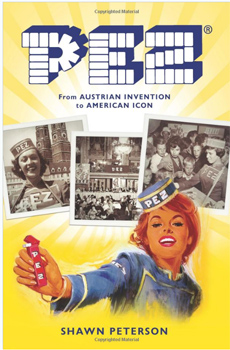 New USA releases will be on their way shortly. Rogue One Star Wars gift tins are scheduled for release in September. This Death Star shaped gift tin with Darth Vader, Storm Trooper and one new mystery character (Shadow Trooper?) is going to be a great addition for pez collectors and Star Wars fans!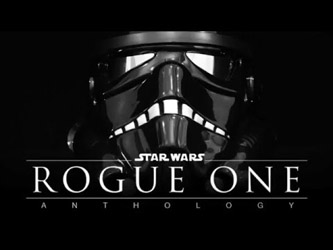 Trolls will be released in the USA September 13. The set includes Poppy, Guy Diamond and Branch! This set is coming out ahead of the DreamWorks movie Trolls which will be in theaters November 4. What a great piece of nostalgia!
There is some brief new information regarding the expected 2017 lineup from Pez International. It is reported by pezpalz blogspot that the Pez International releases will include updated Smurfs, Paw Patrol characters, more emojis, new Despicable Me characters, a new Hello Kitty set with some changes, and 2 new Nintendo characters.
In the June, 2016 Pez Collectors Store newsletter, we shared photos from the Sweets and Snacks Expo for the expected 2017 USA Pez lineup. In January, 2017 we expect the new Smurfs assortment to be released.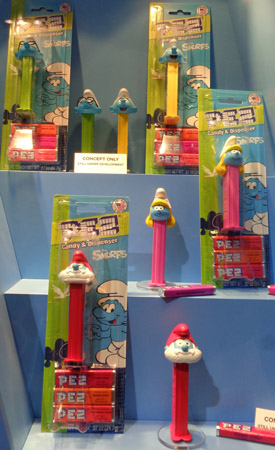 We are looking forward to new emojis in January as well.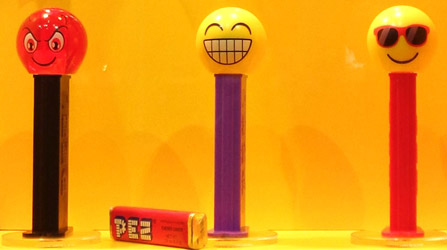 In May, we expect two new additions to the Nickelodeon Favorites assortment – Paw Patrol characters Chase the German Shepherd police dog and Skye the fearless flying Cockapoo.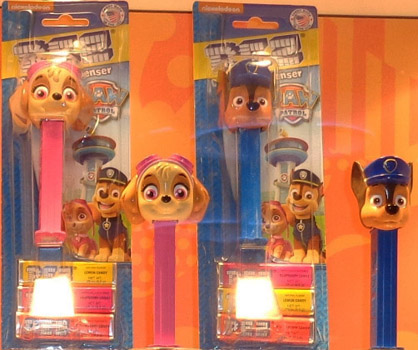 Later in May, we will see the new Despicable Me tri-packs including a full size Gru dispenser, and Jerry and Stuart on mini stems.
Also on display was a new Hello Kitty with Pink polka-dots.

We did not see or hear anything about new Nintendo characters so this could be a European only release. We just don't know yet what these characters will be! Sweeeet! We always like more new pez! We hope that there may be some differences in the European and the USA releases, but it could be that many of these will be the same. Still, sometimes Europe gets different new dispenser than the USA gets – consider the 2016 releases for Batman and Superman from USA and Europe that were quite different!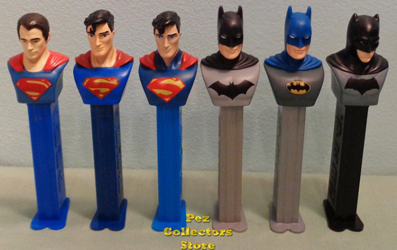 Pezamania 26 has just wrapped up and it is already time to plan for the next conventions coming up. In Europe, the first UK Pez gathering will take place August 20. We know that Kelle Blyth will host a fabulous event. The main event will take place at The Garage, Norwich, from 11am - 4pm followed by a PEZ after party at Gonzo's Tea Room, Norwich, UK. Entry is free and she plans lots of fun, games, live music, charity raffle/auction and most of all PEZ! More information can be found at www.pezheads.co.uk
In the USA, it is absolutely time to get registered to attend the first Michigan Pez Convention hosted by Jim Blaine in Troy, MI August 25 – 27. All the details can be found at www.mipezcon.com and the agenda lists lots of activities including their signature cornhole (bean bag) game tournament! Their convention dispenser is really awesome with a magnetized center making the center pieces interchangeable and the stems are cut to read MI PEZ! Awesome innovation in convention dispenser design! The Pez Collectors Store is hoping to be able to attend this convention so we may see you there!
The Sin City Pez gathering is scheduled for September 8 – 10 in Las Vegas. August 25 is the deadline for early registration and prices go up after that, so if you are planning to attend, get registered soon. Visit their website at sincitypez.weebly.com for details.
The 4th Steel City Pez Gathering is being postponed for a year due to personal reasons for the hosts. They do plan to host the gathering in 2017, so keep watching for details about next year! You can visit www.Steelcitypezgathering.com to keep up with the latest information!
October isn't too far away and it is never too early to get your plans made, your registration sent in and your hotel booked to attend the 3rd Pez on the River Gathering! It will be October 14 and 15th in LaCrosse, WI. Sandy and Cheryl are planning some great things and it is sure to be a fabulous time! We can't wait to see you there! Hotel, Registration, Agenda and all the details can be found at www.pezontheriver.com

Just one week later, the Pezylvania VII gathering will take place at Renninger's Antique Market in Kutztown, PA on October 22. The details can all be found at www.pezylvania.com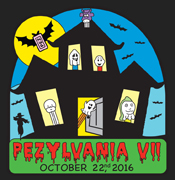 That is all the news for this month. Happy Pezzing!

All the best,
Chris Jordan
www.pezcollectors.com