August 2013 Newsletter
Summer time is just flying by! Attending Pez Conventions helps the time seem shorter and it is always a lot of fun. We also get to purchase additional pez for the Pez Collectors Store when we attend conventions, and Cleveland provided this opportunity! There are new pez releases that have just arrived, new pez that will be shipping in the next month, both from Europe and in the USA, so there will be lots of new pez available in the Pez Collectors Store.
The European Warner Brothers Looney Tunes pez are back in stock in the Pez Collectors Store now. We had only 10 sets to begin with, but there are differences in all of the pez, so they sold quite quickly! Bugs Bunny has oval shaped pupils that make his eyes look bigger, Daffy has larger oval pupils and comes on a stem with a white stripe at the neck, Sylvester has spots on the whiskers below the nose which is painted more to look bigger, Taz has teeth similar to the ISK8 version and Tweety has the biggest eyes ever with a dark blue pupil. There is something definitely different in the facial details on each of these new pez dispensers, making them a completely new set, available only in some European countries.
Angry Birds is a new European pez set of 4. The set includes Red Bird, Stella, Green Pig and Black Bird. These great European pez are in stock now in the Pez Collectors Store!
The Pez Halloween Assortment has arrived and it includes two new highly cartoonish characters. It seems that Pez Co is making sure that the Halloween pez do not scare the little children and the adorable friendly ghost and the cute baby vampire are sure to bring smiles! The friendly ghost and the baby vampire pez are available now in the Pez Collectors Store!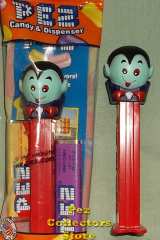 We added new Pez purses made from candy wrappers and advertising sheets, woven together in the way we used to make gum wrapper chains when I was a kid. These are really cute clutch style purses with zippered closure and a convenient wrist strap! We have just a few left!
We picked up a lot of 'new' old pez while at the Cleveland Pezamania convention.  We were able to reactivate several products such as Winx, Hamm Elephants, Sanrio Shinkansen Train Pez , silver Donkey from Shrek promotional event, unmasked Incredibles Helen Parr (mom), and others.
We are working on creating new listings for items such as sports promos – pez that were given out at various baseball games, basketball games, etc., Japanese Pez Towels and there is lots more to come!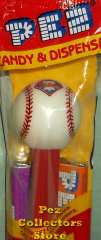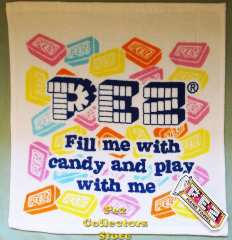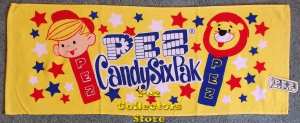 We also purchased a collection at an Estate auction and have approximately 80 vintage pez that will be added to the Pez Collectors Store as quickly as possible. These are great vintage including soft heads, pez pals, Bicentennials, pilot, stewardess, Popeye, Casper and many more! Check back frequently as we will be adding these vintage pez daily!

We have the new version of Cinderella in stock now, and collectors have discovered that there is a variation in this new pez! The new Cinderella we have in stock has a white line in the mouth, representing the teeth when she is smiling. Some Cinderella have been discovered with no teeth (white line), so just the red lips show.  We are keeping an eye out for this variation, but so far we haven't gotten any in stock.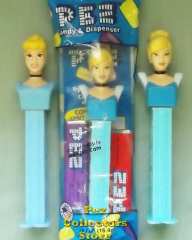 In the middle of this month, August 15, a new pez is supposed to be released to Target Department Stores. This is a new promotional pez featuring the Target mascot dog Spot with a Bullseye over one eye. This dispenser will be sold with a gift card which can be purchased in any denomination beginning with $5.00. We will be hitting the various Target stores in our area to obtain these dispensers for those who do not have local Target Stores. What a great promotional pez! These should be arriving in stores sometime in November after the dispensers have been attached to the gift cards and make their way through the distribution cycles from warehouses to stores!
September is just a month away now and the big pez set for the year will be released Sept 1. This year, the big collectors set is the Hobbit, featuring Bilbo, Gandolf the Grey, Thorin, Bofur, Radagast, Kili, Fimbul and Dwalin. This is a followup to the Lord of the Rings pez gift set released in 2011. There has been no word yet regarding an exclusive set showing up at Walmart stores with a single different dispenser. We hope this won't happen again this year, but Pez Co has used this marketing ploy for several years, so we won't be surprised to see it happen again. The Hobbit gift sets will be in stock in September, just as soon as our order is shipped to us from Pez Co.
The Hello Kitty Plush that we have been trying to get since the original announced release date of June have now been delayed until sometime in September. Apparently, Pez Co has an abundance of Plush Hello Kitty from the Keroppi set and they have delayed shipping of the new plush set with the red stem/red bow Hello Kitty, pink stem/ pink flower Hello Kitty and My Melody. We have seen other information posted in online blogs and on facebook that Toys R Us stores had these in stock in mid June, but it seems that that information is incorrect. Pez Candy indicates that they have not shipped any of the new plush Hello Kitty Pez. Hopefully they will sell out of the old plush soon and release the new. We will have them in stock as soon as Pez Co begins shipping!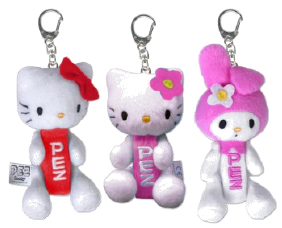 September is the announced release date for the Phineas and Ferb pez assortment to include a new character Candace. A year ago, we were told that Dr. Doofenshmirtz would be added to the mix, but it seems that the plans changed and now Candace is the new character. Again, we will have these in stock when we can, but Pez Co will be shipping assortments with just the old characters until they run out of pre-packaged cases. 
Believe it or not, Christmas pez will begin shipping September 1. As usual, the old inventory will be shipped first then newly packaged inventory will follow. There is a new snowman and a new Penguin in the assortment this year. The Elf that was originally planned was dropped for now. The Penguin will be available only in tubes, at least according to the information provided by Pez. We will be getting stock on these when we are sure we can get the new dispensers included in our shipments.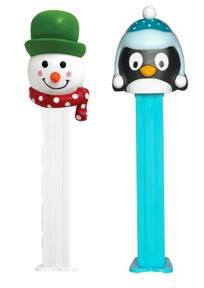 Our new Customizable, Adjustable Pez Wall displays are becoming quite popular! The standard display comes with 6 shelves, though it has 17 slots and you can purchase extra shelves so you can display 17 rows of trucks, or you can space the shelves to display mini pez. Make your entire display uniform while still customizing the arrangement to suit your needs! The shelves with a toe clip allow you to slide pez side to side when rearranging – no need to move each pez individually to make space for one more as you have to do with a notched arrangement. 
That is all the news for now. More news in a month!
Happy Pezzing!
Chris Jordan
www.pezcollectors.com