April 2013 Newsletter
Major League Baseball Caps to accompany spring training must mean that spring has arrived! Apparently Pez Candy, Inc. ran into some issues with the Baseball Cap pez and production has been delayed. We are told that there will be no more baseball cap pez available from Pez Co. until later in the year. The Pez Collectors Store was able to get a small amount of inventory of complete sets of 17 (Houston Astros were not released yet) and we still have some sets remaining. We offer these both on card for those who enjoy displaying their pez mint on card, or loose which results in much lower shipping costs when considering the difference between 17 loose pez or 17 pez mint on card with candy! Either way is fine with us – the choice is yours!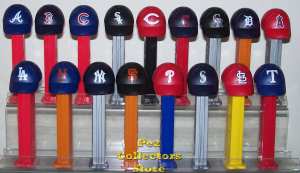 March Madness has had college basketball fans cheering on their favorite teams. I know more about pez than college basketball teams, but I will point out, once again this year, down to the elite 8 and 2 teams - Ohio State and Syracuse have college basketball pez dispensers! Syracuse is moving into the final four. Not bad, considering there are only 5 college basketball pez – UNC, Syracuse, Ohio State, University of Kentucky and University of Connecticut. If the University of Kansas Jayhawks would just do a licensing deal to have their pez made, maybe we could see some different outcomes! Now it remains to be seen, will the team with the pez dispenser win?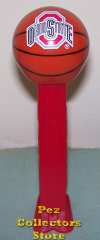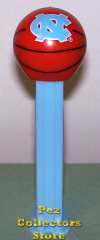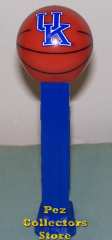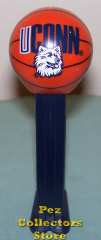 We are very disappointed to have discovered that due to poor demand, the HyVee 2013 promotional truck order was canceled. We ordered many cases back in October, 2012 and before our March newsletter, we confirmed with our local HyVee manager that they were coming the first week of April. The manager indicated that all was well and our order would arrive as expected. He was as disappointed as we were to later discover that there would be no truck for 2013, but he indicated that maybe it would happen for 2014. 
Another disappointing delay is our wall displays are still hung up at the manufacturer as they get everything right on the molds. We hope to have full production soon, but we won't accept anything until it is exactly right!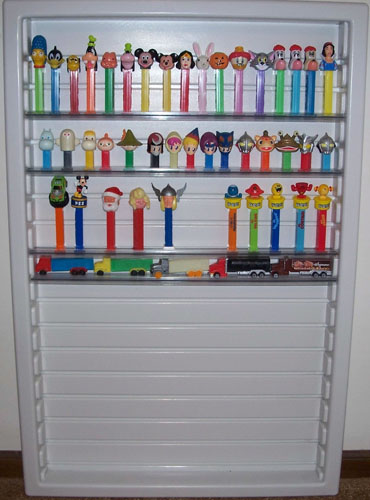 We hope that everyone has enjoyed a very nice Easter day! Any leftovers at stores might be discounted and this would be a great time to grab up any Pez Eggs on card or in bag. We were told that these were only to be available in tubes and we were a bit outraged to see them on card and in bag. We felt we had been deceived! Well, in contacting our representative and their "higher ups" we were told that packaging these in bag or on card was an error that took place on the production floor, and they were not intended to be marketed that way. So, for those who collect errors – keep them in package – they are considered errors by Pez Co! And, if you can find them now, perhaps they will be priced at half off!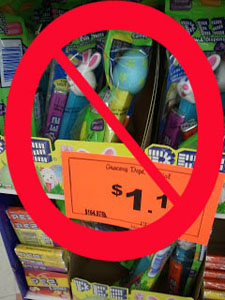 Super Mario will become released in April in Europe, so as soon as they are released our order should be shipping to us from overseas. It usually takes several weeks, so we hope to have these available by mid to late April.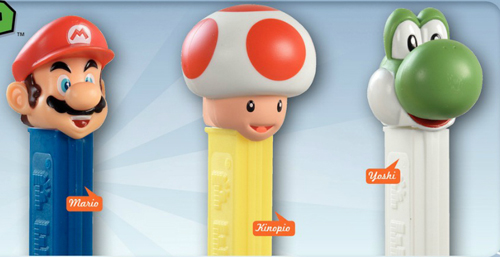 The new European Hello Kitty Crystals are also being released in April and are also expected to be available in the Pez Collectors Store by mid to late April.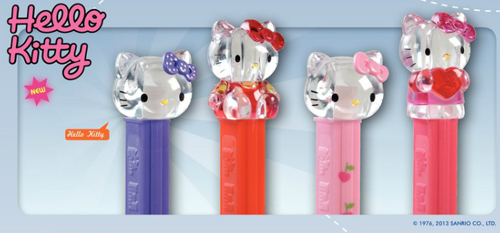 There are no new releases in the USA planned until the mid-May release of Monsters University, so we can't officially show pictures of Mike, Sully, Randall and Squishy until next month's newsletter, but the European version which has only 3 of the 4 has already been posted online, so we presume it is ok to show! We hope that Squishy will also be included in the US set!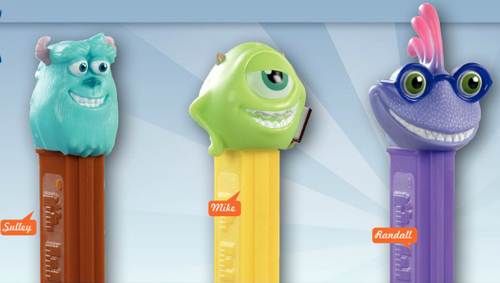 For those of you who collect Candy Poopers, Treat Street has some new poopers that are pretty cute. The Cluckers make a clucking sound as they lay eggs while the other versions are the wind up walk and poop versions.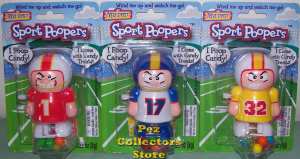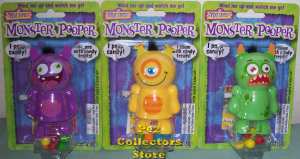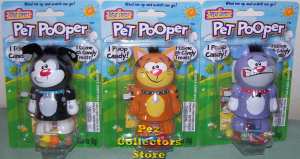 April 5th & 6th, folks will be getting together at the Green Bay Pez Gathering, at 6:30 pm on Friday night and again at noon on Saturday. The event is being held at the Comfort Suites/Rock Garden in Green Bay. Hope some of you will get a chance to attend!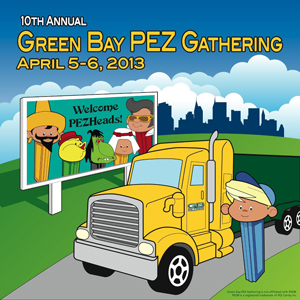 The Northeast Pez Convention is coming up May 2 -4, 2013. You can still register to attend, even though the early registration deadline has passed.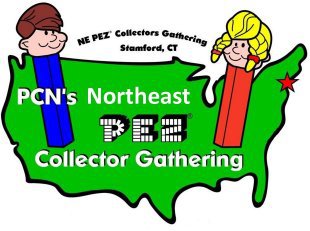 In June, the Annual National Pez Convention will take place in St. Louis June 13, 14 and 15th. The Pez Collectors Store will attend this convention and we are really looking forward to it! Mark your calendar now to attend!
That's all the news for this month, but for those who would like to get updates more often than once a month, please be sure to
like the Pez Collectors Store
on our Facebook page, so that you can know as soon as we get in the newest pez. As soon as we get to 500 likes, we will offer a discount coupon code on Facebook for our loyal customers!
Happy Pezzing,
Chris Jordan
www.pezcollectors.com