April 2010 Newsletter
April 2010 Pez Collectors Store Newsletter
April showers bring May flowers or so the saying goes. More importantly, the new month brings new Pez and starts the convention season in full swing. There are not a lot of new releases scheduled from Pez Co over the next few months, but we are excited about a few new ones.
In the Sports Pez category, a new Joey Logano Home Depot #20 pez NASCAR Helmet has just been released. Joey replaces previous Home Depot driver Tony Stewart. The Joey Logano NASCAR Helmet pez looks much different than the previous releases. We have only a very few of these in inventory at this time, but we are working hard at getting more.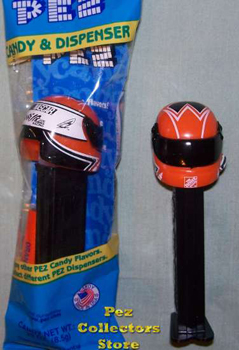 The new Major League Baseballs arrived – Seattle Mariners, Florida Marlins and Chicago White Sox are available with the previously released Major League Baseballs.
We also added some inventory of the Arizona Diamondbacks Promotional Baseball which was released in 2002 at the September 14, 2002 game. Fans at this game received this baseball in a AZ Diamondbacks promotion which was sponsored by the Maytag Store. The Maytag Store logo is on the back of the baseball and the Diamondbacks team logo is on the front. These come mint in bag with candies (bags may vary)!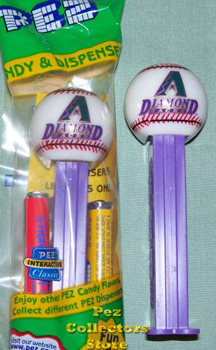 We received news that the University of Connecticut and Syracuse University will be added to the NCAA Basketball Pez lineup, with shipment to begin in September 2010. We hope to have pictures to share with you by August for this September release! May is the scheduled release date for the Yankees 27th World Champions special edition Pez dispenser. It is supposed to come packaged on a double card with a regular NY Yankees dispenser, though we still don't know if that will be the Yankees hat with a bat logo or the newer NY logo. We still have not been able to get a photo or even pricing information for these, but we are in line for our order, so we will have them available as soon as possible.
The big news for May is the release of the three new Toy Story additions – Slinky Dog, Jessie and Hamm will be joining Buzz, Rex and Woody. We are told that these are scheduled to begin shipping in May, but an exact date has not been given. We are really excited about getting these in soon!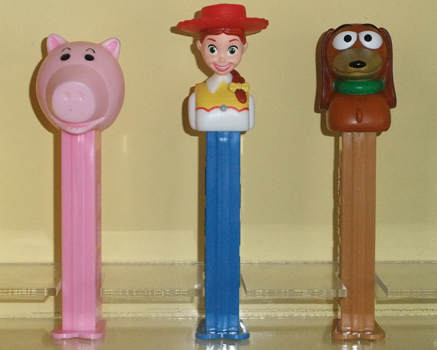 We got a kick out of the Colbert Report that aired on March 18 in which Stephen introduced Vaxalert, a robot holding a 1980's red spacegun. This reminded me so much of the great shootouts at pez conventions! Every collector needs a spacegun! These can be found in the Pez Collectors Store!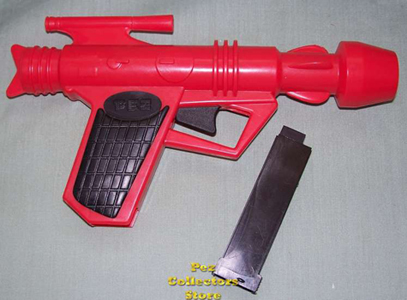 The clip can be viewed at http://www.colbertnation.com/the-colbert-report-videos/267679/march-18-2010/3-18-10-in--60-seconds
The Pez Girl and Pez Boy Luggage Tags arrived in the Pez Collectors Store and have been a great seller – in fact, we are already nearly sold out but we have more ordered. Unfortunately, the company has them on backorder and we don't expect to get more until mid May, so hurry and get them now!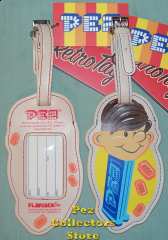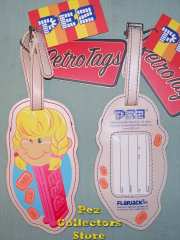 Registration is open for the 2010 Kansas City PezHead Gathering and we are getting really excited! All the details can be found at www.KCPezGathering.com so visit our new site to see all the goodies, schedule, registration information and hotel information. There will be some great dealers with a huge variety of pez – tons of vintage pez and everything through the newest, hottest pez! The Pez Swap Party is scheduled for Friday, May 28 and dealer rooms will be open for room hopping. For those local to the KC area, you may not need a hotel room, but get registered to attend the Gathering and plan to come for Friday night activities as well as the day full of fun on Saturday, May 29.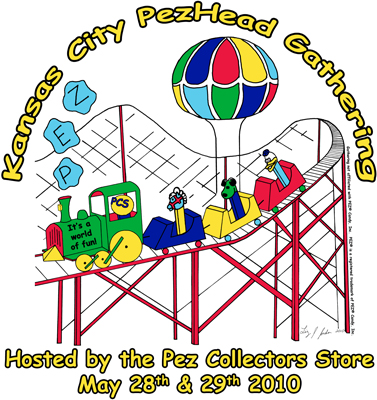 For those from out of the area, hotel rooms are filling fast, so get your hotel reservation and registration for the Gathering in soon. Those registering for the Works registration package will receive a special attendance pin in addition to the registration pin, but these were ordered in a limited number so be sure to get your registration in before we run out! There are a few dealer tables still available, but we need for you to register for the Gathering then let us know how many dealer tables you need and we will accommodate on a first come, first served basis.
The Charity Pin to support the Crohn's and Colitis Foundation of America is a very limited edition – only 50 were made and they are also selling fast.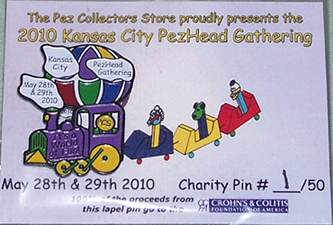 We can't wait to see you in Kansas City and we look forward to sharing more news with you in the Pez Collectors Store Newsletter next month!
Happy Pezzing!
Chris Jordan