Hello Kitty Plush Pez
The Hello Kitty Plush Pez set features Hello Kitty on a Pink Stem with a Pink Bow, Hello Kitty on a Blue Stem with a Red Bow and a Pink My Melody Plush pez. This set is adorable and a must have for the Hello Kitty fan or pez collector!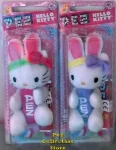 This Hello Kitty Plush Easter pez pair with Keychain clip features Hello Kitty with Bunny ear headbands and bows matching their stems. These cute plush pez are fully functional pez dispensers that hold six pez candies and have plush heads, arms, legs and bodies. They have a keychain or belt clip that allows them to be easily attached to a backpack, a purse or to your key ring. Adorable plush pez for the collection or the Easter Basket!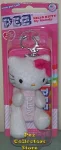 The new Pink stem, Pink Bow plush Hello Kitty Pez is cute as can be! This popular Sanrio Hello Kitty plush pez comes with a clip-on keyring and is a working pez dispenser! It comes mint in package with a roll of pez candy! These are now available in the Pez Collectors Store.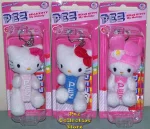 The set of three plush Hello Kitty Pez feature Hello Kitty with a pink body and pink bow, Hello Kitty with a blue body and a red bow and My Melody. Each of these plush pez come with a clip-on keyring! They look really cute! These are now available in the Pez Collectors Store.