Euro Bob the Builder Pez
Two characters in the European series differentiate these from the US versions.  Euro Spud has a hard plastic nose while the US version is a soft, flexible rubberlike nose.  Euro Prichard has more narrow, sharper, pointier ears.  No Scoop was ever released with European sets!
Displaying 1 to 3 (of 3 Products)
This set of 4 European Bob the Builder pez include Bob and Wendy on stems that do not include "Made In Country" - only the patent number is listed. The European Spud version has a hard nose and the Pilchard has the pointed ears. This set of 4 comes mint on European shrink cards with Bob the Builder graphics!
Buy Now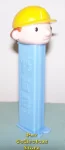 This Bob the Builder is the European version on a 4.9 no country IMC 5 stem. The US version lists the country where the stem was manufactured, just below the patent number on the stem.
Buy Now
This Pilchard pez dispenser from the Bob the Builder set is the European version of Pilchard the cat with pointed ears, shown on the left in the photo. The US version shown on the right has larger, more rounded ears and is sold separately. This European Pilchard pez dispenser comes loose and ready to display!
Buy Now
Displaying 1 to 3 (of 3 Products)