September 2018 Newsletter
It has been an incredibly busy month in the Pez Collectors Store! We attended the Michigan Pez Convention and had a blast!
We attended the BoxLunch Funko POP!+PEZ Debut Event in Irvine, California to celebrate the launch with Funko CEO Brian Mariotti, Founder and COF Mike Becker, Freddy Funko, and the Funko Funkast team, along with our awesome friends, the Goodsell Orozco family!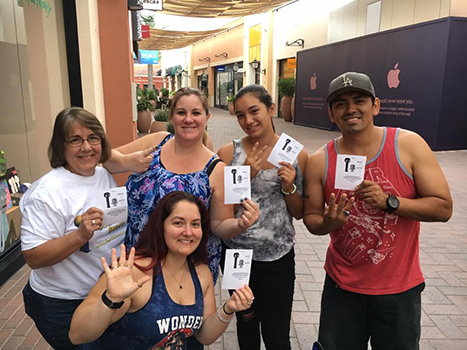 Conventions are coming up quickly and you need to get registered to attend! In the meantime, we have several new Pez dispensers in stock now and have more coming in September, along with some new announcements for future releases!
The Cupcake Queen has been added to the Shopkins Pez Assortment. She looks delicious with sweet blue frosting! The Cupcake Queen pez is available now in the Pez Collectors Store.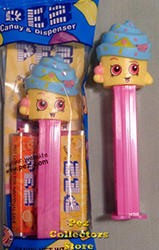 The Cheeky Chocolate and Strawberry Kiss Shopkins Twin packs scheduled to begin shipping November 1 were canceled, but Cheeky Chocolate will still make a debut in the assortments in January, 2019.
We have added 6 roll packs of Candy Corn flavored Pez Candy to our candy offerings! The taste of these candies reminds me more of caramel than candy corn, but you'll have to try it and decide! A pack of this candy is available in each Halloween Dispenser this year, including the Cute Witch and the Happy Pumpkin.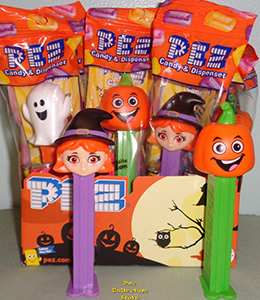 Mickey and Minnie Mouse 90 Years of Magic Twin Packs are scheduled to arrive in the Pez Collectors Store Tuesday, September 4. These are really cute and are sort of retro in appearance with a sort of black and white appearance. These will be available in the Pez Collectors Store just as soon as we have them in hand!
New 2018 Christmas Pez have arrived in the Pez Collectors Store. The Red Elf pez dispenser has green trim instead of white trim and he looks very jolly in his holiday colors! The Snow Globe with a Snowman in a Winter Pine Tree landscape is now on a green stem. The Snow Globe still has glitter in the crystal ball making it look like a real Snow Globe. The 2018 Reindeer is a completely new mold. This cute Brown Nose Reindeer has small antlers, and a red collar with a single jingle bell in the center. Each of these Christmas Pez comes packaged with a pack of Sugar Cookie flavored pez.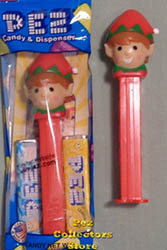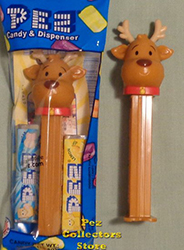 The Christmas Tree Dispenser will be available only in Christmas Tubes this year, and we will get them in stock a bit later.
The Christmas Ornaments are supposed to have a new mini reindeer 'flowed in' meaning when they run out of old inventory. We also expect that the mini elf will have green trim instead of white trim. The images provided to us suggest that the mini Reindeer might be a different mold than the new Brown Nose Reindeer. It would almost have to be a bit different to fit into the ornament on the mini stem. These are supposed to begin shipping September 1, but the old inventory always goes out first, so we will be waiting to place orders.
Stranger Things Pez Twin Packs were originally scheduled to begin shipping September 1, but their arrival was delayed and they are now scheduled to begin shipping from Pez Candy the week of September 24. We now expect to have our orders by the end of September.
October 1 is the first scheduled ship date for the much anticipated Grinch Pez Gift Tins. The Grinch, Cindy Lou Who, Max the Dog and Fred the Reindeer on full size stems are included in the Gift Pack, along with Sourz Green Apple Pez Candy. We will have these available in early October!
Looking ahead, we can expect a 2018 Wawa Promotional Pez Tanker Truck to be arriving in stores November. The tanker truck has a rounded trailer and the sides have the Wawa logo! Great new promotional pez truck!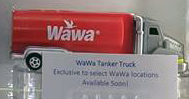 We are very excited about a few new additions to the USA Pez lineup for next year. In March, 2019 Thanos will be added to the Marvel pez assortment, along with Captain Marvel! We are thrilled to see a new female hero in the assortment!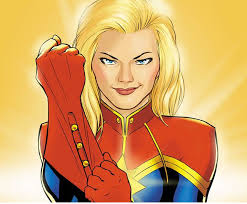 In April, Pez USA will have a new Pokemon Pez assortment! Squirtel, Pikachu, Bulbasaur and Charmander will be included in the assortment. There will also be a Gift Set the same dispensers, but each will have its name printed on the stem (similar to the Nintendo Mario Pez Gift Set). The Pokemon Gift Set packaging will have the Pokeball graphic on the back!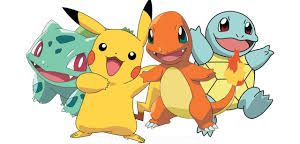 In August 2019, we can expect an assortment of L.O.L. Surprise Dolls Pez. The L.O.L. (Lil Outrageous Littles) Surprise Dolls are little glamour girls with rounded rectangular heads and an assortment of fashion accessories. No word yet on which characters will be produced as Pez - that's a Surprise!
Funko POP!+Pez are being released and they are awesome. The pez dispenser stem is made by Pez and the heads are hard plastic with candy kickers so they function just like every other pez dispenser. The heads are produced in Funko POP styles and really are not much bigger than many ordinary pez. For example, the width of a Deadpool head is the same as a puck pez. They fit in Pez Collectors Store grandstands or wall displays perfectly!
Funko releases each individual POP!+PEZ separately rather than as part of a set or an assortment, so different Marvel characters may be released at different times. To make it easier to find the Funko POP!+PEZ, we created a category just for the ones we have available now and we also added a Funko POP!+PEZ Coming Soon Category with each of the ones we have orders in place for. Each listing is shown with the date we expect it to arrive in the Pez Collectors Store and when it is available, we will move it to the Funko POP!+PEZ category for sale. There is no need for pre-orders and we will have most of the POP!+PEZ and chase versions available on our website! We will also have a few of the store exclusives if we can get them.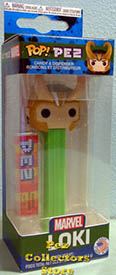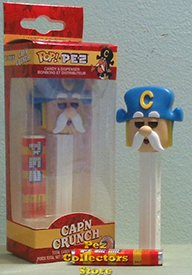 Loki, Cable, Magneto and Stan Lee are in stock now, available for immediate shipment. Chase dispensers are limited to one per order and are reasonably priced. This should allow many collectors to add them to their collections! The following list is the POP! +PEZ we expect to receive and the dates we expect them to arrive! If you would like to be notified when we receive new POP!+PEZ, click here to subscribe to the PCS Funko POP!+PEZ Notifications!
in stock POP PEZ: Marvel - Cable

in stock POP PEZ: Marvel - Loki

in stock POP PEZ: Marvel - Magneto

in stock POP PEZ: Stan Lee

9/7 POP PEZ: DC - Batman and Batman Chase

9/7 POP PEZ: DC - Joker

9/7 POP PEZ: DC - Robin

9/7 POP PEZ: Marvel - Deadpool

9/7 POP PEZ: Marvel - Star Lord

9/7 POP PEZ: Marvel - Thor

9/7 POP PEZ: Quaker Oats - Crunchberry Monster

9/7 POP PEZ: Quaker Oats - Jean La Foote

9/21 POP PEZ: Bob Ross

10/4 POP PEZ: Marvel - Hulk and Hulk Chase

10/7 POP PEZ: Star Wars - Bossk

10/11 POP PEZ: Quaker Oats- Cap'n Crunch and Crunch Chase

10/18 Pop PEZ: Mega Man - Mega Man

10/18 Pop PEZ: Mega Man - Magnet Missile

10/25 POP PEZ: Star Wars - Greedo

10/25 POP PEZ: Star Wars - Greedo green stem

11/1 Pop Pez: Crash Bandicoot - Crash

11/1 Pop PEZ: Sonic - Sonic

11/8 POP Pez: NBC - Jack Skellington

11/8 POP Pez: NBC - Oogie Boogie (glow in the dark)

11/8 POP Pez: NBC - Pumpkin King

11/8 POP Pez: NBC - Sally

11/8 POP Pez: NBC - Vampire Teddy

11/22 POP Pez: Golden Girls - Blanche

11/22 POP Pez: Golden Girls - Dorothy

11/22 POP Pez: Golden Girls - Rose

11/22 POP Pez: Golden Girls - Sophia

11/22 POP PEZ: Hanna Barbera - Huckleberry Hound and Chase

11/22 POP PEZ: Hanna Barbera - Morocco Mole

11/22 POP PEZ: Hanna Barbera - Secret Squirrel

11/22 POP PEZ: Hanna Barbera - Snagglepuss

11/22 POP PEZ: Star Wars - Jawa

11/22 POP PEZ: Star Wars - Tusken Raider

11/22 POP PEZ: Marvel - Yondu

12/20 POP PEZ: Hanna Barbera - Grape Ape

12/20 POP PEZ: Hanna Barbera - Yogi Bear and Chase

12/27 POP PEZ: Star Wars - Ponda Baba (Walrus Man) and Chase

12/27 POP PEZ: Star Wars - Snaggletooth and Chase
We did a POP!+PEZ drawing for everyone who placed an order in the Pez Collectors Store between July 31 and August 10. Congratulations to order # 28840 - Teresa Rhinehelder, the lucky winner of the set of Funko POP!+PEZ. And, congrats to order # 28923 - Gloria Barnhart, who won our second chance drawing for a Deadpool POP!+PEZ.
The 4th Las Vegas Sin City Pez Convention is just around the corner! We always have a wonderful time at this convention. The Convention registration deadline is today – August 31st, so hurry and let Jil and Dan know you are coming! We hope to see you in Las Vegas September 13 – 15! Get all the information at http://sincitypez.weebly.com/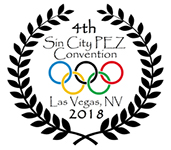 The 5th Pez on the River Family Reunion is October 11 – 13 in Winona, MN. A cookout is planned for Thursday evening, a riverboat ride has been scheduled for Friday morning and there are lots of games and events taking place in addition to room hopping and the convention show! It is time to get serious and book your hotel and make your reservations now! Visit www.pezontheriver.com for all the details and registration information!

Pezylvania IX is October 13, 2018. This one day event is held at Renningder's Antiques and Farmer's Market in Kutztown, PA. The day is packed full of pez events and contests along with lots of pez dealers at tables! Details are available at www.pezylvania.com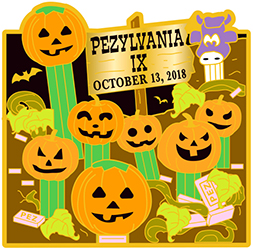 Pez In the Sun is making a comeback this year in Myrtle Beach, SC. The event is scheduled from October 30 – November 3. Group dinners, a Halloween Costume Contest, and a mini golf tournament are scheduled, with plenty of room hopping! Visit www.pezgathering.com for the details!
That's everything for this month! Happy Pezzing!
All the best,
Chris Jordan
www.pezcollectors.com