September 2016 Newsletter
August has flown by with only one major pez release in the USA and no new releases elsewhere, so it has been kind of quiet for new pez. I was lucky enough to get to attend the Dairyville Pez Gathering and tour San Francisco with Ted Kahan and then attend the 1st Michigan Pez Convention, so that kept things very lively in the Pez Collectors Store! There are a couple of releases scheduled for September that will be lots of fun and a few more conventions remaining to give us all an opportunity to get together with other collectors. I have also compiled a listing of the release dates for new pez coming in the USA for 2017 at the end of this month's newsletter so you know when to expect them!
This month, Pez USA released the Robots in Disguise (third generation) Transformer pez. The set is the same as the 2016 Transformers released in European countries, so they have been out a while! We have them mint in bag with pez candies in the Pez Collectors Store.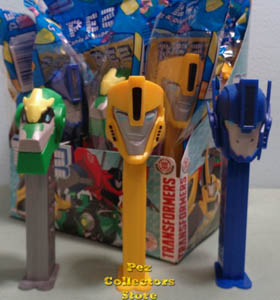 The 2016 Witch is beginning to show up in a few places, but others have just the old versions of Halloween pez as Pez usually ships out all of the old inventory before beginning to ship the newly packaged assortments. The witch is the only new dispenser for Halloween this year and while it is completely different than any previous releases, at first glance, it does look very similar, so you will want to keep a close eye out for it! We will have them in stock closer to Halloween!

There are a couple of new pez assortments scheduled for release this month. The Trolls assortment with the pink hair Poppy, the singing, dancing and optimistic leader of the Snack Pack trolls, the glittery crystal head Guy Diamond, and Branch, the disgruntled, pessimistic, grouchy troll that can't understand the other Troll's joy. The Trolls pez feature the character heads and the hair is solid, not furry, but they do look like the trolls from the movie scheduled to be released in November. The Pez are scheduled to begin shipping September 13, so we hope to receive our order before the end of the month! These will be available mint in bag or in a tri-pack set!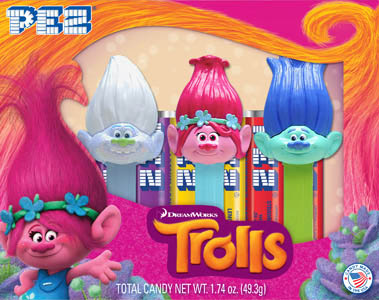 September 28 is the scheduled release date for the Rogue One gift tin. The tin is shaped like the Death Star and the set includes Stormtrooper, Death Star, Darth Vader and a new dispenser - Death Trooper! We expect these to arrive in the Pez Collectors Store in early October!
October 1 is the scheduled release date for the Minions Twin Packs with Dave and Stuart. The dispensers are the same as the ones that have been available as part of the Despicable Me assortment, but the new twin pack is new packaging that is quite popular with Pez Candy currently.
Still to come this year is the December 2 release of the Power Rangers pez assortment which includes the black ranger, the pink ranger and the red ranger. These Mighty Morphin Power Rangers have been popular since 1993 and are still going strong!
Also coming soon will be the new Christmas Pez assortment which includes a red Elf and a green Penguin. The molds for these are the same as the green Elf and the blue Penguin previously released, but the color changes to the heads and stems make them look like totally new dispensers.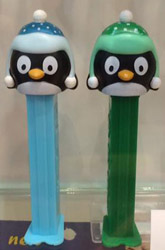 Even Valentines for 2017 will be shipped in November and while there are no new Valentine's Day pez planned, we can look forward to a couple of new twin pack assortments, including a mini emoji twin pack! The Kissing and Love Emojis will be on mini stems for this boxed set.
There are currently no new pez on display at the PEZ Visitors Center, but new fall apparel and accessories available there are sure bright! Since PEZ Candy, Inc. only makes candy (the dispensers are imported from outside the USA), it is only fitting that they feature the candy bricks! And, the candy bricks are certainly predominantly featured in the t-shirts, hats, drawstring backpacks, and plastic purses. Thanks to Jeff Cochrane and PEZ Visitor Center employee Karen for the fashion update!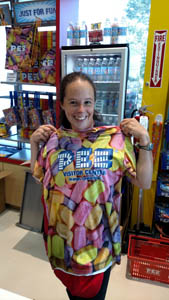 I was fortunate in August to get to visit with fellow pez collector and dealer, Ted Kahan, who gave me an awesome tour of San Francisco, then drove me to the Dairyville Pez Gathering. Tina hosts a wonderful two day reunion of pez collector friends and families and it was a super opportunity to spend time with good friends, talking about pez and everything else under the sun (except politics)! Just 10 days later, I attended the 1st Michigan Pez Convention. It was a great time and I was able to meet many collectors who had never been to a convention before. Jim Blaine and his family and collectors support group did an outstanding job of organizing and advertising this convention. The venue was superb and there is little doubt that the convention will really grow next year!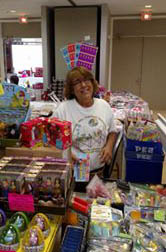 If you haven't had an opportunity to get to a convention this year or are in need of a quick fix again, the next convention in the USA is the 2nd Sin City Pez Convention coming up September 8 – 10. We are looking forward to attending and seeing you there.
Steel City Pez Gathering will take place in September, 2017, but is cancelled this year due to personal reasons. I spoke to the hosts and they are really excited about next year!
In October, Pez on the River will be in full swing October 13 – 15 in La Crosse, Wisconsin. Sandy and Cheryl have great things planned including a fun pez costume contest (dress your pez as a community hero), a scrumptious BBQ for early arrivals, a many great dealers for room hopping, lots of games and of course a great show on Saturday! If you haven't gotten your registration sent in yet, you need to do so soon! Details can be found at www.pezontheriver.com and we will look forward to seeing you there!

Pezylvania is a one day show at Renninger's Antique Market in Kutztown, PA. It is being held October 22 and the day is packed full of fun. You can get all the details for this gathering at www.pezylvania.com
Abroad, the next event will be the Swedish Pez Gathering, September 24 in Stockholm, Sweden. I am sure they will have a great time!
The following is a listing of the first scheduled ship dates for USA Releases for 2017
1/1/2017 Pez Emojis – adding Chillin', Cheesing and Devilish
1/1/2017 Smurfs – new Papa Smurf, Smurfette, Smurf and Brainy Smurf
1/1/2017 Easter Assortment – new Lamb added to assortment with White Floppy Ear Bunny, Brown Rabbit and Ducky
1/1/2017 Easter Tubes – New Egg design added to assortment with White Floppy Ear Bunny and Brown Rabbit
1/1/2017 Easter Mini Eggs – new mini Bunny, Lamb and Ducky with exclusive color schemes
3/1/2017 Click & Play Smurfs Gift Tin with Game Board
3/1/2017 DC Superhero Girls – Harley Quinn, Wonder Woman, Batgirl and Supergirl
4/1/2017 Guardians of the Galaxy (Marvel) – Groot and Rocket Raccoon added to assortment with Spiderman, Iron Man and Captain America
4/1/2017 Star Wars – BB-8 and Rey added to assortment with Stormtrooper, Kylo Ren, Young Chewbacca and R2D2
5/1/2017 Hello Kitty – pink stem Hello Kitty with polka-dots and purple stem Hello Kitty with Hearts added to assortment with Nerdy Kitty and Classic Kitty
5/1/2017 Nickelodeon Favorites – Paw Patrol Chase and Skye added to assortment with TMNT and Spongebob
5/19/2017 Despicable Me 3 – Jerry and Gru added to assortment with Dave, Stuart and Agnes
5/19/2017 Despicable Me 3 – Tripack with Gru, Mini Jerry and mini Stuart with Banana flavor candy
6/1/2017 Transformer Robots In Disguise Connectibles – Bumblebee and Optimus Prime connectibles
6/1/2017 My Little Pony Connectibles – Rainbow Dash and Twilight Sparkle connectibles
7/1/2017 Halloween Assortment – new Mummy added to assortment with Vampire, Witch, Pumpkin and Ghost in all new packaging
9/1/2017 Christmas Assortment – new Snow Globe added to assortment with Santa, Reindeer, Snowman, Elf and Penguin
9/1/2017 Christmas Tubes – new Angel only available in tubes added to assortment with Santa, Reindeer, Snowman, Elf and Penguin
9/1/2017 Christmas Mini Ornaments – Mini Santa, Mini Elf, Mini Reindeer and Mini Angel in plastic Christmas Ornament
9/4/2017 Star Wars Millennium Falcon Gift Tin – BB-8, Rey, Young Chewbacca and gift tin exclusive Han Solo in the Millennium Falcon shaped gift tin
10/6/2017 Justice League – Aquaman added to assortment with Batman, Superman and Wonder Woman
10/6/2017 Justice League Gift Tin – Aquaman, Batman and Superman with gift tin exclusive Cyborg in a specially designed Justice League Part One gift tin
That is a pretty full year and that is just the USA schedule. It doesn't include any European only releases or any promotional pez releases or store exclusive releases!
That is all the news for this month! Happy Pezzing!
All the best,
Chris Jordan
www.pezcollectors.com