September 2014 Newsletter
September is typically the month for all the 'major' pez releases, but it is sure nice when they get released early rather than making us wait to get them! There are still a few releases left for 2014 and we have a confirmed lineup for the 2015 USA pez releases to tell you about as well.
The newest release is the European Smurfs Click and Play pez set. These pez were initially planned as a 2013 release, but were delayed by a year. The set features Papa Smurf, Brainy Smurf, Smurfette and Smurf boy, all as full bodies on a click and play platform. The tops can be twisted off of the stage and played with separately. There is no talk of these being released in the USA, but they have just been released in Europe and will be available in the Pez Collectors Store in just a few days!
Halloween will be here before we know it and the Halloween pez are beginning to show up here and there. While there are no new dispensers for Halloween this year, the witch and the pumpkin have been updated on new stems. The witch is on a purple stem and the pumpkin is on a green stem. We received very few of these with our order – we mostly received the old versions, but we have just a few new witches and pumpkins in stock now. The new Halloween Trick or Treat Pez Counter display box is great looking, too!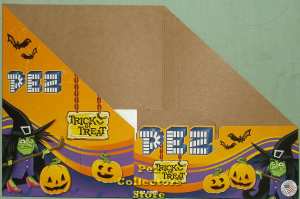 The releases scheduled for September in the USA actually arrived in July and August and we sure didn't object. The 40th Anniversary Hello Kitty Gift tin arrived in the Pez Collectors Store in early August. These are just cute as can be and the lunch box or purse style tin is a great addition to the full body Hello Kitty family pez set! These have been very popular and we have gotten more in stock to keep up with the pez collectors and the Hello Kitty fans, but this is a limited edition set, so they won't last forever! We are offering these loose for those who prefer to display them loose and want to save on shipping or mint in the gift tin.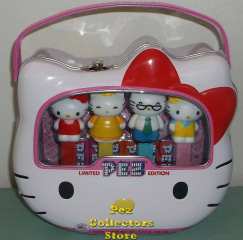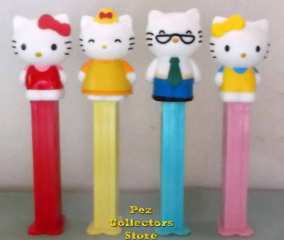 Scooby-Doo was the boxed set for 2014, and it was released in July, well ahead of the scheduled September release date. This boxed set is somewhat of a departure from the larger boxed sets we have seen in previous years. The set has just 5 characters – Scooby-Doo, Fred, Velma, Shaggy and Daphne and the box is shaped to look like the Mystery Machine bus. We have plenty of these in stock – choose loose and ready to display or mint in box!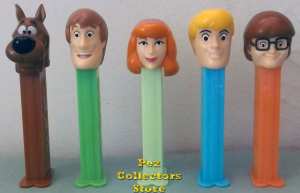 The Angry Birds pez tin rounds out the specially packaged releases and it became available in July ahead of schedule as well. These are available in the Pez Collectors Store now.
The next scheduled USA release will be the Presidents Volume 6 and 7 in November. These sets include Taft, Wilson, Harding, Coolidge and Hoover in Volume VI and F. D. Roosevelt, Truman, Eisenhower, Kennedy and Johnson in Volume VII.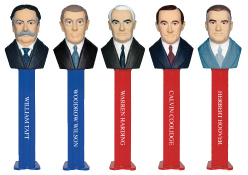 Christmas pez are scheduled to begin shipping in September and the assortment will include Santa, Reindeer, Snowman and a new Elf as well as the Penguin. The Penguin will still be available only in tubes. We think the Elf is a great addition to the Christmas assortment and it looks much cuter and friendlier than the previous elf!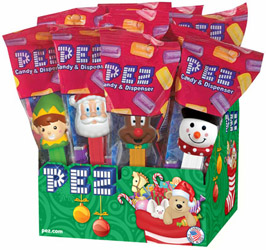 In December, Frozen will be released. We can't wait for these – Anna, Elsa and Olaf will be available individually, plus there will be special boxed sets with Anna and Elsa. We can't wait for these – they will be awesome!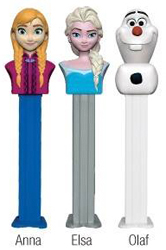 Valentines pez for 2015 will include 3 new hearts with different sayings plus the bear and the monkey. These will begin shipping in a few months, but as always, Pez Co. will ship out the old, leftover inventory before shipping the newest dispensers, so it could be a while before the new sayings begin showing up and they will likely be mixed with previous releases. jPez collector Eddie Santiago provided a photo of the Valentine hearts that were on display at the Sweet and Snack Expo 2014.
The lineup for 2015 looks really good. We talked about what we might expect to see in our in our January 2014 newsletter, and again in June 2014, but now we have some confirmation and scheduled release dates to share!
In January, 2015, Gary the Snail will join SpongeBob, Patrick and Squidward. We don't know if this Gary will be the same as the Gary that has been available for several years in Europe or if it will be updated in any way.
March, 2015 is the scheduled release date for the Despicable Me pez. The set will include Stuart, Dave and Agnes. Stuart is the one-eyed short minion, Dave is a two-eyed, skinny minon and Agnes is the daughter with brown eyes, black hair and a red ponytail holder. These should be really cute pez dispensers!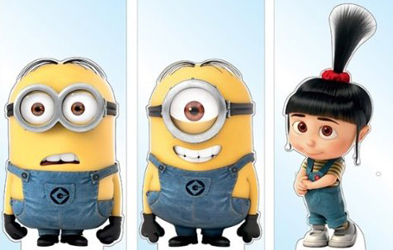 April, 2015 a new Avengers assortment will be released to include an updated Hulk, Thor, Ironman and Captain America. We are told that there will be a packaging update also to correspond to the May 1 release of the Avengers 2: The Age of Ultron movie. The Hulk update can be seen in the photo taken by Eddie Santiago at the Sweet and Snack Expo in Chicago 2014.
A new plush series of Wildlife animals will be released in April and will feature a white tiger, giraffe, gorilla and elephant. The packages will include information about these animals as well. The photo was taken by Eddie Santiago at the Sweet and Snack Expo in Chicago 2014.
In August 2015, the Peanuts 65th Anniversary tin will be released. It will include Charlie Brown, Snoopy, Woodstock and Lucy, but we are hearing that the pez will be the same as the series 2 Peanuts release. It will be interesting to see if there are any changes or variations!
The Star Wars Gift tin shaped like Darth Vader's head will also be released in September 2015 and will include a crystal Darth Vader, crystal C3PO, crystal R2D2 and crystal Yoda! This one we know will be good looking! (Photo from Sweet and Snack Expo 2014 by Eddie Santiago).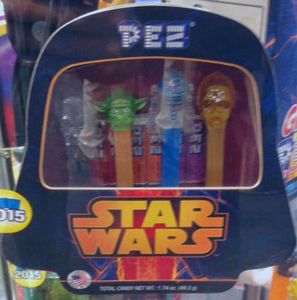 September 2015 will bring a new Star Wars pez assortment for the Episode VII movie. The assortment will include Yoda, C3PO, Darth Vader, Chewbacca, R2D2 and two additional all new dispensers. Which new characters will be added has not been announced yet, but we think it is high time that Han Solo is added to the pez assortment!
Also in September 2015, the Harry Potter Pez Boxed set will be released with Harry Potter, Hermione, Ron, Voldemort, Dumbledore and Hagrid! Now, this is a boxed set that will be very popular!
There will be a new Hello Kitty Tin released in September, 2015, but we are told the dispensers will be the same as what is currently in the regular Hello Kitty tins (crystal My Melody, crystal Kitty with red bow, crystal Hello Kitty with hibiscus flower and crystal full body Hello Kitty with overalls). The tin will have the same patchwork sort of graphics as we have seen on the counter display boxes shown here.
In November, 2015, the President Pez Series will be caught up to current with the release of Volumes VIII and IX. Each set will include 4 Presidents in each volume. Nixon, Carter, G. H. W. Bush and Clinton will be in Volume VIII, and Carter, Regan, G. W. Bush and Obama will be included in Volume IX. One of the Presidents in each set will have the Presidential Seal on it, so that should be a neat addition!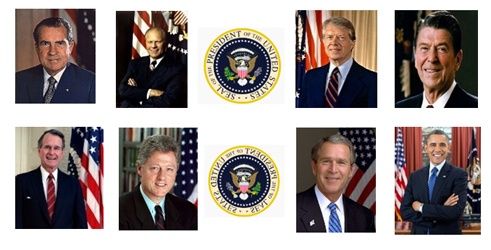 There is no mention of the Jurassic Dinosaurs pez in the lineup we received. That could mean that the idea has been discarded, or it could be that it has been postponed or just that Pez Co isn't talking about it yet. Regardless, the lineup for 2015 has some awesome new dispensers coming out!
The summer conventions are over and we now begin looking forward to the Fall gatherings! Next up is the Steel City Pez Gathering on Sept. 20, 2014, hosted by Brant Olbeter and Pezburgh Punk. The details can be found on their Facebook page (Steel City PEZ Gathering. The gathering events will be held at the Galleria at Pittsburgh Mills on Rt. 79 just off the PA turnpike, beginning at 10 am on Sept. 20.
Pez on the River in Winona, MN is coming up and it looks like it will be a huge gathering! The hosts Sandy and Cheryl Gardner-Ghionzoli have a great event planned and there is a great deal of enthusiasm with many collectors already registered to attend. Hurry to get your reservations made and submit your registration because October 10 and 11, 2014 will be here before you know it! Details and more information can be found at
www.pezontheriver.com
.

As you can see, there are plenty of new pez available now in the Pez Collectors Store and more coming in the next few months, plus a great lineup for 2015! Until next month, Happy Pezzing!
All the best,
Chris Jordan