September 2011 Newsletter
September is the month when Pez releases the big boxed set and several other releases – all at the same time! There are lots of new pez this month plus Shop Rite Promotional Trucks that came in last month and more pez in the coming months!
The Lord of the Rings gift set is a numbered limited edition of 250000. The 8 pez dispensers include Bilbo, Frodo, Sam, Gandalf, Aragorn, Legolas, Gimli and Gollum! This set is really great looking and highly detailed. Bilbo Baggins, Frondo Baggins, Samwise Gamgee, Gimli and Gollum are all on midi-stems similar to the 7 Dwarfs from the Snow White gift set. Gandalf, Aragorn and Legolas are all on regular size stems. The patent numbers on the ones we opened are interesting – the regular size all have a 5.9 Made in China (wide space) as expected. The midi stems all have a patent that says Made in china – China is not capitalized. Bilbo, Sam and Gimli are all on 5.9 patent numbers.  Frodo and Gollum have a 7.523.841 patent number! Our first order of The Lord of the Rings shipped to us a bit early and is in stock now! Choose mint in collector's box or loose to save on shipping, or even one of each with no additional shipping for the loose set!
ShopRite Trucks arrived and these are the first two color promotional advertising rigs. The cab on the ShopRite truck is red and the trailer is yellow. These are now in stock in the Pez Collectors Store.

The Phineas and Ferb set was apparently accidently released from the PEZ Co warehouse early, so a few showed up in the middle of August. Sadly, our orders were not among those that shipped early, so we are still waiting, but I expect that they will begin shipping on or about the first of September. At least we know that they are produced and ready to ship! We will have these in stock just as soon as the shipments arrive from Pez Candy!
Disney Pull & Go Detachable Cars 2 pez dispensers have just started appearing. We are not sure exactly when they might be available. Given that there are 3 new sets all scheduled to ship this month, it could be the first, the middle or the end of September when the new releases actually begin shipping. Again, our order is placed, so it is just a matter of waiting our turn in line for shipments to arrive! This photo was provided to us by Geoff Ladd - thanks Geoff!
Halloween Witches have been a bit scarce this year. Our second order of 144 Halloween pez netted us only 7 2011 witches! We have few remaining in the Pez Collectors Store.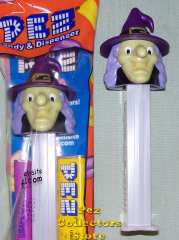 October is the release date for the Wal-Mart Exclusive trucks. There will be 8 different trucks in the set. There are 4 different logos and two different cab styles for each logo. While these are a WalMart exclusive, we will do our best to have sets available in the Pez Collectors Store in case you can't find them.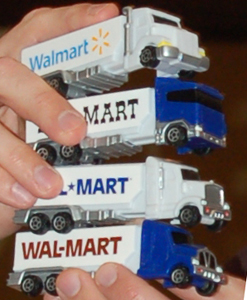 Pez Soft Candy Shooters are on their way from Europe. This dispenser is being marketed in Austria. There are 4 different colored refillable shooters and the candies are a soft, gummy candy in a smooth pez capsule shape. This is a unique pez item and the sour fruit flavored gummy candies might be a welcome change from the hard candy bricks we know as pez candy.  It really seems that PEZ Co. is working hard to develop more interactive type dispensers to appeal to kids who are programmed for interactive everything! These will be available in the Pez Collectors Store just as soon as they make their way across the ocean to us!
There are a few more opportunities to enjoy Pez conventions and gatherings this fall. PEZYLVANIA 5 will be held on Oct. 15th 2011 at Renningers Antique Market, 740 South Noble St., Kutztown, PA  19530. Doors open at 8:00 am. Details and registration information can be found at http://www.papurplecow.com/the_purple_cow_059.htm
Next up is Pez-in-the-Sun at Myrtle Beach, SC October 27 – 29th. This gathering features room hopping in a great Oceanside hotel and lots of fun pezzy activities! Pez shop room to room and enjoy the sun and sand and surf and pez galore! Details and registration can be found at http://myrtlebeach.pezgathering.com/ If you are in need of a pez fix, attending a gathering or convention is the best! Register for one soon, as the deadlines are nearing!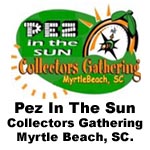 That's all the news for this month!
Happy Pezzing!
All the best,
Chris Jordan
www.pezcollectors.com

http://www.papurplecow.com/the_purple_cow_059.htm