September 2009 Newsletter
September 2009 Pez Collectors Store Newsletter
School has started, summer is fading and Fall is coming rapidly upon us. It seems that the month of August kicked off with the MNPezCon and then just flew by! The summer convention season is over, but there is still much to look forward to in the Pez world with many new releases pending. Most of the new releases scheduled for this year will be hitting in the next few months and we are as excited as you are for them to arrive!
The new Halloween Bat Pez has come out of the cave and is now available in the Pez Collectors Store. The Bat dispenser has soft flexible wings and a wicked looking face with sharp fangs – perfect little spooky addition to the Halloween set on its glow in the dark stem. We didn't notice any difference in the pumpkins or witch or black cat available this year.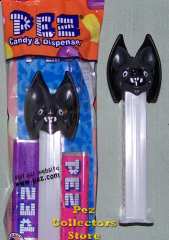 Marvel Universe Super Hero pez dispensers in bag have also arrived. Spiderman, Incredible Hulk, Wolverine and Iron Man are now available in polybags with candies. We still have a few on the short cards left for those who like to collect the special graphic packaging.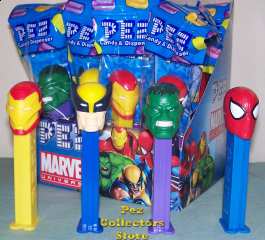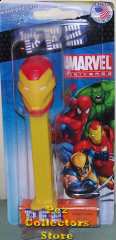 The plush Pez animals have arrived and we were surprised to find that the 8" plush is really about 10 inches tall. We have both 10 inch and 14 inch plush pez animals available as complete sets or individually. These are really super cute!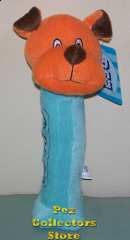 The Wizard of Oz is scheduled for a September 1 ship date and they should be showing up any time.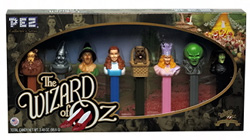 Toy Story is also due out any time now, another new pez release scheduled for September.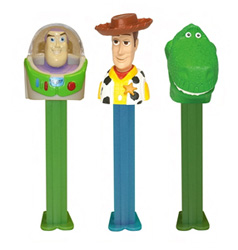 The My Friends Tigger and Pooh Winnie the Pooh gift set with Buster, Darby, Tigger Sleuth and Pooh Sleuth were originally scheduled for an October 1 ship date, then were not going to be available, then were put back on the schedule for a September 1 ship date. We really aren't sure when these will actually be shipping!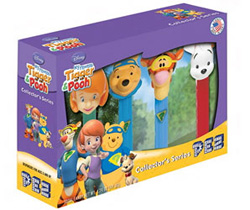 The three new US Disney Fairies Rosetta, Fawn and Terence were originally scheduled for August release, but we are still waiting to hear that they have arrived and are now shipping. We expect that the new fairies will be mixed in with the first fairies Tinkerbelle, Iridessa and Fawn, but we don't know what the ratio of old fairies to new fairies will be.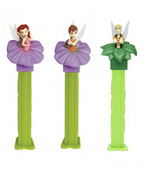 The two new European Disney Fairies, Rosetta and Iridessa have been released and are shipping to us now. The new European Fairies have the purple skirts like the US Fairies, but do not have the decorative lines on the skirts that the US Fairies have. The picture shows that Iridessa has a white hairband, but we have been told that it really has a black hairband. Still, the Iridessa will be different than the US Iridessa because of the lines on the skirt. Until the new US fairies arrive, we can't be sure if they will have the decorative lines painted on the skirts or not. If so, the US and European Rosetta will also be different.
We had a great time at the Minnesota Pez Convention this year. Dana and Juli Kraft announced that 2010 will be their last year to host the MNPezCon which is really sad because they do such a wonderful job! We were so busy having so much fun that we forgot to take many pictures but we did get some shots during Bingo and the auctions. These are posted in the photo gallery in the Pez Collectors Store.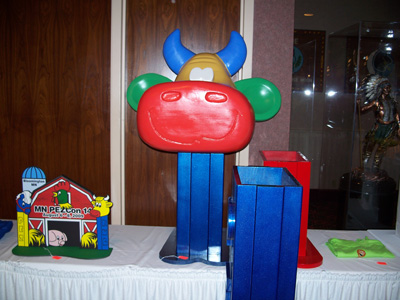 We also videotaped the seminars at the convention. Michael Brumett did a seminar on costumes, Ronai Brumett did a seminar on pez lapel pins and Maryann Kennedy was the highlight with her seminar. Maryann is known as PezHead Zero because she began collecting when vintage pez were new and available in stores. Maryann told stories of collecting in the pre-internet days when contacts were made by mailed letters and phone calls. There were no books about pez, no price guides and no collectors forums or newsletters. Yet, Maryann was able to amass a fabulous collection and was careful to save the documentation of which dispensers were available, the ad sheets she was able to acquire and all of the communications with Pez Candy who referred all questions to her! The video shows some of the extremely rare pez from Maryann's collection which she brought for show and tell!
This great footage can be seen at: /index.php?main_page=page&id=54
There is not a lot of news or updates for coming dispensers for the next few months. October is scheduled as the first ship date for the Christmas dispensers which will include the new Polar Bear with Cap. It is cute! Christmas should also bring a new Santa Hauler – a rig truck with an image of Santa, the reindeer and his sleigh on the side of the truck. This truck will be packaged with a Santa D dispenser in a clam-shell display case, similar to the way NASCAR Helmets and Hauler Gift sets were packaged.
As we have been waiting for new pez to arrive, we have been very busy adding new old pez to the inventory in the Pez Collectors Store. We have greatly increased the vintage pez section and have added pez to many of the other categories under Retired US Pez, Retired European Pez, Licensed Pez and Limited Edition Pez. Below are just a few of the pez dispensers we have recently added.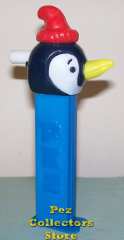 Our inventory is constantly changing, so if you didn't find that Teenage Mutant Ninja Turtle or D-Series truck you needed to complete your set the last time you looked, keep checking as we get in new older pez quite frequently. These new additions may not appear in the New Products section if we reactivate a product that we offered previously. You can always use the Search function to see if the pez you're looking for might be available.
That is all the Pezzy news for this month, but we will have more exciting things to tell you about in next month's edition of the Pez Collectors Store Newsletter so be sure to register with the Pez Collectors Store as a subscriber to not miss any of the newest news!
All the best,
Chris
www.pezcollectors.com