September 2008 Newsletter
Labor Day weekend marks the close of the summer months, kids return to school and the Fall lineup of new pez will be coming soon. We have had a wonderful summer attending conventions and meeting our customers and friends.  We have a lot of different news to share this month, including plans for the 2nd Annual Kansas City PezHead Gathering, our ½ hour interview on Harold Nicoll's The Collectors Show, along with some sneak previews of new pez coming out and new additions to the Pez Collectors Store.
The next pez release we are expecting sometime in September will be the greatly anticipated Star Trek gift set. This set is expected to include Kirk, Spock, McCoy, Uhura, Sulu, Scotty and Chekov, along with the Starship Enterprise!  We are really looking forward to adding this set to our collections and offering it for sale in the Pez Collectors Store just as soon as Pez Candy begins shipping them.  We have ordered a lot of these so our inventory should hold out for a little while!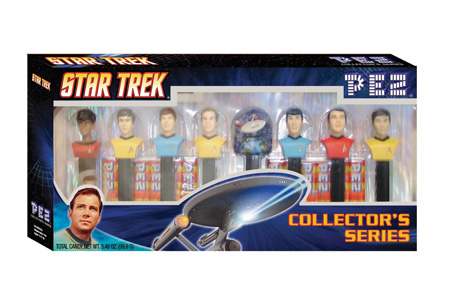 Skipper and Melman from the European Madagascar 2008 release are on their way to us now from Austria. According to the information released from Pez Candy so far, these are not slated in the lineup of new pez for release in the USA. Skipper the Penguin and Melman the Giraffe were sorely missed in the original Madagascar release and we are excited that they are on their way to us now!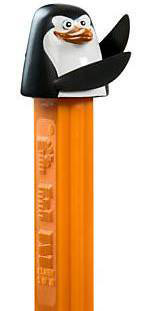 A lot of what determines whether a Pez is released in the USA or is a European release has to do with Pez Candy obtaining licensing rights to distribute the copyrighted characters. Wall-E is an example of a Pez that we were told would only be a European release. The Wall-E and Eve are not available to us from Pez Candy USA – we have tried to order them and they simply are not on the list of items which can be purchased separately.  To our surprise, these were available for a short time, bagged with a single package of candy, through the Pez online order site where they claimed to be the only ones to have these available for retail sale.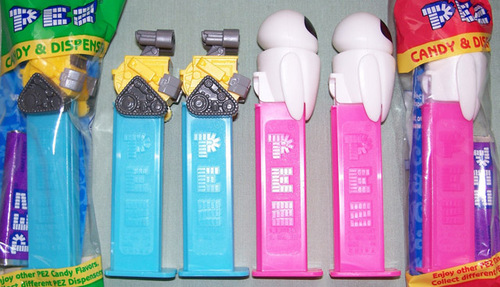 Look carefully for the Made in China molded on the stem of the USA released shown in bag and loose on the far left and far right, compared to the absence of this notation on the two in the center from Europe.
Much to everyone's surprise, the Wall-E and Eve are now appearing on the Best of Disney Pixar cards at some Wal-Marts across the country, rather than on Wall-E cards such as have been seen in Europe. We speculate (pure conjecture on our part) that Pez USA did not complete a licensing agreement for the Wall-E characters, but are able to sell their inventory under the Best of Disney Pixar license agreement. The US version dispensers have the words "Made in China" printed on the stem which is required for Pez released for retail sales in the USA.  The European version which we have for sale does not have the "Made In country" printed on the stem. Those who collect stem variations will want to get both sets, so be watching for these in stores on the Best of Disney Pixar cards and order the European set from the Pez Collectors Store as well.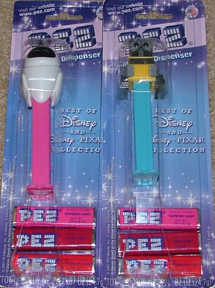 Gary from SpongeBob is an example of a European release which we have had a terrible time trying to keep in stock as supplies from Europe seem to be limited. Gary is on its way in our shipment from Austria and should be back in stock soon!
Winnie the Pooh is getting a new look in the PlayHouse Disney My Friends Tigger & Pooh 2008 release.  We have acquired a small number of Buster pez and expect more Buster and Darby to be arriving soon. Pooh has also been spotted with a new blue collar rather than the older red collar and we hope that some of these will be included in our next shipment as well.  The new counter display box features Darby and Pooh on the front, Piglet on one side and Tigger on the other side. These are really cute!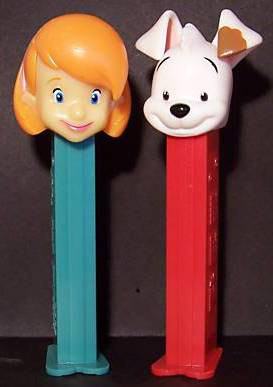 A while back, we mentioned the NCAA Nebraska football pez which still has not been released. It is an exclusive, meaning that there is a single customer who commissioned its production and they will receive the entire order when it becomes available.  It is thought that the Olympics Games in China has caused a delay in shipment. We are still quite hopeful that we will have some of the Nebraska Footballs available soon.  Two new footballs have been showing up – the Washington State University (WSU) and the University of Washington (UW) NCAA pez. These pez were apparently also commissioned as exclusives, and despite our best efforts, we have been unable to get a source for these. We will continue to try to obtain these pez to add to our collections and to make available to our customers. Pez Co does not make it easy for us! We do have the UNC and VT Football Pez back in stock in plentiful numbers now - the conventions and several customers with large orders quickly depleted our inventory last month, but plenty are now available!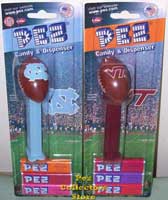 I love pez and love to talk about pez, so it was a great pleasure to have been contacted by Harold Nicoll, the host of The Collectors Show, to do an interview as the guest for this week's ½ hour show. Harold's show features collectors of all kinds of things – train collectors, map collectors, ornament collectors, stamp collectors and even Banana Sticker collectors to talk on his show, but this week the focus is on Pez Collectors and the Pez Collectors Store. There was so much to talk about and so little time to talk, but it was great fun to get to spend some time talking about Pez. Click the link to listen to the podcast of this week's show featuring Pez Collecting. We are told that the podcast will be available sometime today, September 1.
During the coming months, we hope to work on the Vintage section of the Pez Collectors Store and get some more vintage pez listed. Of course, the difficulty with listing vintage pez is that each one may be different and so each requires a separate description and photo and there is usually only one of each available.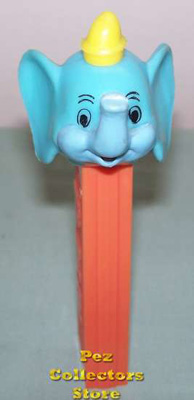 We will also be adding a Vintage Pez Parts category to the Pez Collectors Store and we hope to help our customers complete a few of their dispensers which may be missing some pieces. The Vintage Pez Parts are 100% authentic – we will not carry or distribute fake pieces or reproduction parts!
The Pez Collectors Store will be traveling to Myrtle Beach in October for Pez in the Sun. For this convention, we will be flying so our available inventory will be limited. If there is something specific you are hoping to purchase from us in Myrtle Beach, be sure to let us know ahead of time and we will try to stuff it in our suitcases. We look forward to meeting our south eastern customers and pez friends at the gathering.
Speaking of gatherings, plans are now being made for the 2nd Annual Kansas City PezHead Gathering sponsored by the Pez Collectors Store. We have booked space at the Country Club Plaza Holiday Inn and are negotiating room rates and other things with the hotel. The 2009 KC PezHead Gathering will be held again on Saturday of Memorial Day weekend, May 23, 2009. We are planning more fun games and a variety of seminars and activities to make the day a fun filled Pezzy event. Of course, there will be plenty of opportunity for Pez shopping as we hope many dealers will be on hand to offer you the greatest variety of Pez for sale! Mark the date on your calendar and be watching the Pez Collectors Store Newsletter for all the details!
That is all of the news, scoops and sneak preview information we have for this month.  We hope you find this information useful!
Happy Pezzing!
Chris Jordan
www.pezcollectors.com