October 2019 PCS Newsletter
October will bring lots of new pez to the Pez Collectors Store! We are really excited about adding the new twin packs and gift tins and, of course, Funko has lots more POP! PEZ in the works! We will be attending the Pez on the River convention this month and hope you will be joining us to congratulate the hosts on being named the 2019 PezHeads of the Year!
The 12 Days of Christmas mini Pez Ornament gift sets arrived and are in stock now. These dispensers are fashioned after the 12 Days of Christmas song and each of the ornaments has a number and a picture on the clear crystal ball of the gift from 'my true love' – 12 drummers drumming, 11 pipers piping, 10 lords a-leaping, Nine ladies dancing, Eight maids a-milking, Seven swans a-swimming, Six geese a-laying, Five golden rings, Four calling birds, Three french hens, Two turtle doves, and one partridge in a pear tree. The ornaments have a loop at the top of the ball so they can be used as ornaments. The gift box looks like it is neatly tied up with a bow and it comes with 12 rolls of Sugar Cookie pez candies. We offer these in the boxed gift set or loose for those who prefer to display loose and save on shipping!
29.5" five tier Grandstand Pez Displays are back in stock in the Pez Collectors Store. These join our 21" 5 tier Grandstand displays as well as our 6 shelf adjustable wall displays (available with or without cover doors). The 29.5" display fits perfectly in Ikea Billy Cabinets that are popular among collectors. Check out all our displays, display cylinders, shoes for all your display needs!
Halloween is nearly here! Don't forget to stock up on the Halloween Mini Pez Party Favor bags and the new Halloween Bat Pez before the trick or treaters arrive at your door!
The Grinch Pez Twin Packs featuring the Grinch and a mini Cindy Loo Who and the Grinch with a mini Max are shipping to us now and we expect to have these in stock within a few days.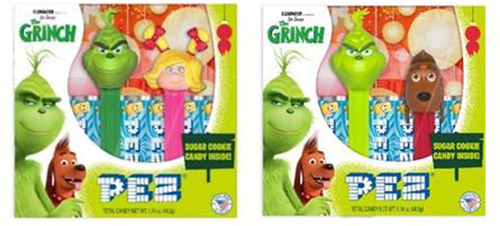 Frozen 2 Pez Twin Packs are scheduled to be available beginning October 4. The twin packs will include updated, revised molds for Elsa and Anna, and each of these will be packaged with a mini Olaf.
The Frozen 2 Pez Gift Tins will include the revised Elsa and Anna plus a new Sven and new exclusive Kristoff. Kristoff will be available in the Gift tin only. The gift tin is shaped like Olaf's head and features Olaf on the back. The images for these are officially under embargo until October 4, so we can't show them yet, but we will have these in stock just as soon as they are officially released and no longer under embargo.
The Star Wars Episode 9 The Rise of Skywalker pez gift tin is also under embargo until October 4, but images have surfaced and are now being widely shared on facebook, but we will honor the embargo and not share the photos until the embargo is lifted. The tin is in the shape of Kylo Ren's mask and includes First Order Storm Trooper, Kylo Ren, a Red Sith Trooper and a First Order Jet Trooper. Each limited edition gift tin set will be individually numbered, making them even more collectible!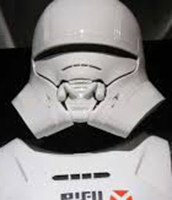 There are new Star Wars twin pack pairs for The Rise of Skywalker as well. The Resistance twin pack features BB-8 and a mini droid which we believe will be D-0. The First Order Twin pack will feature Kylo Ren and the Red Sith Trooper. These are also under embargo until October 4, but we will have them in stock just as soon as possible!
For Christmas this year, in addition to the 12 Days of Christmas ornaments, there are two new dispensers – a snow globe featuring an image of Santa in a sleigh on a glittery crystal ball and a new snowman with a red stocking cap, with a red and white striped scarf. A mini version of this snowman is expected to be available in the ball ornaments, along with the mini red elf and mini Santa. The new dispenser in the tubes will be the Gingerbread Man! The new dispensers will be flowed in to assortments as the old inventory is depleted, so we are waiting to be sure we receive the new assortments! We will have them in stock soon!

Valentines pez for 2020 will begin shipping in November and we look forward to the new artwork and the new Teddy Bear dispenser. The pink silly heart Valentine pez will also be included in the regular assortments (it was included only in the twin pack for the past Valentine's Day).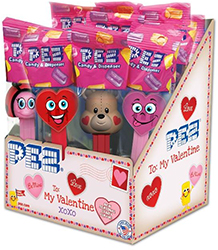 Funko has been busy as ever! We have received lots of new releases and expect more to come in the next month. Meanwhile, a collector noticed there are Suicide Squad Joker pez that have a grey 'overspray' around the eyes just as pictured on the box, yet most of the ones being found have no grey or very little grey around the eyes. We checked and from an inner case of 6, we found one with three with no grey, one with a little grey, one with a little more grey and one with lots of grey. It seems there is variation and there are probably a full spectrum of differences. The ones that you can truly say have lots of grey around the eyes are definitely harder to find. We have listed these separately in the Pez Collectors Store!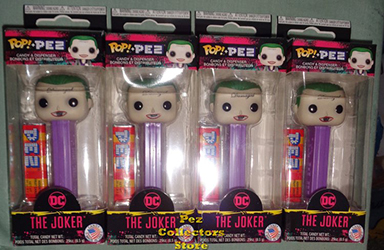 Cling from H.R. Pufnstuf is in stock now and we are expecting to receive Clang, Witchiepoo and H.R. Pufnstuf soon.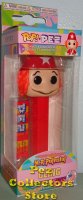 Sleestak from Land of the Lost and the Mistress of the Dark, Elvira are also in stock now.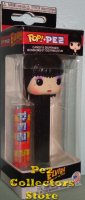 Sark from Disney's Tron is in stock now and Tron will be arriving soon!
Disney Villains Maleficent, Ursula, Cruella and the Evil Queen are in stock now and we offer them separately or in a convenient bundle!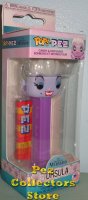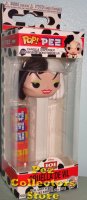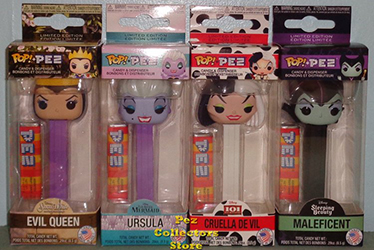 A Year Without Santa Claus Heat Miser and Snow miser are available, separately or as a bundle.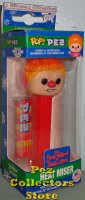 Star Wars Lando Calrissian, Boba Fett (Prototype) and Holiday Boba Fett (Animated) arrived this month as well. They are in stock and available separately or as an easy to order bundle.
Felix the Cat is in stock now.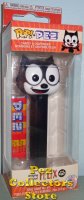 Nightmare Before Christmas Dapper Jack is on his way to us and is expected to arrive tomorrow! The rest of the second series of NBC - Dapper Sally, Oogie Boogie in Burlap, Lock, Shock and Barrel will not be far behind!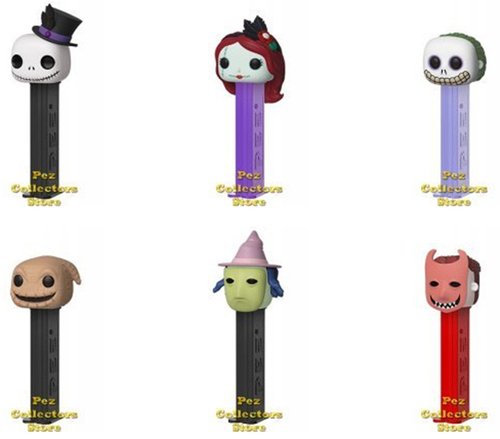 Football season is underway and there will be football team POP! PEZ in beanies, caps and helmets to support your favorite teams! These will be coming in waves through October with a mix of helmets, caps and beanies in each wave! Plan to get your favorite teams or the entire set - we will have them all for you!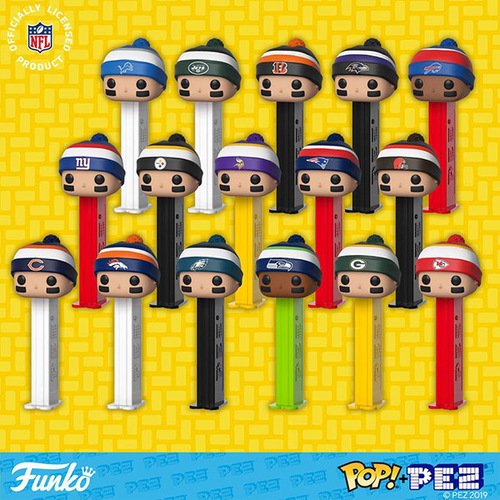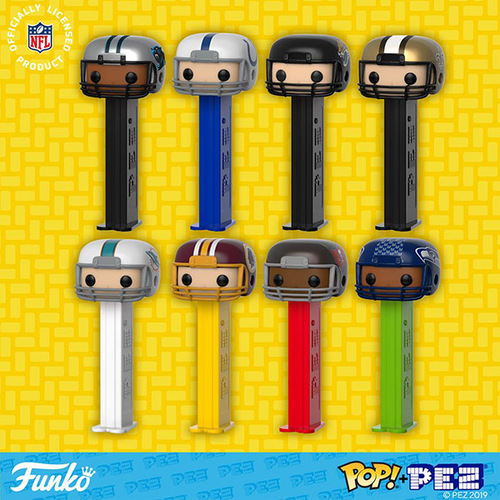 A Christmas Story Bunny Suit Ralphie and Sheriff Ralphie are expected late in the month, along with Buddy the Elf! We also expect Iron Giant, Lilo and Stitch, and Spyro from video games towards the end of the month or in early November.
Funko announced several new POP! PEZ since our last newsletter – Coraline and Coraline Chase, and Cthulhu are expected in December!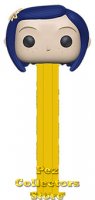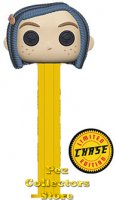 Pez on the River is going to be a great convention! Hosts Sandy and Cheryl, our current PezHeads of the Year, have lots of fun activities scheduled. We are looking forward to lots of room hopping, the Pezheads on the River river boat tour and the annual cookout on Thursday night, Captain's log games on Friday, Scavenger hunt, costume contest with the theme All Caged Up, the charity auction, the show on Saturday, the after show dinner and the List Party and games following on Saturday night! There is so much to do and so much fun to be had and we hope to see you there! All the details can be found at www.pezontheriver.com

That's all the news for now! Until next month, Happy Pezzing!
All the best,
Chris Jordan
www.pezcollectors.com