October 2018 Newsletter
This past month has brought many new releases to the Pez Collectors Store and there are more coming from both PEZ Candy Inc. and Funko POP!+PEZ. Convention season in the USA is coming to an end, but there are still a few opportunities go get together with other Pez collectors and share your love for this great hobby!
Mickey and Minnie 90 Years of Magic Pez Twin packs are available now and they look even better in person than in the photos. The Mickey and Minnie heads are made with brown plastic rather than black and the eyes and nose are also brown. The stems are sort of a Dusty Rose color and Dark Dusty Rose color rather than the normal red and pink. The large polka-dots on Minnie's bow and stem are much larger than previous versions and Mickey has 90 Years printed on his stem. This great set is available in the twin pack or loose for those who prefer to display loose and save on shipping!
Stranger Things Pez Twin packs arrived and these 4 characters from the popular Netflix Sci-fi/Horror series look wonderful. Eleven and Mike are in one Stranger Things Twin Pack and Lucas and Dustin are in the second Twin Pack. Each character has its name printed on the stem. I am not really sure why that is necessary, but it is what it is. Regardless, these are great new pez dispensers! We have them available in the twin packs or loose so you can save on shipping!
The Grinch Pez Gift Tins arrived and they are awesome! The Grinch, Cindy Lou Who, Max the Dog and Fred the Reindeer are included in the set of 4 in the Gift Tin. The tin is shaped like Grinch's head and the back of the tin features the Grinch. The gift tin comes with a 6 pack of Sours Green Apple Candy. For those who collect Candy Packs, it should be noted that the new flavor is called Sours instead of Sourz. I really am not sure why the change in name, but it's more variation! As far as I can tell, the flavor is the same! These are also available either in the Gift Tin or loose!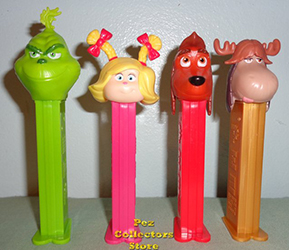 We realize it seems early, but next month we expect to receive our orders of Valentine's Pez for 2019. Included in the assortment should be a new Red Crystal Happy Heart and Pink Crystal Silly Heart. The new Valentine's Hearts are on standard footed stems facing forward! The White Love Bear with red stem should also be included along with a new Ladybug with a pink face on a pink stem. The mold for this Ladybug seems to be the same as was used for the Bugz Ladybug pez dispenser, but her eyes have eyelashes on the sides and are differently shaped. With the pink face and pink stem, she seems to fit right in for Valentine's Day! As an added bonus, all Valentine's Pez will come with Cotton Candy flavor Pez candies!
There will also be a Valentine's Day Twin pack with the crystal Happy Heart and Silly Heart dispensers. These will come in a Happy Valentine's Day box with a heart shaped window and 6 rolls of Cotton Candy flavor Pez candies.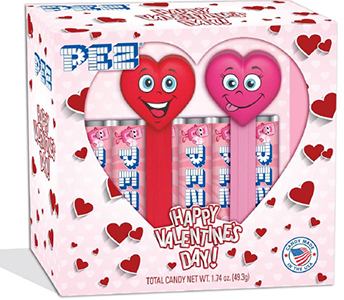 Funko POP!+PEZ have been steadily coming into the Pez Collectors Store and it is a good thing we just added a new warehouse to accommodate our inventory of these great new pez with Pop! head designs. We now have Marvel Cable, Loki, Magneto, Star Lord, Thor, Yondu, Deadpool, Hulk, Stan Lee, DC Comics Batman, Robin, and Joker, Quaker Oats Crunchberry Beast and Jean La Foote, Bob Ross in stock!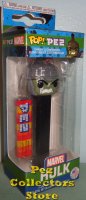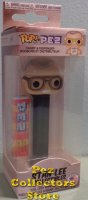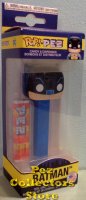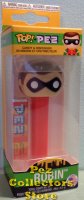 We have also received our shipment of Star Wars Bossk which is a shared exclusive with New York Comic Con that begins October 4. Due to this, Bossk cannot be sold until October 4. It shows as "Sold Out" on our website, but really just won't be available for sales until October 4!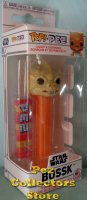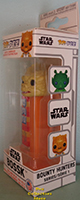 Megaman and Mega Man Magnet Missile, Cap'n Crunch on blue stem and Cap'n Crunch Chase on black stem and Star Wars Greedo will be available later in October!
In November, we expect to add the following POP!+PEZ
11/1 Pop Pez: Crash Bandicoot - Crash

11/1 Pop PEZ: Sonic - Sonic

11/8 POP Pez: NBC - Jack Skellington

11/8 POP Pez: NBC - Oogie Boogie (glow in the dark)

11/8 POP Pez: NBC - Pumpkin King

11/8 POP Pez: NBC - Sally

11/8 POP Pez: NBC - Vampire Teddy

11/22 POP Pez: Golden Girls - Blanche

11/22 POP Pez: Golden Girls - Dorothy

11/22 POP Pez: Golden Girls - Rose

11/22 POP Pez: Golden Girls - Sophia

11/22 POP PEZ: Hanna Barbera - Huckleberry Hound w/ Chase

11/22 POP PEZ: Hanna Barbera - Morocco Mole

11/22 POP PEZ: Hanna Barbera - Secret Squirrel

11/22 POP PEZ: Hanna Barbera - Snagglepuss

11/22 POP PEZ: Star Wars - Jawa

11/22 POP PEZ: Star Wars - Tusken Raider
A very special additional 3 POP!+PEZ exclusives and chases will be coming to us in November as well and we are really, really excited about them!
If you would like to be notified when we receive new POP!+PEZ, click here to subscribe to the PCS Funko POP!+PEZ Notifications email list.
The 5th Pez on the River Family Reunion is October 11 – 13 in Winona, MN. A cookout is planned for Thursday evening, a riverboat ride has been scheduled for Friday morning and there are lots of games and events taking place in addition to room hopping and the convention show! It is time to get serious and book your hotel and make your reservations now! Visit www.pezontheriver.com for all the details and registration information! We look forward to seeing you in Winona!

Pezylvania IX is October 13, 2018. This one day event is held at Renninger's Antiques and Farmer's Market in Kutztown, PA. The day is packed full of pez events and contests along with lots of pez dealers at tables! Details are available at www.pezylvania.com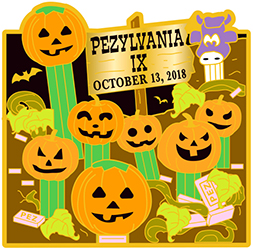 Pez In the Sun is making a comeback this year in Myrtle Beach, SC. The event is scheduled from October 30 – November 3. Group dinners, a Halloween Costume Contest, and a mini golf tournament are scheduled, with plenty of room hopping! Visit www.pezgathering.com for the details!
That's everything for this month! Happy Pezzing!
All the best,
Chris Jordan
www.pezcollectors.com