October 2017 Newsletter
September was a great month for new pez releases in the USA! We were happy to get lots of the newest pez sets and gift tins in stock in the Pez Collectors Store! And, there are more pez yet to come!
The Millennium Falcon Pez gift tin is shaped like the Millennium Falcon spaceship and, of course, it is piloted by an exclusive Han Solo and his first mate Wookie Chewbacca, along with Rey and BB-8 pez dispensers. This great looking tin comes with 6 packs of Pez Candy and is a hit among Star Wars fans and Pez collectors!
The Nintendo Super Mario Gift set is a great boxed set with Mario, Yoshi, Donkey Kong and Princess Peach dispensers and each character has their name printed on the stems of the dispensers. The box has awesome Super Mario graphics and comes with 6 packs of Pez Candy. We offer this great set in the gift set package or loose for those who prefer to display their pez loose, so you can save on shipping!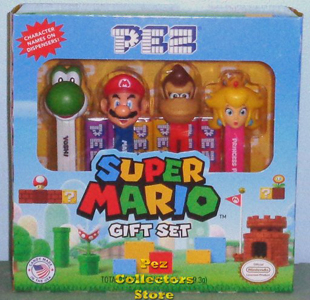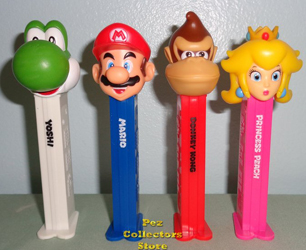 The Retro Pez Girl Tin arrived and it includes 54 rolls of pez candy (a pound of candy!!) and a new baby blue pez regular with a 7.5 patent number and the 'lip' at the top edge of the stem. The color is really quite different than previous releases off the remake regulars and the 7.5 patent and lip make it easily identifiable as a new dispenser! The dispenser is sold separately for those who want to save on shipping or in the tin with pez candy!

The Justice League Gift tins feature an exclusive Cyborg dispenser, and a new Aquaman dispenser, along with the most recent versions of Superman and Batman pez, and 6 rolls of Pez Candy. This great looking tin has great Justice League graphics and is a great new release!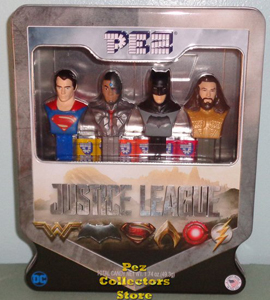 The Star Wars Episode VIII twin packs have awesome new graphics for the Last Jedi movie and the two twin packs have BB8 and Rey dispensers in one, and Chewbacca and Porg dispensers in the other. Each comes with 6 rolls of Pez Candy.
The Star Wars Episode VIII pez assortment includes the Praetorian Guard (an odd looking red helmet), Stormtrooper Executioner (a Stormtrooper with a wide black band on the right side of his helmet) and Porg (a seabird species native to Planet Ahch-To). Also included in the assortment are Darth Vader, BB8, Rey and Wookie Chewbacca. Buy the set of 3 new dispensers, the set of 6 with BB8, Rey, Darth Vader, Praetorian Guard, Stormtrooper Executioner and Porg, or buy them individually in the Pez Collectors Store.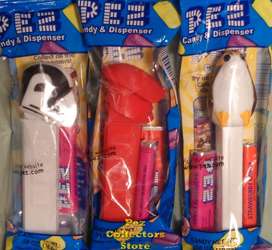 As long as we are talking about Star Wars, we have a correction to make from last month's emailed newsletter. Unfortunately, the paragraph about the re-release of Incredibles Pez next May was duplicated and the paragraph explaining about the gift tin for the Han Solo Movie was omitted. So we will correct that now. A new Star Wars Gift Tin for the Han Solo movie will be released on May 1, 2018. The tin will include Han Solo, Lando Calrissian, a new Droid, and Chewbacca. No word yet on which new droid will be included, nor what Lando Calrissian will look like!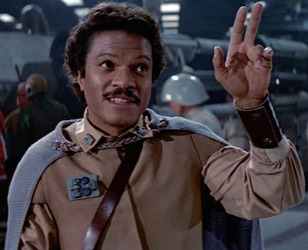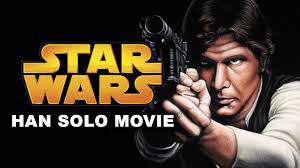 New pez from Europe also arrived in September. Just like the European Superhero Girls with Play Codes, the European Transformer Pez with Play Codes are now also in stock! These Robots in Disguise – Optimus Prime, Grimlock and Bumblebee each have play codes printed on their stems for more digital fun! Download the PEZ Play app, then scan the codes and play the games!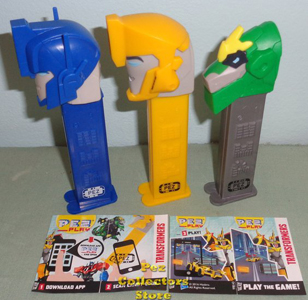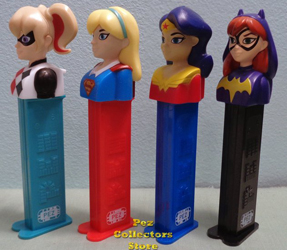 In May, 2016 when we saw the Christmas Ornaments on display at the Sweets and Snacks Expo, the plan was to include the Reindeer, along with the Elf, Santa and an Angel. The prototypes at the Expo were likely using a true mini stem like the Japanese Mini Pez, while the mini pez in the USA feature more of a 'midi' size stem! I am guessing that The Reindeer's antlers made it impossible for the reindeer to fit in the ornament on the same size stem used for the others, so the Reindeer is not part of the Christmas Ornaments set. The Christmas Ornaments with mini pez Angel, Elf and Santa are really cute. The ornament balls come with either red or green backs and a clear front, with two packs of pez candy inside. We have sets of the three mini pez in green ornaments or in red ornaments and we also have extra Santa mini pez in red or in green ornaments.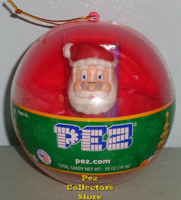 For those who prefer to save on shipping, we also offer the three mini ornaments loose and ready to display!
The Snow Globe is a truly delightful use of the 'ball' mold! The colorless crystal ball has glittery flecks like a snow globe that has been shaken and the wintery scene is a perfect snow globe scene! This dispenser is perfect and a must have for every pez collection!
The full size angel pez will be available only in the Christmas Tubes assortment. She will have blonde hair with a blue collar, so she is a different angel head than the one in the mini ornaments set. We look forward to having these in stock after Halloween.
The new dispenser for Halloween this year is Mummy B and this dispenser is a really cute one! We still have some in stock in the Pez Collectors Store!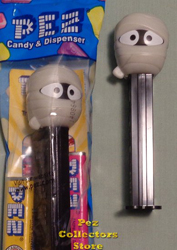 Marshall the Firefighter pup has joined the Paw Patrol assortment! This adorable Dalmatian pup wears his Firefighter's hat and he joins Chase, the German Shepherd Police pup and Skye, the helicoptering Cockapoo. Marshall will be available in the Pez Collectors Store within a few days!
Pez Candy was very busy again this month with the Big E booth and, of course, they offered a special dispenser for attendees to purchase. This dispenser is a pez puck with a Pez Candy brick holding a flag saying The Big E 2017 and it comes on a Big E card with the 2017 date. There were 1,100 dispensers produced. These were supposed to be limited to 3 per person and many have appeared for sale on eBay and facebook pages, with prices dropping significantly each day, becoming more and more reasonably priced for those who wait patiently.
The Yo-Kai Watch pez will soon be coming from Europe! Robonyan, the robot cat, Jibanyan, a Charming Tribe cat, Komasan, a Charming Tribe lion dog, and Komajiro, brother to Komasan, are the names of the 4 characters of video game, manga and anime fame, shown below from left to right. We have an order placed, so we will soon have these new pez in stock in the Pez Collectors Store!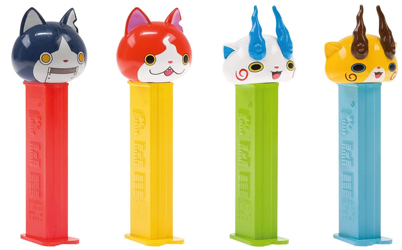 The National Toy Hall of Fame is holding a poll to determine which toy will be inducted into the Hall of Fame this year and PEZ Candy Dispensers are one of the nominees! Time is running out to vote and you can vote daily, so visit www.toyhalloffame.org and cast your vote for Pez dispensers!

It is almost time for the Pez On the River pez convention in Winona, MN, October 12 - 14! Have you sent in your registration yet? Better hurry because you don't want to miss this Best Catch themed convention! Registration and information can be found at www.pezontheriver.com. Sandy and Cheryl are putting the finishing touches on this fabulous event and it is going to be a hit! Speaking of which, be sure to put your finishing touches on your Best Catch costumed pez for their contest. It is always so much fun to see the creative things collectors come up with for entries in the dress your pez contests. More creativity will be shown by collectors with their Swag Swap items – yes, swag swap will be happening at POTR! We look forward to seeing you there!

October 21 is the date for Pezylvania VIII at Renninger's Antique Market in Kutztown, PA. This day is packed full of fun, activities and, of course, lots of Pez! Check out all the information at www.pezylvania.com!
That's all the news for now! Happy Pezzing!
All the best,
Chris Jordan
www.pezcollectors.com