October 2016 Newsletter
Fall is officially here and the new pez are almost as abundant and colorful as the leaves will soon be! There are several new releases just coming out and more that will be following in upcoming months. It is not too late to attend a pez convention in the USA this year, but you will need to make arrangements immediately to join in on all the fun!
The Dreamworks Trolls pez assortment arrived in September as expected. The new Trolls pez assortment includes Poppy, Branch and Guy Diamond on full size stems and they are available now in the Pez Collectors Store.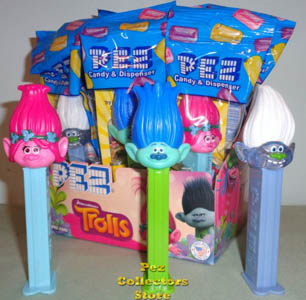 We also received our first shipment of Trolls Tri-pack boxed sets and were surprised to discover that the Trolls pez in this boxed set are all on mini stems! This is the way Trolls were meant to be – big heads on little bodies! We hadn't realized that they would be different, so we only ordered 8 cases to begin with and these sold out within the first 24 hours. We had a second order already in place and we placed another order as soon as we realized they were on mini stems. We expect to have the Mini Trolls Pez Tri-packs back in stock soon and will have plenty more coming.
To celebrate Halloween this year, the new witch with eyebrows is in stock now. The 2016 Pez Witch is a newly revised mold making it the Witch G version. The mold is completely different, though it looks similar to the 2011 witch F. She now has green eyes and black eyebrows! She still has purple hair and has a black hat with a purple band while the previous 2011 version had a purple hat with a black band. This 2016 Witch pez comes mint in bag with pez candies.

The package now says "Produced with Genetic Engineering" which refers to the candy, printed on the front of the package and with the ingredients. This new labeling is pursuant to the new law requiring the labeling of food with ingredients that are or are derived from genetically modified organisms. Sugar from GMO sugar beets is chemically identical to sugar from other sources and contains no DNA, but candy made with sugar from GMO sugar beets must be labeled. It is assumed that Pez Candy is using up their inventory of polybag materials that don't have the message in the list of ingredients and complying with the law by printing the message on the polybag along with their internal production code that is printed on every bag.

The message printed in the middle of the polybag will likely be removed when all polybags have the message included after the list of ingredients.
Rogue One Pez Gift Tins were scheduled to begin shipping from Pez Candy on September 28 and our order has been placed for quite some time, so we hope to receive these tins soon. The Rogue One Gift tin is shaped like Death Star and it includes Storm Trooper, Death Trooper, Darth Vader and Death Star pez dispensers. The Death Trooper is a brand new dispenser and the Darth Vader dispenser is the revised B version with the rounder helmet, small dots and chin detail. We will have to wait to see if there are any differences in the Storm Trooper or Death Star, but perhaps the copyright will be Disney instead of Lucasfilms Ltd.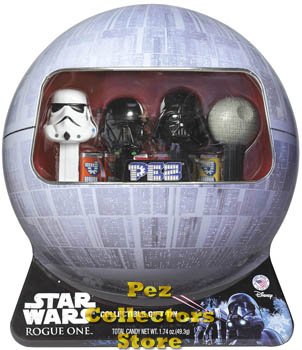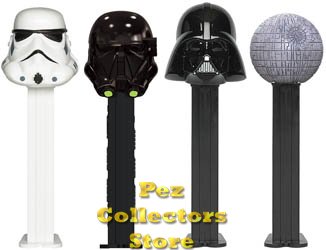 Despicable Me Minion Pez Twin Packs are scheduled to begin shipping October 1. This boxed set includes Dave, the two eyed Minion and Stuart, the one eye Minion. It is expected that these will be the same pez dispensers as previously released, but they will be in the twin-pack boxed set that has become such popular packaging for Pez Candy! We expect to have these in stock soon in the Pez Collectors Store!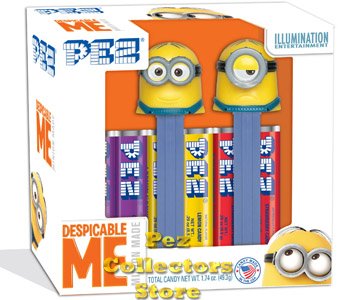 Pez Candy has had a very busy time attending the Eastern States Exposition, also known as the Big E.
To commemorate the centennial, Pez Candy produced 1000 special dispensers that were for sale at the fair in the Pez Candy Booth in the Connecticut Building. Pez limited sales of the dispensers to a maximum of 12 per person. We were fortunate to have a good friend attend the fair and purchase 12 dispensers for us. Unfortunately, with only 11 available for sale (one went to my personal collection!) they sold out within hours. We heard that Pez Candy sold out of them before the fair was over and since they were sold to the public as souvenirs rather than just to pez collectors, it could be rather difficult or expensive to find one of these.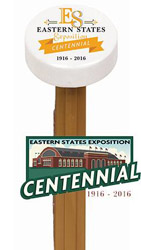 There is a new licensed Pez Lip Balm Set with 8 different pez flavored lip balms. The card features the new pez candy look. This fun licensed item is just in time for winter weather and dry, chapped lips. These should arrive in the Pez Collectors Store within a few days!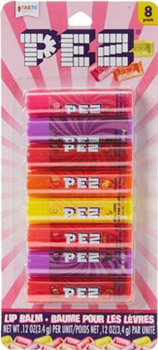 There are new exclusive advertising promotional truck pez on their way. Morgan Rhinehart took this photo at the visitors center. Wawa will be getting a new truck that features Santa's sleigh being pulled by reindeer across a full moon sky above a snowy landscape. The truck says 2016 Edition in the upper corner. Dunkin' Donuts will also be getting two advertising promotional trucks – one with a pink cab and one with a yellow cab, both with the orange and pink Dunkin' Donuts logo that says America runs on Dunkin. Rumor has it that these will begin to be available October 14 but it could be November before they arrive in stores. We will work on getting them in stock in the Pez Collectors Store as soon as possible.

It is still a ways away, but we are looking forward to the newest European Pez release, coming in December. Donkey Kong and Princess Peach will be joining Mario and Yoshi in the Nintendo pez assortment from Pez International. We have an order placed and will have these in stock just as soon as they are released and shipped to us in December!
There is talk of the Linz Pez Gathering 11 taking place October 8, 2016. Silvia Biermayr is selling absentee packets, but we are unable to get any registration information for the event. The Linzgathering.com website shows the logo for the gathering, but the agenda, registration, and hotel pages say 'coming soon'. Please be certain to verify that the event is actually taking place before making travel plans or purchasing a packet as we are unable to find verifiable information for this event.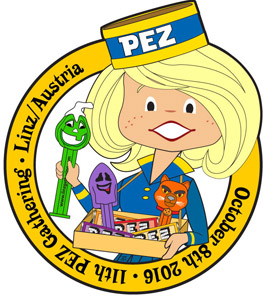 We are looking forward to attending the 3rd Pez on the River Convention October 14 and 15. It is never too late to register for this great convention – just visit www.pezontheriver.com and download the registration form. You can contact Sandy or Cheryl Gardner-Ghionzoli through facebook or by email to pezontheriver@gmail.com to let them know you are coming and to reserve a t-shirt in a particular size! Sandy and Cheryl have lots of fun planned for this convention and the view of the trees and fall foliage should be spectacular on French Island in La Crosse, Wisconsin! We can't wait to see you there!

Just one week later, Pezylvania VII will take place in Kutztown, PA at Renninger's Antique Market. It is being held October 22 and the day is packed full of fun. You can get all the details for this gathering at www.pezylvania.com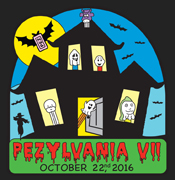 The 4th Annual Christmas Pez Gathering hosted by Jessica and Juan Orozco will be held December 3, 2016 in California. This event is by invitation only with attendance limited to 50 people, but it is a lot of fun with awesome pez people!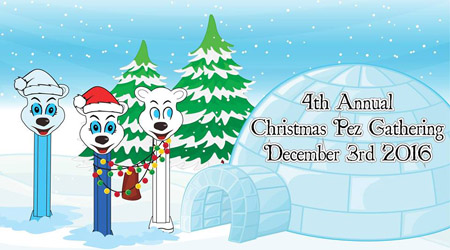 Wishing everyone a Happy and Safe Halloween – until next month, Happy Pezzing!
All the best,
Chris Jordan
www.pezcollectors.com