October 2013 Newsletter
New pez are coming in, or should we say rolling in! While it seems like the summer months were pretty dry as far as new pez from Pez USA, we are now being inundated by Promotional Pez Trucks and the Hobbit limited edition boxed set has finally been released! There are a few other new pez and pez variations which always makes a pez collector's life interesting!
The Hobbit, an Unexpected Journey is the limited edition boxed set for 2013. The movie itself came out in 2012, and of course, the book preceded the Lord of the Rings, but we will take them in whatever order we get them! The mockups for the set have been somewhat misleading but we now have these in hand, so we can tell you that the dispensers featured in this set are (from left to right) Bofur the dwarf, Bilbo Baggins,  Dwalin the dwarf, Gandalf the Grey,  Fimbul the Hunter (a goblin or orc), Radagast, Kili the dwarf, and Thorin Oakenshield the leader of the dwarfs. The Hobbit is available mint in box or loose to save on shipping!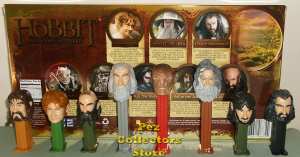 The 2013 Winnie the Pooh seems to be all grown up – taller and thinner and his tongue shows in this new version. The older Pooh is shown on the left and the new Pooh is on the right in the photo below. This revised Disney Winnie the Pooh pez is in stock now in the Pez Collectors Store.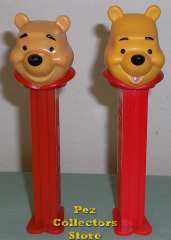 The promotional truck employee pez for 7 chain stores under the Safeway parent group have arrived.  Safeway, Von's, Dominicks, Pavilion, Randalls, Carrs and Tom Thumb stores are all included and these are in stock now, either loose to save on shipping or mint on card with pez candies!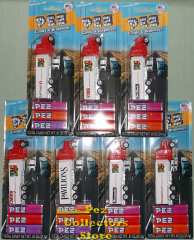 The set of 3 Walgreens is available now with the sayings Walgreens at the corner of happy and healthy, Nice!, and up market: fresh. There is actually a 4th pez that was released in New York City. Rather than getting the Walgreens at the corner of happy and healthy, these stores got Duane Reade trucks – which is a part of the Walgreens family of companies. These have proven to be very hard for us to get as each store in NYC seems to have gotten a floor shipper but they are mixed with the other two dispensers we have in our Walgreen Stores. If anyone in NYC or who has a Duane Reade store nearby can help us out, let us know, but so far we have not been able to obtain any of these.

Another new truck is available and this one has a silver cab which is different than the previous promotional pez trucks. The Chevron Havoline motor oil truck was produced for an in store promotion. So, if you happen to have a Chevron Havoline xpress lube near you, you can get a FREE PEZ Dispenser with Havoline premium product purchase.  Limited quantities.  At Participating Locations.  While supplies last.  Of course, it could be that your store is not participating or may not have any of the pez dispensers in stock, so check before you get your oil changed. Or, you can order through the Pez Collectors Store - we have these in stock now!
The Halloween Friendly Ghost and Baby Vampire have been out for a while now, but a variation of the ghost has appeared. Some friendly ghosts have all black eyes and there is a version with white pupils in the black eyes.  We have both in stock now.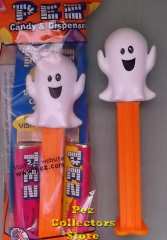 We were able to acquire a few (very few) Cleveland Indians Pez Baseball Caps. While it was part of the original release, reorders have been impossible. Both the Cleveland Indians and Houston Astros, along with all the other baseball caps are available now in the Pez Collectors Store.
Candace has finally begun appearing as part of the Phineas and Ferb and Perry assortment and we will have these in stock within a week or so. 
We now have gotten more stock on the Barbie Pez tins in time for holiday shopping or for those who missed them when they sold out quickly last year. The Barbie Pez tins are available now in the Pez Collectors Store.
The Christmas Pez have arrived in Canes. We have been told that the only way to get the Penguin is in the Cane, so we ordered cases of canes when we really would rather have had the new Snowman and Penguin in bag or on card. Of course, we have been told that things would only be released in tubes only to discover that they were actually released on cards as well, so we are never certain of what Pez Co might do. The Penguin is really cute and the newest Snowman has a black hat and a red polka-dot scarf. The mockup on the European salesman catalog shows the snowman with a green hat, but so far releases in Europe seem to have a black hat just like those in the USA, so it is likely that the mockup was just a concept that never made its way to production. There will also be a Crystal Snowman released, possibly as a Walmart exclusive.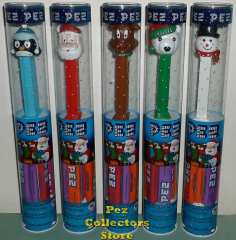 November will bring the Volume 4 and 5 of the USA Presidents series. Series 4 includes Abraham Lincoln, Andrew Johnson, Ulysses S. Grant, Rutherford B. Hayes and James A. Garfield. Series 5 includes Chester A. Arthur, Grover Cleveland, Benjamin Harrison, William McKinley and Theodore Roosevelt.
Be watching for the Target promotional Dog, available with a gift card purchase, the 2013 Wegmans Sushi Girl pez, a 2013 ShopRite Pez and maybe a 2013 Wawa pez. These promotional pez should be appearing soon and we will get them in stock just as soon as they are available.
The Warner Brothers Looney Tunes Pez set has a new Tweety Pez that comes from a different mold and has a brown feather. The cheeks seem really pronounced on this new version of Tweety. The tweety released with the original 2013 Warner Brothers Looney Tunes set is shown on the left and the newest Tweety is shown on the right. This is a European only pez release and we are working on getting these in stock soon.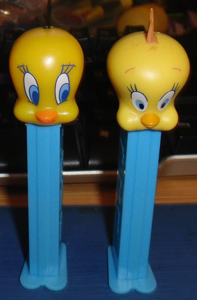 There is a new pez for the Austrian bank Volkskreditbank named Viktor Käsebeisser translated as Viktor cheese biter. This cute mouse is the mascot for the VKB banks in Austria and the dispenser will be released for World Savings Day October 31. There is a second new World Savings Day pez for the Raiffeisen Bank and it is a bee named Sumsi with a red baseball cap. I would expect these to eventually be available in similar quantities to the Sparefroh, but we will have to wait and see when they become available. The Pez Collectors Store will get them in stock as soon as possible! The Sumsi Bee can be seen in the first Elias Wessel photo below, second from left about halfway back.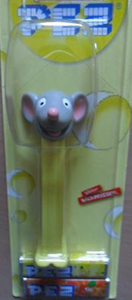 We have a sneak preview of what is planned for 2014 from Pez Candy, Inc. / Pez USA. It sounds like there will be some new characters added to old assortments. Unfortunately, that means waiting until the old cases are cycled through before new cases are prepared with the new added character, so we can't be sure when we will really see a lot of these. Unfortunately, Pez Candy will not share images, so we can't show you what is coming - we can't even see what they will look like before we order!
January, 2014 
Keroppi and Badtz-Maru will be added to the Hello Kitty assortment that also includes Hello Kitty, Full body Hello Kitty with Heart, My Melody and Full body Hello Kitty with overalls.

Valentine pez Gift set includes Mickey and Minnie Couples and a Dory and Nemo couples set. No word on what the Dory and Nemo will look like – if they will be any different than those already released, or if the Mickey and Minnie will be any different.

Valentine hearts sound as though there will be no real change, but a Monkey with a Heart is to be added to the assortment.

Easter Plush assortment should include a cute new lamb.
February, 2014
Fozzie Bear will be added to the Disney Muppets assortment along with Miss Piggy, Kermit and Animal
March, 2014
Space Alien will be added to the Toy Story assortment of Woody, Buzz Lightyear, Jessie and Rex. No mention of Slinky and it has been a long while since Hamm the Pig was included so it looks like they are retired.

An updated Captain America is to be added to the Marvel assortment along with Captain America, Wolverine, Spiderman, the Hulk, Thor and Iron Man. The new Captain America will have a dark blue mask and a red stem.
April, 2014
Dr. Doofenschmirtz will be added to the Phineas and Ferb assortment, so the set will include Doofenschmirtz, Candace, Phineas, Ferb and Agent P (Perry the platypus).

An all new set of Pez Heroes! These were originally planned for 2013 but were delayed until 2014. The set includes a policeman, fireman, Army man and a nurse that look very cartoonish and cute, and much less realistic than the Emergency Hero pez.
May, 2014
SpongeBob, Squidward and Patrick will be brought back in a new SpongeBob assortment. No word yet on whether the characters will be updated, same molds on different stems or if they will look entirely different.
June, 2014 
The Flash will be added to the DC Comics assortment which will still include Superman and Batman. 

The Disney Cars Assortment will be retired and replaced by a "World of Cars" assortment to include Mater, Dusty (a car from Disney Planes) and El Chupacabra which is a Disney Plane.
July, 2014
A Disney Jr. assortment to include Sofia the First, Jake, Minnie Mouse and Scully. Sofia the First from Sofia the First, Minnie Mouse from Minnie's Boutique and Jake and Scully from Jake and the Neverland Pirates. This will be an all new assortment!
August, 2014
Hello Kitty 40th Anniversary Limited Edition tin to include Mama Mary, Papa George, Mimi and Hello Kitty, all as full body characters. No word on how limited the set will be, but dealer orders had to be placed by Sept 16, 2013, so it is probably limited to the number of advanced orders they received.
September, 2014
Scooby Doo Gift Set to include Scooby, Fred, Velma, Daphne and Shaggy. This sounds like a great set and will finally lay to rest some of the fantasy pez that keep circulating out there.

Angry Birds Gift Set with Red Bird, Black Bird, Green Pig and Stella. This will come in an embossed Red Bird Tin. It sounds like these will be the same as the set already available from Europe, except packaged in a gift tin.

Christmas pez will begin shipping in September 2014 and the cute new elf will be added to the set, hopefully not just in the canes!
November, 2014 
USA Presidents Volume 6 and 7 will be released. The volume 6 will include Taft, Wilson, Harding, Coolidge and Hoover and volume 7 will include Roosevelt, Truman, Eisenhower, Kennedy and Johnson.
On the European side, it appears that three Disney Princesses will get an update. Belle, Ariel and Snow White all have new molds and are supposed to be released in December, 2013 in European countries. No word on these being flowed in to the Princess pez in the USA as happened with Cinderella.  We are working on getting these in stock! Thankfully, Pez International is happy to share photos with us, so you can see what is coming!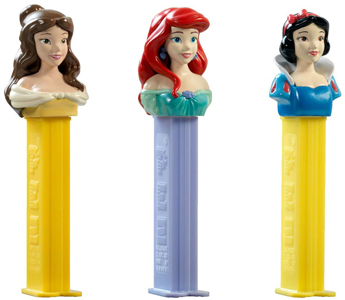 New York photographer Elias Wessel and his assistant Natalie spent two days at Pez International headquarters creating a 'Pez Brigade' with over 1000 different dispensers. Some of the photos reveal a few pez that have not been seen and, according to Pez Export Representative Gabi, some that will never be released in the public market. Can you find the Target Dog, a yellow crystal Fireman, the industrious money saving Bee wearing a red cap called Sumsi, the Valentines monkey, a purple Naughty Neil? How many other new or uncommon pez can you find? The full "Become Your Dream" series of artwork will be on display in New York City in early 2014.
Happy Pezzing!
All the best,
Chris Jordan
www.pezcollectors.com