October 2012 Newsletter
Wow! September has been a whirlwind of activity at the Pez Collectors Store with new Pez products flooding in and out! And, it's not over yet. There are more new products on the way. I can't imagine why Pez Co has waited all year to release these great new Pez all at one time, but any new pez are so much fun, whenever they come! Old pez are pretty awesome too, and yet another great find has popped up!
KISS Rock Band Gift Sets are in stock now and we had a tough time keeping enough in stock early in the month when they first began arriving, but we now have a good supply on hand. I just hope it will be enough, because we were told a couple of weeks ago that Pez Co would fill all orders that had been previously placed, but they had sold out of all 200,000 of these and there will be no more. So, when our stock is gone, we won't be able to order anymore! We offer these mint in the gift tin or loose for those who want to save on shipping!
The same situation applies to the Star Trek the Next Generation collector's sets. They are in stock now, but when we sell out, we cannot order more. There were 200,000 of these sets produced as a limited edition.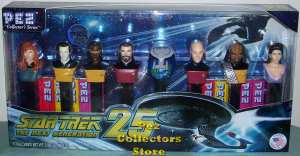 Barbie Pez in Purse Gift tins are also in stock, though we don't have all that many left. PEZ Co has also sold out of the Barbie tins for now, but we are told that more will be available again in March, 2013. So, when we sell out of our current inventory, we won't be able to buy more from PEZ Co until next year.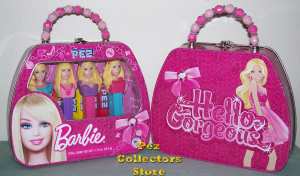 Shipments have also arrived from Europe, including the new Mickey and Minnie Stylish. These are really cute!
After being out of stock for quite a while, we have now received more Skipper and Melman pez from the European Madagascar series, so if you have been looking for them, you can now find them by clicking on the photo here!
We received a shipment of the European Trucks with lime green trailers and these are in stock now in the Pez Collectors Store.
Likewise, we were able to get another shipment of the Eurobully and Eurotanker pez trucks so these have been added back to our inventory as well.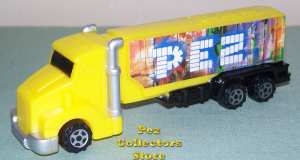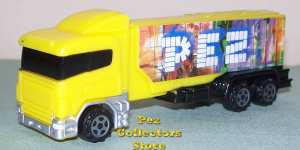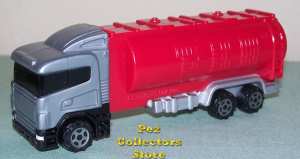 The new Ohio State mascot – Brutus Buckeye has been added to the NCAA football lineup and we finally got some of these in stock! We are offering them either mint on card or loose for those who would like to save on shipping!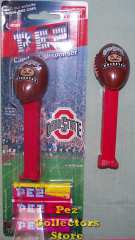 Finally, the Disney Cuties Click and Play are heading our way and should be here in a day or two! We got a shipment which included some of the Minnie Cuties, but was missing Mickey, Donald and Pluto. The rest are finally coming in and we can't wait to finally be able to offer them in the Pez Collectors Store!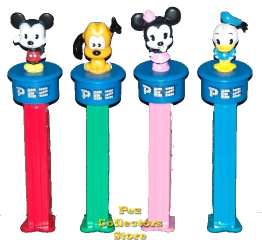 The 2012 Edition ShopRite Promotional pez arrived in the Pez Collectors Store and is now available.
Just when we thought we had all of the promo trucks, a Safeway Promotional Pez Truck was released. Safeway is a grocery store, primarily on the West coast with just a few stores in East coast states. These should be arriving within a few days.
Another promotional truck has been produced for Toys R Us, though it does not seem like these have been released yet. We are working on getting these just as soon as they are released.

We aren't done with promotional trucks – there is a new Wegman's 2012 pez soon to be released! We are told that it will be a 'vegetable' truck and we checked the Wegman's website.  We think it may have something like the vegetables shown below on the side, since this image is on their banner. But, we really don't know for sure what it will look like…we are waiting for them to be released and then we will have them in stock in the Pez Collectors store!
While Pez Co seems to have sold out of all of the 200,000 Star Trek TNG pez sets, they have made yet another deal with Walmart for an exclusive set. In this set will be Captain Picard, Locutus of Borg! The picture is a mockup, and so we really aren't sure if the set will be different in any way except the Picard, Locutus of Borg pez which seems to be replacing the Beverly Crusher pez. The mockup shows slightly different coloration on the other character's uniforms, but they could be exactly the same as the ones in the original set. We were told that it would be a set limited to 100,000, but the mockup sticker shows 250,000. We really won't know until they show up at Walmarts. The Pez Collectors Store will get some inventory of these as well.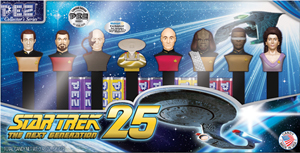 Also on the near horizon is a new set of the original 6 Stanley Cup Hockey teams! Boston Bruins, Montreal Canadiens, Chicago Black Hawks, Detroit Red Wings, New York Rangers and Toronto Maple Leafs team logos will be feature on the Stanley Cup pez dispenser. This set of 6 will be released only in Canada, but we have already made arrangements to get them in the Pez Collectors Store as soon as they are released!
The United Kingdom and Scotland Football Club soccer ball pez dispensers were an exclusive released to a candy company in the United Kingdom and we have those in stock, with more on the way. The Pez Collectors Store offers these either mint on card or loose to save on shipping!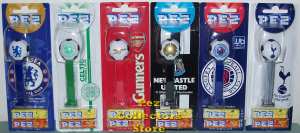 November will finally bring us the US Presidents volume 2 and 3. These are supposed to begin shipping the first of November and our orders have been placed for a long time, so it is just a matter of waiting a bit longer!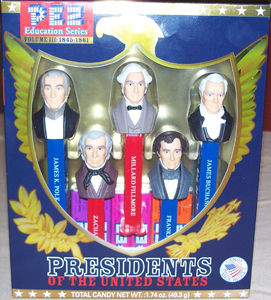 New Christmas pez should also be arriving soon in the Pez Collectors Store. The new Snowman has a black hat, there is a new Reindeer and a new version of Santa. These make a nice change from the previous versions that have been out for quite some time now!
It looks like France will be getting a special pez – the Paul Frank Julius pez dispensers! We are trying to get some for the Pez Collectors Store, but it could be a while yet as we try to source these!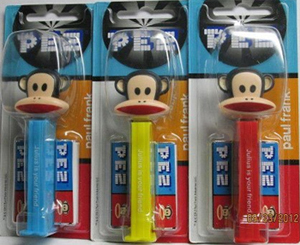 *****Dang, after adding this information about a new Miffy Pez to our newsletter and sending it out to our subscribers, I found out that this is a Photoshop fantasy pez image - not a real dispenser in the works by Pez Co. No wonder I haven't been able to find a source for it! Very cute idea though and a very talented Photoshop work! *****
Most of you know the story behind the Political Donkey Pez. It was produced by Pez and was part of a set given to President John F. Kennedy, along with a golden glow for Jackie and a Bozo the clown for Caroline. The boxed set of three dispenser was presented to the President during a trip to Vienna, Austria, but it is unknown what became of that boxed set. Pez International headquarters in Linz, Austria does have an example of one of the Political Donkey pez on display and was the only example known to exist.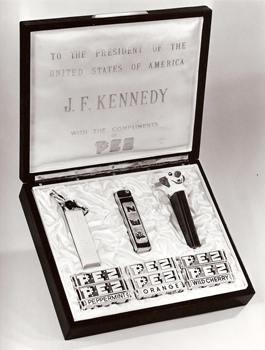 Back in July, we told you about the young man who found a second political donkey pez. Many collectors got to see it at the Pezamania convention in Cleveland and that pez has been on display through the month of September in the Pez Visitor Center in Orange, CT. I anticipate that the owner will be offering it for sale sometime in the near future.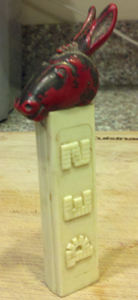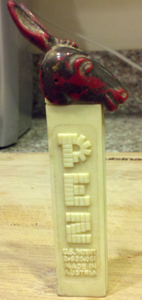 The excitement generated by this find was picked up on by another man who realized that he too was holding both a Political Donkey and also a Political Elephant! He contacted us and sent photos, but he mentioned that he already had a nearly done deal to sell these, and we would never intentionally interfere with a deal in progress. These two are unpainted – it seems that Pez Co did not try the gold plating process on them, so they look to be as ivory white as the plastic they were molded in.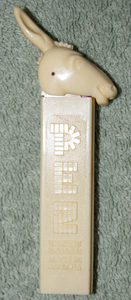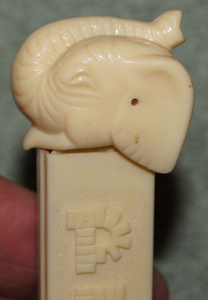 Not only that, there was also a colorless, clear crystal space gun included in the bag of pez this man had! It is my understanding that these pieces were purchased by the buyer he already had a deal with and they have gone into the hands of a private collection, but my guess is that we will all know who's collection these are in soon enough! How cool is that?
Perhaps it is time for all of us to ask our grandfathers and our friend's grandfathers if they ever worked at Pez Co or with Pez Co back in the early 1960's and see if they have a bag full of goodies! Sometimes, dreams really do come true…I can only wish that someday, those dreams will come true for us and all of our pez collecting customers and friends!
Happy Pezzing!
All the best,
Chris Jordan
www.pezcollectors.com