October 2011 Newsletter
The fall pez are now beginning to ship and there is a bumper crop of new releases. It is always an exciting time when Pez Co begins shipping the major releases for the year. There have been a few unexpected delays for some of the items but it has to be hard for Pez Co to fill all of the orders for so many different new products scheduled to ship, and it is always hard to guess if we will be among the first or the last orders to ship. Eventually, we usually get our shipments to have all the newest pez in stock in the Pez Collectors Store.
Phineas and Ferb and Perry have arrived and are now available. Phineas Flynn and Ferb Fletcher are step brothers and Perry the Platypus (aka Agent P) is the secret agent fighting an evil scientist. This Disney Channel cartoon is quite popular among kids and so far, the Pez dispensers are quite popular among collectors!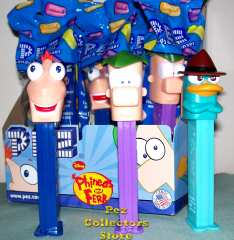 The Lord of the Rings sets have been selling fast, but we still have plenty in stock in the Pez Collectors Store. This great limited edition set is numbered of 250,000 and these have been in demand among Lord of the Rings enthusiasts as well as pez collectors!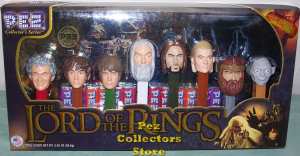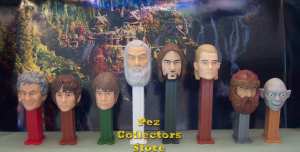 The Walmart truck sets have arrived. There are 4 different logos on the trucks and each logo comes with a blue cab or a white cab, for a total of 8 different dispensers. These are now available in limited quantities in the Pez Collectors Store.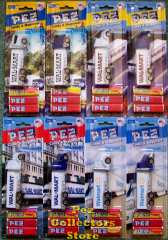 Halloween pez are available now and the shipments this year include the Jack-o-lantern pumpkin, the black Bat, the Vampire, the Witch with a black hat and bats on the stem, and the new Witch with a purple hat. All of these dispensers have glow in the dark stems or head features and are great gifts for the goblins as they trick-or-treat!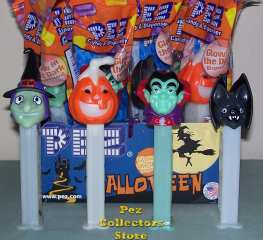 Pez Soft Shooters are being distributed in Austria, supposedly as a test for the market. It is hard to say if these will be released for broader European distribution, but we will have sets for sale in the Pez Collectors Store. These should arrive within a few days!
The Detachable Pull & Go Disney Cars were scheduled for release in September, but rumor has it that Pez Co did not receive their full order and the initial inventory was shipped to fill orders from the 'major' retail distributors, leaving the pez dealers to wait. We have been told that the second distribution will be October 24 so we won't be looking for more of these to arrive until probably the end of October or first of November.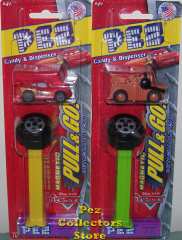 It is said that Hockey players have fire in their hearts and ice in their veins. The National Hockey League (NHL) Fire and Ice Limited Edition dispensers have been released for Canadian distribution only. These two dispensers have the NHL logo on the stems and the top of the hockey masks. One is a red helmet with fire flames on a black stem and the other is a black helmet with ice on a silver stem. The Pez Collectors Store has arranged for a shipment of these dispensers and they are on their way and should arrive soon!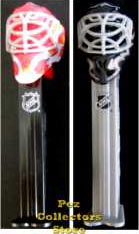 On the other side of North America, a new Bolo Bear Pez has been produced as an exclusive for the Liverpool department stores in Mexico. Bolo Bear is the mascot of this elite department store chain. Most of us in the USA will not be traveling across the Mexican border any time soon, so we are working on an arrangement to receive a shipment of Bolo Bear Pez. These are anticipated to arrive sometime in early October!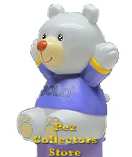 November is the scheduled ship date for the first issue of the US Presidents series. The first series includes George Washington, John Adams, Thomas Jefferson, James Madison and James Monroe, our first five US presidents. This educational series comes as a boxed set with information about each of the presidents. Back in July 2010 and again in January 2011, we told you about this set and the prototype information and mockup suggested that presidents who served two terms would be represented twice, however, in the final version of volume I, only 5 president pez dispensers are included. These pez dispensers still represent the first 8 presidential terms from 1789 to 1825, as Washington, Jefferson and Madison each served two sequential terms. It is always interesting to see how the concepts change as the Pez dispensers are developed into their final product! We hope to have these boxed pez sets available in the Pez Collectors Store by mid-November or so!
  Original Concept Mockup
Now for a reminder and sneak preview of the first 2012 release – the new Muppets will be released January 1, 2012. This new set will include a revised Miss Piggy, a new Kermit and Animal will be added as a new Muppets character. We have our order placed and will have these in stock as soon as they are available!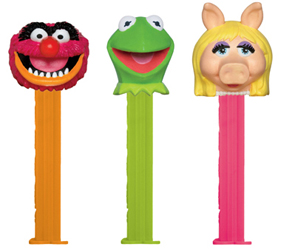 That is all the news we have for this time!
Happy Pezzing!
Chris Jordan