October 2009 Newsletter
October 2009 Pez Collectors Store Newsletter
This past month has been exciting with new pez releases finally arriving. Some of these new pez are even better than expected and were certainly well worth the wait! We have the lineup for the 2010 pez releases and some news about some new promotional pez that will be coming soon.
The Wizard of Oz 70th Anniversary Pez Gift sets with 8 new dispensers have arrived and they look fabulous! The attention to detail in painting and the molds is outstanding. This limited set has been very, very popular and our first shipment sold out in less than a week. Our second shipment is nearly gone, but a third shipment arrived today, so they are in stock now in the Pez Collectors Store!
We realize that many collectors will want to display the Wizard of Oz pez loose, so we are offering a SOS (save on shipping) option for this set of 8 pez, all shipped loose in mint condition in protective bags, but at a fraction of the shipping weight. These are available now either loose or mint in the limited edition gift box package.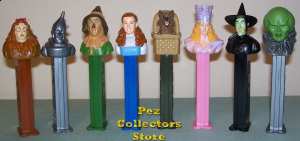 Toy Story Pez sets arrived with the addition of Woody and Rex. Woody is quite well done with great painted detail. Rex has great molded detail with decorative scales. Buzz Lightyear does not appear to be significantly different than the version released with the original Best of Disney Pixar mix.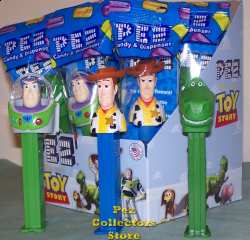 The My Friends Tigger and Pooh Gift sets arrived. This set includes Buster the dog, Darby on a green stem (unlike the more aqua or teal stem that has previously been seen), Tigger Sleuth on a 5.9 Made in China stem (the European release is on a 5.9 no country stem) and Pooh Sleuth on a 4.9 Made in Hungary stem (the European release is on a 5.9 Made in Hungary stem). We don't see any other differences in the Pooh and Tigger Sleuth comparing them to the new ones we received from Europe. We don't see any differences in Buster, but the stem color for the Darby is definitely very different than the ones we have previously received. The My Friends Tigger and Pooh gift set graphics box makes a nice addition to the pez collection! These are in stock now!
Disney Fairies have arrived from Europe and the US releases are also now available. There are 14 different fairy versions between the different releases! The first set of Disney Fairies released were the European version on a very light grayish purple flower skirt which were undecorated. This set included Tinkerbelle, Fawn and Silvermist.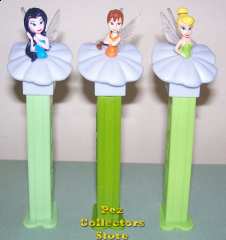 The second set released was the US Tinkerbelle, Silvermist and Iridessa. These came on a darker purple flower skirt with decorative lines painted on the flower skirts.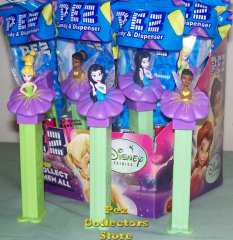 The third release was again a European release in which the Tinkerbelle, Fawn and Silvermist were on dark purple flower skirts, but without the decorative lines. Unfortunately, we don't have these at this time. Europe then released their Iridessa and Rosetta again on dark purple flower skirts, and with no decorative lines. A comparison of the Iridessa with no decorative lines (European) and with decorative lines (US) is shown below.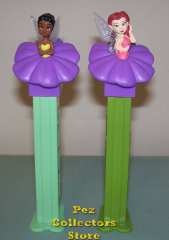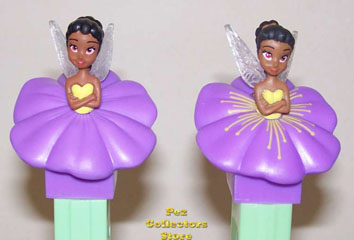 The US has now released Fawn, Rosetta and Terence. Fawn and Rosetta have dark purple flower skirts with decorative lines and Terence the male fairy is on a skirt of green leaves. Europe has not released a Terence.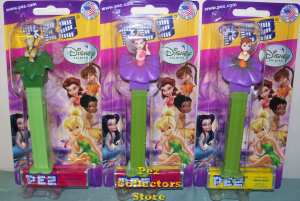 For those who would find a checklist helpful in keeping track of the Disney Fairies, we created this:
| | | | | | |
| --- | --- | --- | --- | --- | --- |
| Disney Fairies | Description | Light Purplish Gray Flower (European) | Dark Purple flower, no lines (European) | Dark Purple flower with lines (US)_ | Green Leaves (US) |
| Tinkerbelle | yellow hair, green top |   |   | yellow lines |   |
| Silvermist | black hair, blue top |   |   | blue lines |   |
| Fawn | brown hair, orange top |   |   | green lines |   |
| Iridessa | brown hair, yellow top |   |   | yellow lines |   |
| Rosetta | reddish brown hair, coral top |   |   | coral lines |   |
| Terence | yellow hair, male fairy |   |   |   |   |
 (Blacked out squares are pez that do not exist)
The 2009 European Full Body Hello Kitty pez set from Sanrio has been added to the Pez Collectors Store. The set includes Hello Kitty with red bow, Hello Kitty with pink bow and Usahana winking and Usahana smiling, all showing a full body rather than just the head atop the dispenser stem. These were originally only available in Japan and have now been released in Europe.

Some new promotional pez are in the works and are supposed to be available soon. Sheetz, a gas and convenience store on the east coast, will be getting a promotional pez Rig Hauler truck, most likely similar to the Get Go Haulers with their logo. This dispenser is due sometime in November. Likewise, Wawa gas and convenience stores will be getting a hauler and again, these are primarily east coast retail stores. We are doing our best to get these for our customers!

Also in line for exclusive promotional hauler rigs are CVS Pharmacy, RiteAid Pharmacy and Winn-Dixie. We have made contacts to get some of these exclusive Pez trucks for our customers who do not have access to these stores and they will be available as soon as possible in the Pez Collectors Store.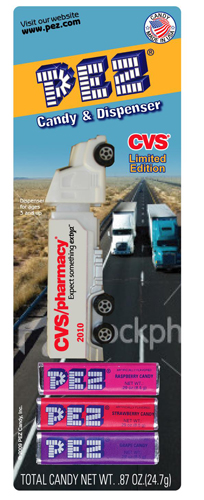 Scheduled for release on November 1 is the 2010 Valentine Disney Couple Gift Sets. These feature Mickey and Minnie or Donald and Daisy in the clamshell case package. These look really cute and display very nicely! We have placed our order and will have these available as soon as they arrive to the Pez Collectors Store.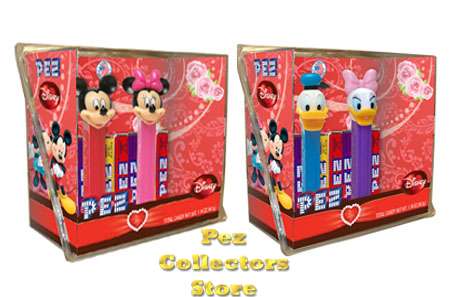 Pez is planning more new pez for 2010 and it looks like some of them could be interesting! Here is what is in the lineup -
January - Thomas the Tank & Friends (Thomas, Percy and James)
February – No new Valentines (insert sigh of relief) but Disney Couples Valentines Gift Sets will be available
Spring  - New Baseballs: Seattle Mariners, Chicago White Sox, Florida Marlins
March - Princess Tiana added to the Disney Princesses
May - Toy Story (Hamm, Jesse, Slinky Dog added to the set with Rex, Buzz Lightyear and Woody)
June - Hello Kitty - 2 full body characters - Hello Kitty with bow and holding heart
         - Hello Kitty - Gift Tin - new packaging & dispensers
         - Hello Kitty – Plush pez
September - Snow White Gift set (seven dwarfs on short stems)
September - Thomas & Friends Gift Tin
September - New Basketballs--
                      North Carolina imprinted with "2009 National Champions"
                      Ohio State
All of the above information is subject to change and there are no guarantees of release dates according to the information provided by our Pez Rep. Thomas the Tank and friends may be the same as the European versions or may be different. The European set currently in stock in the Pez Collectors Store has no Made In country listed on the 5.9 stems of Percy and James, while the 5.9 Thomas stem is Made In China, so the stems for James and Percy at least will be different for the US releases. The full body Hello Kitty scheduled for release in the USA seem to not include Usahana winking or Usahana smiling, and it remains to be seen if the other two will be different than those released in Japan or in Europe. Snow White is the set we are really looking forward to! Hopefully it will be as great as the new Wizard of Oz set! We showed a sneak preview of this back in our July Newsletter with a photo from Moresay.com from the All Candy Expo.
Pez found their way into the American Lifestyle Magazine September/October 2009 edition. A nice article titled A Candy Classic, Pez Through the Years by Ellie Lawrence includes a review of Pez history and the article has some great photos. We do not have permission to reprint any portion of the article here, but try finding this magazine as it is a great addition for those who collect Pez references and articles. Thanks so much to our customer Sally for getting us a copy!
That is all the pez news for now.
Happy Pezzing!
Chris Jordan