November 2018 PCS Newsletter
There have been just a few new pez releases since last month, but lots of new Funko POP!+PEZ releases have kept us all excited about this great hobby! A few new releases are expected from Pez Candy and lots more POP!+PEZ are coming our way, just in time for the holidays!
Sarajevo Soccer Ball Pez are new promotional sports pez from Europe. The two football clubs from Sarajevo include Fudbalski Klub (FK or football club) Sarajevo, established in 1946, and FK Zeljeznicar Sarajevo, established in 1921. The team logos are printed on the soccer balls and the dates the teams were established are printed on the stems. These are available now in the Pez Collectors Store!
The Cheeky Chocolate pez has been released early, joining Apple Blossom, Strawberry Kiss, Kookie Cookie and Cupcake Queen in the Shopkins pez assortment. Cheeky Chocolate looks like a partially unwrapped chocolate bar with lovely hearts on each chocolate square. Add this fun new dispenser to your collection now from the Pez Collectors Store!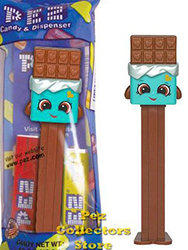 Christmas things will quickly be replacing Halloween things and this calls for a new holiday flavored pez candy! The Christmas Pez come with Sugar Cookie flavored pez candy. We have packs of 6 rolls of Sugar Cookie pez candy available in the Pez Collectors Store.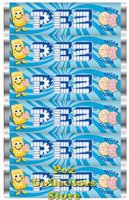 Christmas Pez will begin arriving in stores soon. The assortment includes the new Brown Nose Reindeer, the Snow Globe on a green stem and the Red Elf with Green trim, all in stock now in the Pez Collectors Store. There will also be a Christmas tree pez, available only in tubes. New Christmas ornaments with mini pez should eventually include a mini red elf with green trim, and a mini snowman with derby hat being flowed in as old inventory is depleted, but there seem to be plenty of mini angels and mini Santa ornaments still in stock.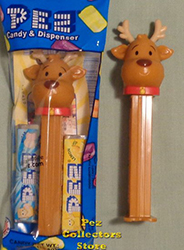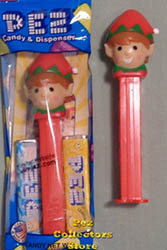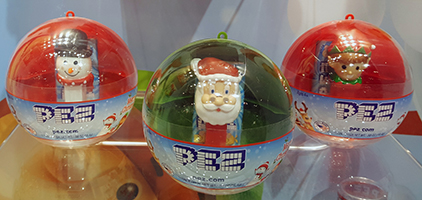 Pez for Valentine's Day 2019 are scheduled to ship from Pez Candy beginning November 1. Our order should arrive shortly after they begin shipping, so check back in a week or so. We will have the Valentine's Day Twin Packs with the new footed Valentine Heart pez and the new Hearts, Teddy and Lady Bug pez available soon!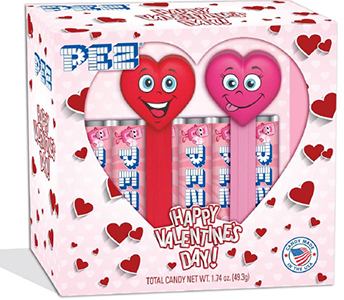 Wawa tanker trucks should be coming out sometime in November. This will be the 7th version of a Wawa promotional pez truck and this time, it is is a tanker truck! We will get these in stock just as soon as possible!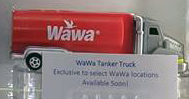 Rumor has it that there are new PEZ M2 Machines coming soon. So far, there have not been any pictures, so we don't really know what might be available, but we will keep an eye out. There are actually several licensed items to be watching for according to the Lisa Marks Associates website who handles licensing for PEZ Candy, Inc. Many of these have already been released!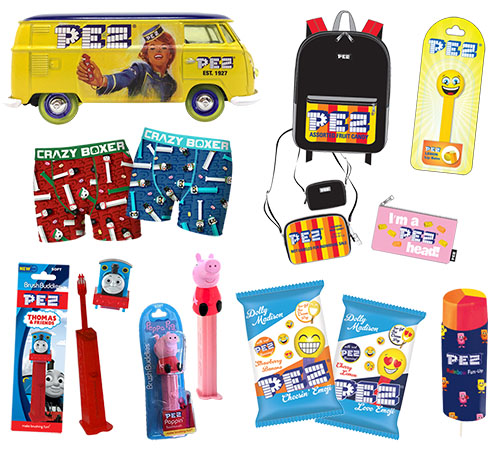 Funko POP!+PEZ have really energized the hobby of pez collecting for many collectors! The new releases provide collectors many opportunities to add to their collections with characters and licenses that have never before been produced as pez dispensers. Many new, fresh releases are coming out this month and we couldn't be more excited about some of the new characters that will be featured. I was very pleased to add this watercolor painting from 14 year old Bella Hernandez to my collection from the charity auction at Pez on the River! Funko POP!+PEZ rule and so does this young artist!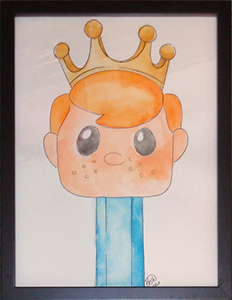 The Gold Marvel 3-Pack Bundle was featured on the Funko Pop Up Shop on October 29. The Gold Loki, Star Lord and Thor are Funko Shop exclusives with 3200 pieces available. These sold out in about 12 minutes with a limit of one per customer!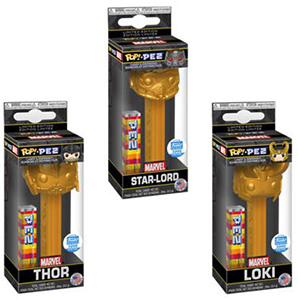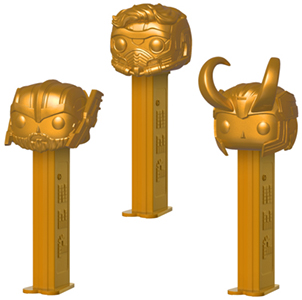 We have a few of the video game characters Mega Man and Magnet Missile in stock in the Pez Collectors Store, along with Sonic the Hedgehog and Crash Bandicoot. Don't worry if we have sold out, we will have lots more in stock very soon!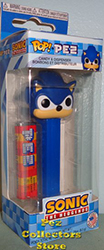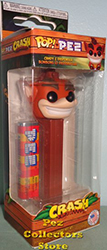 BBC's Doctor Who POP!+PEZ will include the Fourth Doctor, the Tenth Doctor, the Eleventh Doctor and the Thirteenth Doctor. These regenerated Doctors are easily recognized by Doctor Who fans and are wonderful additions! They will be in stock soon in the Pez Collectors Store! If you would like to be notified by email when we receive new POP!+PEZ, click here to subscribe to the PCS Funko POP!+PEZ Notifications or Like and Follow Pez Collectors Store on Facebook and we will post when these items are available!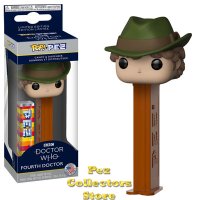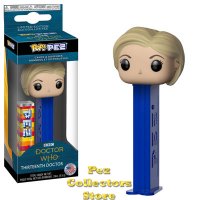 The Golden Girls Dorothy, Rose, Sophia and Blanche are due to be released in November. We will have these in stock soon!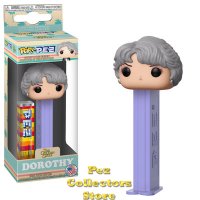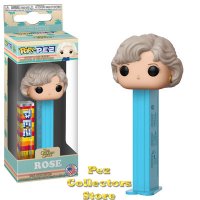 Hanna Barbera Huckleberry Hound (and chase version), Snagglepuss, Secret Squirrel and Morocco Mole are also scheduled for November release. Again, we expect to have them available as soon as they are released.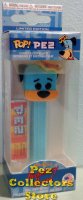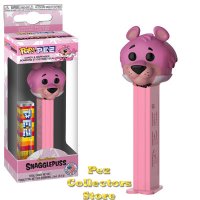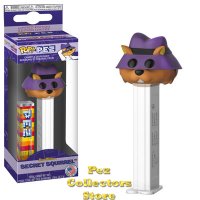 Star Wars Greedo, Jawa and Tusken Raider are expected to arrive in November as well. These great Star Wars characters will be very popular among Star Wars collectors, pop collectors and pez collectors!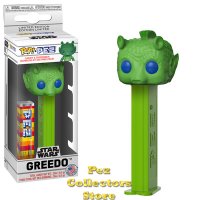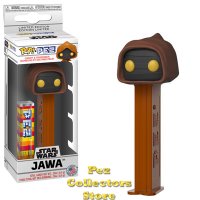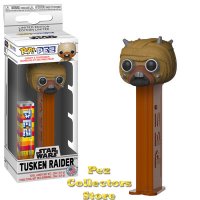 Engaging once again with Pez Collectors, Funko CEO Brian Mariotti hosted a give-away on Facebook for a set of Exclusive Pez Pal Fireman, Policeman and Boy with Cap regular versions and chase versions. These are scheduled to be released later this month! The Policeman, Fireman and Pez Boy exclusive POP!+PEZ are the perfect union for pez collectors and we are excited about them! Stay tuned - these will be available soon!
November 30 is Bring Your Pez to Work Day. It all started in 2010 when Lou in the advertising department at Providence Journal in Providence, RI brought a dozen pez dispensers to work to give to his co-workers to offset the craziness of that busy time for advertisers. Pez Collectors have continued the tradition by participating in the November 30th Bring Your Pez To Work Day. In honor of this pez event and by way of giving thanks to our wonderful, loyal customers, we will be sending a free Pez Collectors Store truck pez when you place an order of $75 or more in merchandise with the Pez Collectors Store between now and November 30 (or while supplies last). What better way to celebrate the day than by taking a free Pez truck from the Pez Collectors Store to work on November 30!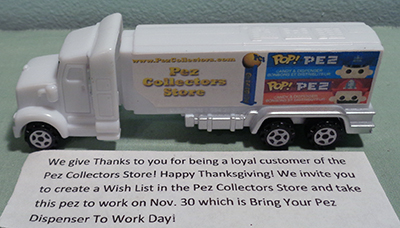 The Holidays are just around the corner so now would be a great time to update or start your Pez Wish List! It is easy to create your wish list by logging in to the Pez Collectors Store and browsing through the thousands of pez we have listed. Click the Add to Wish List button for each product you would like to add to your personal Wish List. You can even make comments or rate the items on your wish list to indicate those you really want the very most! Provide your friends and family with a link to your wish list by clicking on the Tell a Friend link or just tell them to visit the Pez Collectors Store and search for your wish list using the Find a Friend's Wish List option! Be sure to include a Pez Collectors Store gift certificate on your wish list so you'll be prepared for other new additions when they arrive!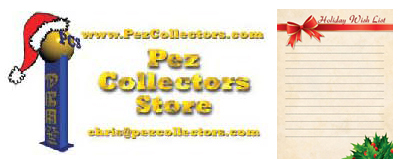 That is all the news we have for you this month! Happy Pezzing and thanks for reading the Pez Collectors Store Newsletter! Happy Thanksgiving!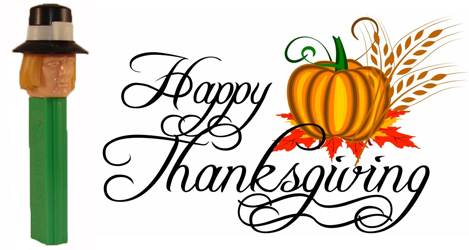 All the best,
Chris Jordan
www.pezcollectors.com