November 2016 Newsletter
Happy Halloween! It has been an exciting October with lots of new pez releases arriving and there are more coming in the month of November. There is plenty to be thankful for as we move into the holiday season. We would particularly like to thank our loyal customers and newsletter subscribers for your continued patronage, so we have a special gift for you mentioned later in this newsletter!
The Star Wars Rogue One Pez Gift Tin arrived in the Pez Collectors Store. The gift tin is shaped like the Death Star with a concave area in the window like the superlaser dish. The Rogue One pez set includes Storm Trooper, Death Trooper, Darth Vader and Death Star pez dispensers. The Death Trooper is a brand new dispenser and the Darth Vader dispenser is the revised B version with the rounder helmet, small dots and chin detail. The Storm trooper is the new version with bright blue stripes on the lower sides of the helmet. All four of the Rogue One pez have a new LFL copyright. These 4 great dispensers come mint in the Death Star Gift Tin with pez candies or are being offered loose so you can save on shipping! You do need to order soon, because several of our orders were cancelled by PEZ Co. because they sold out of these tins through preorders before they were even released! At this time we have them in stock, but they won't last long and we can't get more!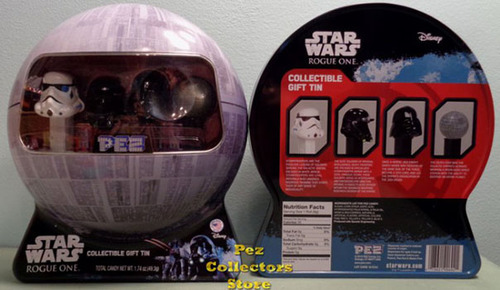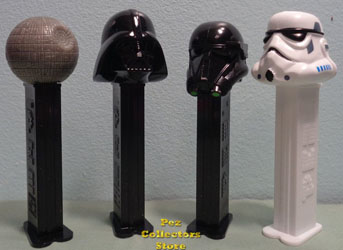 The Dunkin Donuts promotional pez trucks or rigs are in stock and they look great. The pink cabs and orange cabs look awesome with the Dunkin Donuts America runs on Dunkin logo on the side of the trailers. This is a great new pair of promotional advertising trucks!
The Despicable Me pez twin pack is available now in the Pez Collectors Store. This twin pack boxed set features Dave, the two eyed Minion, and Stuart, the one eyed Minion in a great twin pack boxed set with Despicable Me graphics and it comes with 6 rolls of Pez Candy!
Last month we told you about a new licensed pez flavored lip balm by TASTE. The first packaging is a card with 8 tubes of pez flavored lip balm, and a second package is now available with 6 different pez flavored lip balms. The 6 tubes of lip balm come in a PEZ tin that makes them extra nice! These are fun licensed items, just in time for winter weather and dry, chapped lips. Both varieties of the lip balm packaging are available now in the Pez Collectors Store!

The Mini Trolls pez tri-pack boxed sets are back in stock after selling out very quickly last month. We have both the Trolls on mini stems, either in the Tri-pack boxed set or loose to save on shipping, and the Trolls on regular sized stems in stock now.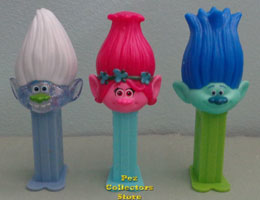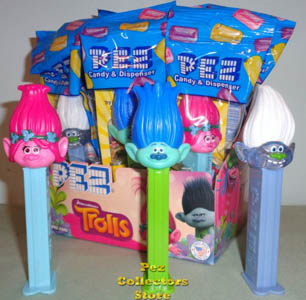 New Christmas pez have arrived in the Pez Collectors Store. There are two new dispensers this year – there is a new red Elf which looks like the famous Elf on a Shelf. It is the same mold as the green elf that was previously released, but we really like it as a red Elf on a Shelf! The second new pez is also an update in color – the Penguin pez is now on a green stem with a green cap using the same mold as the previously released blue penguin. This one also looks great in festive green colors!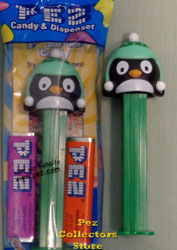 We are looking forward to receiving our order of exclusive BSC Young Boys soccer ball pez. The Young Boys of Bern is a Swiss sports club based in the capital city Bern and they are best known for their professional football (soccer to those in the USA) team. This pair of soccer pez features the YB logo of the Young Boys team on the soccer ball on a yellow stem and on a black stem. These are available from a single Swiss distributor, making them limited in distribution. We expect these to arrive in the Pez Collectors Store within a few days.
The new Wawa promotional advertising rig truck is scheduled for release in November and we will have these in stock just as soon as possible. This 2016 Wawa Christmas truck features Santa's sleigh being pulled by reindeer across a full moon sky above a snowy landscape. It looks great and we can't wait to receive them!

In December, we can look forward to the European release of Donkey Kong and Princess Peach as part of the updated Nintendo pez assortment. Our order is placed and we will get these just as soon as possible.
The Saban Power Rangers pez will finally be released in the USA in December. This set of Power Rangers includes Kimberly, the pink ranger, Jason, the red ranger, and Zack, the black ranger. Shipping is scheduled to begin December 2 and we will have them in stock just as soon as possible!
One last important bit of news for this month, November 30, 2016 is Bring Your Pez Dispenser to Work Day. This tradition was started by Lou and his Sales Group Office colleagues at the Providence Journal in Providence, RI in 2010. In honor of this pez event and by way of giving thanks to our wonderful, loyal customers, we will be sending a free Pez Collectors Store emoji pez when you place an order of $50 or more in merchandise with the Pez Collectors Store between now and November 30 (or while supplies last). We all love Pez - sometimes they make us happy, sometimes they make us laugh out loud. What better way to share the emotions of pez than by taking a free Pez Emoji from the Pez Collectors Store to work on November 30!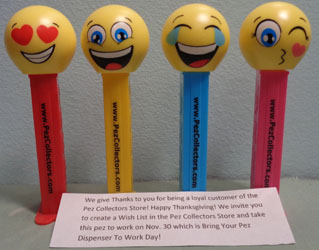 The Holidays are just around the corner so now would be a great time to start thinking about your Pez Wish List! It is easy to create your wish list by logging in to the Pez Collectors Store and browsing through the thousands of pez we have listed. Click the Add to Wish List button for each product you would like to add to your personal Wish List. You can even make comments or rate the items on your wish list to indicate those you really want the very most! Provide your friends and family with a link to your wish list by clicking on the Tell a Friend link or just tell them to visit the Pez Collectors Store and search for your wish list using the Find a Friend's Wish List option!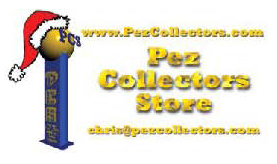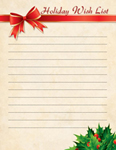 That is all the news we have for you this month! Happy Pezzing and thanks for reading the Pez Collectors Store Newsletter! Happy Thanksgiving!
All the best,
Chris Jordan
www.pezcollectors.com