November 2013 Newsletter
The holidays are coming up fast – Halloween is past and Thanksgiving will be here before we know it! From there it is a short hop to December's Holidays! The new pez just keep coming, all in time to celebrate these upcoming holidays! Don't forget to use the wish list function in the Pez Collectors Store to be sure your friends and family know exactly which pez you are wanting!
Candace is in stock now in the Pez Collectors Store. The sister Candace has joined Phineas and Ferb and Agent P as a pez dispenser. 
Promotional pez keep coming – we have a few Duane Reade pez trucks in stock now. These are tough to find because the Duane Reade pharmacy stores are only in New York meaning there is a very limited distribution!
The 2013 Wegmans Sushi Girl pez truck is also in stock now. Surprising that with all of the things in Wegmans stores, they have chosen sushi for a second time to be promoted on their pez truck. This new dispenser looks very different than the 2011 Sushi truck and it is dated with 2013 Wegmans Sushi.
Monsters University came out on DVD October 29 and a new Sully with a white printed stem was released to celebrate the release. The stem is printed with the MU logo and a pennant that says Scarers. This DVD promotional Sully pez is now in stock in the Pez Collectors Store.
The Presidents Volume 4 and 5 are scheduled for release November 1, so we expect our first shipments to be arriving within a week or so. Series 4 includes Abraham Lincoln, Andrew Johnson, Ulysses S. Grant, Rutherford B. Hayes and James A. Garfield. Series 5 includes Chester A. Arthur, Grover Cleveland, Benjamin Harrison, William McKinley and Theodore Roosevelt.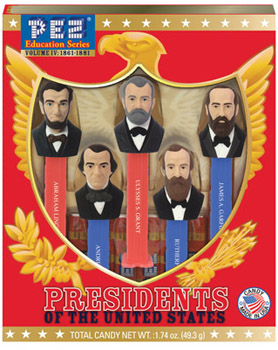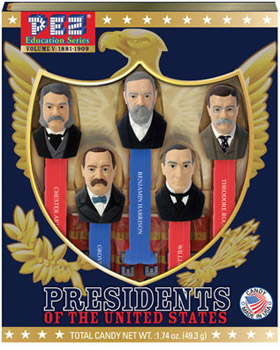 We have gotten more stock on the Christmas Canes that include the new Snowman and the Penguin. These are in stock again in the Pez Collectors Store.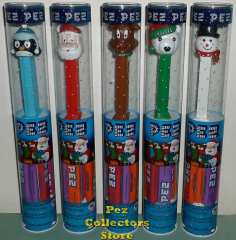 Pez Co. has produced a custom 2 pack for Christmas that includes Santa and the Christmas Bear along with a 5 pack of candy in a Happy Holidays box. We will have these boxed sets available in the Pez Collectors Store soon!
The European Sid with a smiling mouth from Ice Age 4 is on its way to us now, along with some of the European Tweety that feature a revised mold and brown hair. We are waiting on the shipment to arrive from Europe and will have these in stock very soon!
The long awaited Target pez is finally beginning to appear. It seems that some stores are putting out stock now while others do not plan to release stock for sales for several weeks. We have placed an order and expect to have them in stock in the Pez Collectors Store before the end of the month if not much sooner. It will come with a $5.00 gift card, too!
World Savings Day was held in Austrian banks with either the Sumsi bee or Viktor Cheese Eater mouse dispenser. We are expecting to get some stock on the Sumsi bee soon and are working on getting some of the Viktor mice as well. We have no definitive date as to when we will have these available at this time, but as soon as we get them, they will be listed.
While it may seem early, Pez Co will begin shipping Valentine's Day pez in November. There will be a new Monkey pez in the Valentines assortment. We have delayed ordering these to avoid getting 'left over' stock from Valentines 2013, but we will get these new pez in stock long before Valentine's Day!
John Ratzenberger, the voice of Hamm the Pig in Toy Story, as well as many other Disney characters is offering an autographed Hamm dispenser as part of his fundraiser for American Made. A donation of $55 will get you this autographed pez. It appears that one of the 20 available has been claimed, according to the website. We have no idea if these will really be limited to 20 and we will not carry these in the Pez Collectors Store, but if you're interested, the details can be found at http://fundanything.com/americanmade?locale=en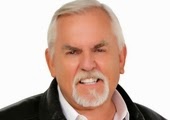 One last bit of news for November – November 29 is the Bring Your Pez To Work Day and make people smile! Time to start thinking of which pez you will take to work with you!
Until next month, Happy Pezzing!
All the best,
Chris Jordan
www.pezcollectors.com