November 2012 Newsletter
Halloween marks the end of October and thoughts of Thanksgiving come to us for November. While there is not a new pez for Thanksgiving, there are still plenty of new pez to be thankful for this month! We have added many new pez releases and there is more pez news to share as well. Thankfully, it sounds like PEZ Candy, Inc. in Orange, CT weathered Hurricane Sandy and while some things may be delayed, all seems to be well. We hope our customers in the Northeast are all doing ok, too!
November's pez release is just in time for the elections! The US presidents volume 2 and 3 are now on their way to the Pez Collectors Store. The 2nd volume features the US presidents John Quincy Adams, Andrew Jackson, Martin Van Buren, William Henry Harrison and John Tyler. These pez dispensers represent the presidential terms from 1825 to 1845. The 3rd volume features James Polk, Zachary Taylor, Millard Fillmore, Franklin Pierce and James Buchanan. These pez dispensers represent the presidential terms from 1845 to 1861. These should arrive soon!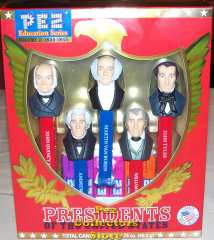 Just for fun, we have added some Political Potty Presidential Poopers to the Pez Collectors Store.  We don't have a lot of them at this time, but these cute windup Obama and Romney dispensers walk and poop jelly beans. Poopers are quite a collectible and presidential election memorabilia ia also highly collectible, so these were added to the Other Candy Collectibles section of the Pez Collectors Store.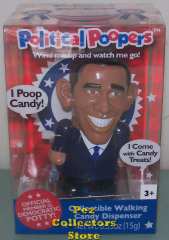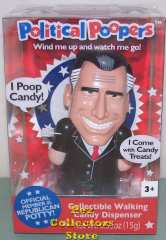 Christmas Pez arrived in the Pez Colectors Store and the assortment includes the new Santa, new Reindeer and new Snowman pez! The snowman has a black hat and striped scarf, the Reindeer has a red nose (Rudolph?) and just two jingle bell dots on the collar, and the Santa pez is a leaner version with round frame glasses. It was time for an update to the Christmas pez and these are cute new pez!
We also added some cute Sledding Poopers and the Holiday Poopers set, along with a cute Zoo poopers set, just for more fun in the Pez Collectors Store.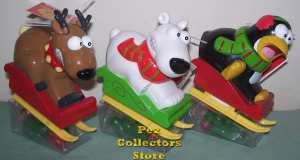 Paul Frank Julius the monkey pez are in stock in the Pez Collectors Store and they are really cute. The stems are printed to say "Julius is your friend." and they come on three different colored stems – red, yellow and blue.
The 2012 Wegmans truck has Vegetables on the side as we indicated in the October 2012 newsletter and the image also says 2012 edition. The veggies look yummy and this 4th version of Wegmans promo truck is possibly the best looking yet!
Safeway Promotional trucks are a little more boring by comparison to the Wegmans, but the simple logo is still elegant! These are for sale now in the Pez Collectors Store.

We have only been able to get a few of the Toys R Us promotional pez trucks so far, but we are working to get many more soon. These promotional pez trucks feature the bright and colorful Toys R Us logo along with Geoffrey the giraffe.
The Disney Cuties pez arrived in the Pez Collectors Store just after the last newsletter went out. These adorable dispensers were worth the wait – and they are available now in the Pez Collectors Store.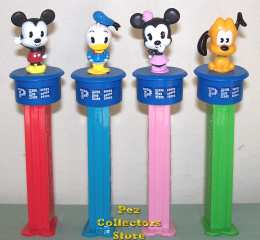 Star Trek TNG Walmart exclusive pez are in stock now. This set has the same characters as the limited edition 25th Anniversary set except that it features Picard as Locutus of Borg instead of Beverly Crusher. For those who keep the sets mint in package, the arrangement of the dispensers is different in the Walmart exclusive version and the set is also a numbered limited edition of 100,000. For those who display loose, there are no real differences, but to the best of our knowledge, the only way to get all the characters is to purchase both sets and we understand how frustrating this is!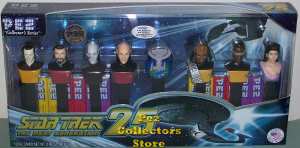 Last month we told you that we were trying to get a source for the Miffy pez. Well, we found that there is no source for such a pez, since Pez Co has not produced one. The image was a photoshop fantasy pez image, not a real dispenser after all! Too bad, it was a really cute pez – a great idea from a talented photoshopper!
The Stanley Cup pez set from Canada should arrive soon to the Pez Collectors Store. It has been difficult to get complete sets of these pez dispensers, because the teams are not evenly distributed – for some reason Pez Co has chosen to produce certain teams in much greater quantities than others.
The Ohio State Football pez has a new look to the logo! This time, the logo has heavy black outline around the words, really making them more pronounced! Check out the newest sports pez in the Pez Collectors Store!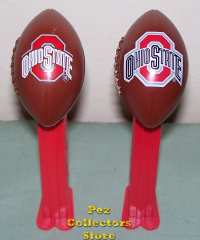 Speaking of sports pez – we were noticing something once again about the value of having your team logo and mascot on a pez dispenser. The National league division series pitted the SF giants (2 pez dispenser versions) against the Cincinnati Reds (1 pez dispenser version) and St. Louis Cardinals (2 pez) against the Washington Nationals (0 pez). Guess who won?

 vs.

 vs. Washington Nationals
In the American League, Detroit Tigers with 2 pez vs Oakland A's with 0 pez and the Baltimore Orioles (1 pez) against the NY Yankees (3+ pez). So, guess who made it to the American League and National League Championships?
 vs. Oakland A's
 vs.

It was looking like the more versions of a pez dispenser a team had, the better odds were that they would win!  Then came the National Championship game with St. Louis (2 pez) vs. San Francisco Giants (2 pez)

 vs.

and the American League Championship game with Detroit (2 pez) vs. NY Yankees (3+ pez). 
 vs.

Now, if you were placing your bets on the team with the most pez, you would have realized that this was not going to work this time! As Detroit (2 pez) played off against the Giants (2 pez) for the World Series, and with the number of pez predictive theory out the window, we can still say what all pez collectors already know - having more pez is better! Congrats to the Giants!
vs. 

The gift giving season is upon us! Be sure to use the Pez Collectors Store wish list function to note the pez you really want. Email a link to your wish list to your friends and family to make it super easy for them to shop for your gifts! What could be easier? Don't you wish shopping for your friends and family could be this easy? Well, at least you will be sure to get the pez you want the most this way!
New Valentines pez will be coming soon! Yeah, I realize that we are only just finishing up with Halloween, but it is fun thinking ahead to the new pez! These new Disney Couples valentine gift sets feature Mickey and Minnie and Donald and Daisy with printed stems. Similar to the European versions of Stylish Mickey and Minnie, these loving couples come in a boxed set! We hope to have these in stock in a few weeks!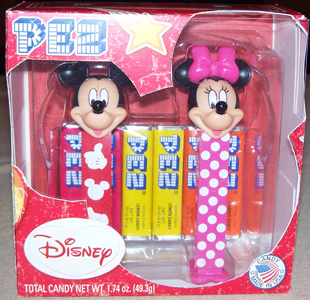 There are lots of new pez on their way – there will be more US and European pez, sports pez, exclusive and promotional pez coming in 2013. More about these in the coming months!
Happy Thanksgiving and Happy Pezzing!
All the best,
Chris Jordan
www.pezcollectors.com