November 2011 Newsletter
Pez collectors have plenty to be thankful for this month with the arrival and release of so many new Pez! Several new Pez have arrived in the Pez Collectors Store and there are still more coming! These great new Pez are available just in time to start thinking  about for Christmas gifts, so now is the time to be sure your Pez Collectors Store Wish List is up to date and share it with friends and family who may be looking for gift ideas! Using the Wish List is free – simply register for a free account with the Pez Collectors Store so that your wish list is saved! There is no easier way to be sure your friends and family know exactly which Pez you want to add to your collection!
The Liverpool Department Store mascot, Bolo Bear has arrived and he is super cute! Liverpool is a mid to high end department store chain with stores located throughout Mexico.  Liverpool Department Stores had Pez produce a dispenser to look like their mascot and, according to the information we have received, there were 25,000 of these produced. This cute Bolo Bear exclusive promotional Pez is now available loose in the Pez Collectors Store!
The Limited Edition Canadian Fire and Ice National Hockey League goalie mask dispensers have arrived and these have really great graphics printed on the helmets.  These NHL Hockey Pez were produced for Canadian distribution only, but we have them available loose in the Pez Collectors Store!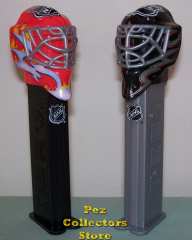 Pez Soft Shooter dispensers are a very different kind of PEZ! The candy is a bit harder or drier than the typical gummy candy, and the fruity flavor of the candy is good. Austria was a test market for these dispensers, so distribution was not wide spread across Europe as most European releases. We have a limited quantity of sets available now!
We have been able to restock on complete sets of the Pez Smart vitamin dispensers and these are a great way to honor graduates. The flip top head is perfect for hiding a little note, making these dispensers more interactive than traditional Pez dispensers! These were also market tested in Austria, and we have heard that they will not be continued. We were told that they did not sell well to the general consumers as the dispenser and vitamin tablets were too costly for most folks who are not collectors. I am not sure if this is true or not, but we wanted to be sure we had some stock in case PEZ International dropped this product from their line!
The Pez Collectors Store has the Lord of the Rings Pez Gift Sets, and they have been extremely popular! This set includes Bilbo Baggins and is limited to 250000 sets.
A Walmart Exclusive Lord of the Rings Pez Gift Set has been released that does not include Bilbo, but does include the Eye of Sauron. This exclusive set is limited to 150000 and we had a hard time locating them as only some of the Walmart stores received shipments, but they are now available in the Pez Collectors Store.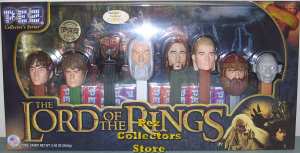 Wegmans Grocery Store has a new truck for 2011 and this time it features Sushi. This 2011 Wegmans truck promotional advertising Pez is the third version – the first showed a roasting chicken and the second showed vine ripe tomatoes. The 2011 Wegmans Sushi truck is in stock and ready to ship today!
The US President Series Volume I is due for release this month and our orders have been placed for ages! We hope they will be shipping to us this week and expect to have them in stock by the middle of the month. These will be available for purchase just as soon as they arrive at the Pez Collectors Store.
Our shipment of Disney Detachable Pull and Go Cars is on the way. Our order has been billed and we expect for these to arrive by November 3 or 4th. They will be available for purchase just as soon as we receive the shipment later this week!
Valentines Pez are coming in December and we hope to get new dispensers rather than last years leftovers. The new dispensers were originally supposed to be released only in tubes, but apparently there was not enough interest in the more expensive tubes, so that idea was cancelled by PEZ Co. The new Valentine Hearts and two new teddy bear Pez will have different colors including a new lavender colored heart and pastel teddy bears! These look really cute!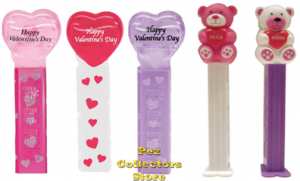 PEZ Co has officially released information about the tentative shipping dates for the 2012 USA Pez releases. It looks like there will be plenty of new Pez on their way!
In January 2012 we should see a new set of Muppets with an updated Kermit the Frog, new Miss Piggy and new Animal. The new Easter Egg Dispensers are supposed to be available only in Easter Tubes.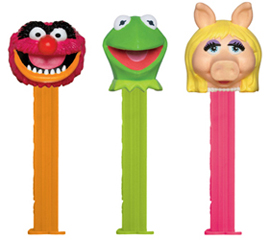 February 2012 will bring a Star Wars – The Phantom Menace set which will include a new Darth Maul, a new Yoda, along with Darth Vader, R2D2, C3PO & Storm Trooper. We are not sure if there will be any differences in the previously released dispensers, but there are usually some color variations or slight differences with re-releases!
March 2012 is a re-release of the Marvel Universe Assortment with a revised paint scheme for Iron Man and updated graphics with an Avenger theme.
May 2012 is the scheduled release for The Amazing Spiderman with a new Spiderman and a new Lizardman. A new Batman Assortment will be released which will include Batman, Two Face, Riddler and a new Catwoman (it looks like Catwoman will replace the Joker).
June 2012 we will see the all new Strawberry Shortcake assortment with Lemon Meringue, Strawberry Shortcake and Orange Blossom.
August 2012 releases will include three different detachable Hot Wheels Pull and Go Cars.
September 2012 shipments will include a Barbie Gift Tin with 4 mini Barbie dispensers in a small child sized purse shaped gift tin, a KISS Gift Tin with all 4 members of the band, a Star Trek the Next Generation Gift set with the Starship Enterprise and 7 crew members.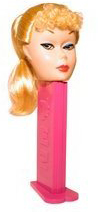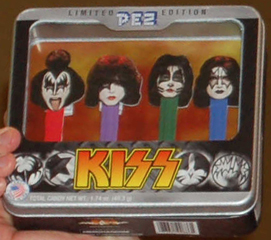 October 2012 there will be a new pumpkin Jack-o-Lantern added to the Halloween assortment Halloween assortments are scheduled to begin shipping in July.
November 2012 is the second release of the Presidential Series, with Volume II and III.
December 2012 there will be a new Santa and new Rudolph the Red Nosed Reindeer added to the assortment with the Snowman and Christmas Bear. The Christmas assortments are scheduled to begin shipping in September.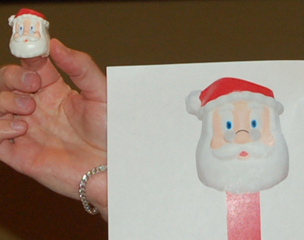 Now, that is quite a lineup! So far, there has not been any mention of new Major League Baseballs, new College Footballs or any new exclusive promotional Pez trucks, but we are going to guess that some will be coming out and we will do our best to scramble around to find them and have them available for our customers!
Wishing all of our customers a very Happy Thanksgiving!
Happy Pezzing!
Chris Jordan
www.PezCollectors.com