November 2009 Newsletter
November 2009 Pez Collectors Store Newsletter

The past month has been really busy with tracking down the new promotional trucks and a few are beginning to roll in now. We have some updates for you on these in this newsletter. Halloween marks the end of October and Christmas will be upon us before we know it! The Santa Hauler Gift sets and Polar Bears are the new Christmas pez for this year and the Pez Collectors Store is the place to get them.  We have been working out the details for the 2010 Kansas City PezHead Gathering and have negotiated some great room rates for our May 29 Gathering and we have been working on an updated look for the Pez Collectors Store website, so a lot has been happening this past month!
The Santa and Santa Hauler Gift Sets have arrived. The clamshell gift case with the lovely North Pole winter scene is a great way to display this set. While the Santa appears to be the same Santa D as we have seen for several years now, the Santa Hauler truck is new this year.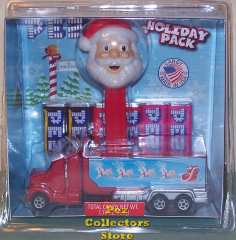 We have a few of the Walgreen Exclusive Christmas Pez in stock as well. There is a Santa Pez and a Rudolph pez with the Snowflake print on the stems which are really the same as the ones that were Target exclusives two years ago. It is the snowflake printed stem that makes these exclusive (and the card which says it is exclusive). For those who collect on card, the cards are marked as Walgreens Exclusive and these are packaged with three packs of candy rather than the 6 packs which were seen on the Target exclusives several years ago.

The new Polar Bear has replaced the previous Icee Bear this year and the Walgreen exclusive is a Polar Bear with snowflakes on its stem. We are told that the Santa Hauler on card is also a Walgreen exclusive – they are the only ones who will have the Santa Hauler rig sold separately. The only other way to get the Santa Hauler is in the Santa and Santa Hauler Gift set.

The promotional trucks have been quite difficult to track down. First is the Wegmans Hauler. The Wegmans Hauler Truck Promotional Pez is a promotional item for Wegmans Grocery Stores. The Wegmans Food Markets, Inc is a 74 store supermarket chain in the mid-Atlantic region with locations in New York, Pennsylvania, New Jersey, Virginia, Maryland and Massachussetts according to Wikipedia. Due to extreme popularity of this promotional Pez truck, Wegman stores are now reported to be limiting sales to 5 dispensers per customer and Wegmans will not ship these, thus distribution is quite limited. The Wegmans dispenser features a never seen before brown colored Rig truck with the Wegmans name and two chickens roasting above the flames on the side of the truck. This dispenser is also printed on the roof of the cab with an image we believe is supposed to represent a fork, a plate and a wine glass. This awesome dispenser comes mint on card with candies and they are available now through the Pez Collectors Store!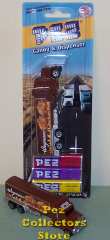 The next promotional truck is the Rite Aid truck. Rite Aid is a pharmacy with locations in 31 states and the District of Columbia. The middle of the country doesn't have Rite Aid Pharmacy locations and in some states, there are very few locations, so this dispenser has also been rather difficult to get ahold of, but we have a few in stock now and more are coming to us soon!
Sheetz is a convenience store and gas station with over 350 locations throughout Pennsylvania, Virginia, Maryland, West Virginia, Ohio and North Carolina and their truck has also just become available. We have placed our order and the Sheetz trucks should be arriving on November 4!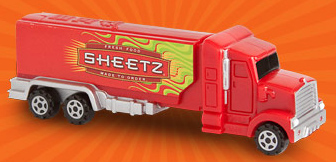 CVS Pharmacy has retail locations in 44 states with some 7000 locations, but these have also been rather hard to get as stores seem to be getting only one 12 count box per store if they are getting any, and many of these have been shipped with the Christmas candy which has not been put out yet. We have ordered 5 cases but have been told that they will not be shipped to us until December. We are working hard to get these sooner!
Winn Dixie is a grocery store chain with supermarket locations throughout the Southeastern U.S. with stores in Alabama, Mississippi, Louisiana, Florida and Georgia. While we have been working with Winn Dixie, the promotional pez for these stores have nor arrived yet, so we are still waiting to get them. We have been told that the mockup shown below may be wrong - the cab will be a white colored cab to match the white trailer.
Wawa is a grocery store chain with locations in New Jersey, Pennsylvania, Delaware, Maryland and Virginia. The promotional truck for this store chain has been much more elusive – it doesn't seem to exist! We had a very good source of information indicating this promotional pez would be coming out at the same time as the rest of the promo trucks. We began back in June trying to get our sources lined up for their release, but we were told at that time that they had no information regarding these trucks being made. We heard the same thing from folks at each of the other stores offering promo trucks, so it was not too surprising since they were not scheduled for release until the 4th quarter of 2009. However, we are still being told, "At this time, Wawa has no plans to offer a Wawa Pez dispenser" so it is possible that Wawa really won't be getting a promotional truck anytime soon. If one becomes available, we will do our best to get them to add to the Pez Collectors Store!Wizard of Oz Gift Sets have been hard to keep in stock and we have been told that all 300000 that were produced have now been sold. We have one final order pending with Pez Co which we hope will be filled, and we have some sets still remaining for sale, but when these are gone, we will not be able to get more. This set is definitely a must have as it is extremely well done. We added a Save On Shipping option for the Wizard of Oz set for those who prefer to display their pez loose and many have used this option when ordering.
The My Friends Tigger and Pooh Winnie the Pooh Gift Sets with Buster, Darby, Pooh and Tigger Sleuth have also sold out according to our Pez Rep. We do still have some remaining for sale in the Pez Collectors Store for those who have not gotten them yet.
There is a new promotional release in Europe which we are very excited about. Sparefroh (happy saver) was introduced in 1956 as the mascot for International Saving Day by Austrian Savings banks to remind people to save money. This mascot appears on keychains, flexible 'bendies' and was also produced as a Pez dispenser – in fact, it was probably the first character dispenser ever produced before Pez in the USA were produced with character heads. This dispenser has now been reproduced in honor of World Savings Day in Europe for 2009. We hope to have these dispensers for sale in the Pez Collectors Store very soon!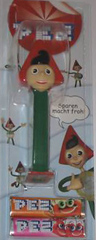 Plans are underway for the 2010 Kansas City PezHead Gathering and its going to be a world of fun! Save the date of Saturday, May 29, 2010 and plan to meet us at the Kansas City Holiday Inn NorthEast for a fun filled pezzy day. We have negotiated great room rates of just $75.00 per night ($87.85 after applicable taxes) and they even agreed to provide up to two complimentary full hot breakfast buffets per room per night! We are working on the schedule and events of the day and will be providing more details as soon as possible. Meanwhile, get that date of Saturday May 29, 2010 on your calendar and plan to attend the 2010 KC PezHead Gathering!
The last piece of news we have to share with you is very exciting for us! Just in time for your holiday shopping pleasure, the Pez Collectors Store is getting a facelift – a new, much more modern, updated look. The Pez Collectors Store continues to have all the same functionality and much of the same layout and organization, but we think it has a cleaner, fresher. less cluttered look. We want your pez shopping experience to be the best it can be and we hope you will enjoy our newly remodeled site. The new look will be unveiled soon – let us know what you think!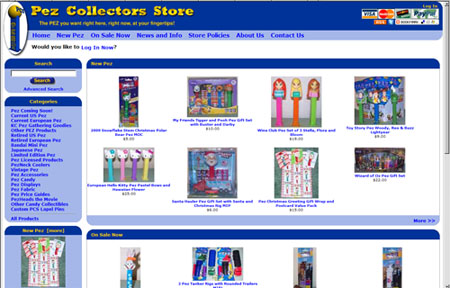 That is all of the news for November. We would like to wish everyone a Happy Thanksgiving!

Happy Pezzing!
Chris Jordan

www.pezcollectors.com