November 2008 Newsletter
November brings us to the beginning of the holiday season and more new pez releases. Delays in shipments from Pez Candy have frustrated many of us over the past several months and this month we will finally be seeing some of those long awaited pez releases.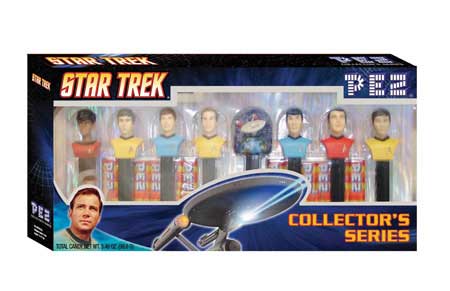 The Star Trek collectors set is scheduled to arrive at the Pez Collectors Store on Monday, November 3 and we will get these in stock and available for sale just as soon as we physically have them in hand in just a few days.
The Nebraska Huskers Football Pez has finally been delivered to its exclusive retailer and we will be adding these to the Pez Collectors Store inventory within the month. This dispenser was produced in relatively low numbers – just 25000 made and due to its very limited distribution it will be harder to acquire than many of the collegiate football pez.
Brigham Young University and the University of Utah pez dispensers have also been distributed to their exclusive retailers and we will also be adding these to our inventory within the month. Meanwhile, we have already added the UNC Basketball - a new trend for collegiate sport pez dispensers!
Last month we hinted to you about the Chick-Fil-A cow pez dispenser and it is now in stock in the Pez Collectors Store. It is great to see such a wonderful new promotional pez that is a completely new mold making it a totally different pez. The Eat Mor Chikin slogan printed on the dispenser stem makes it really special!
We added the University of Washington and Washington State University Football Pez dispensers to the Pez Collectors Store inventory this past month, but we were able to acquire only small quantities of each, so be sure to get them while they last!
We also added the original European Fairies Pez dispensers to our inventory. The European set has the fairies on a light grayish purple skirts which are not decorated with the painted lines seen on the US releases. The European set features Tinkerbelle, Silvermist and Fawn. The US release has no Fawn but does have Iridessa. The original European Fairies release versions have now been replace in Europe with a version with the deeper purple skirt as seen in the US Fairies, and again, these have no decorative lines printed on the skirts. Since the US and European releases are distinctly different, we wanted to be sure to offer the original set to our customers.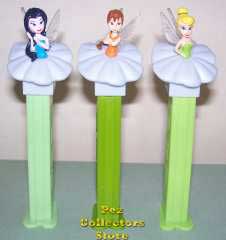 We have been fortunate to acquire some remaining retired inventory that was previously available only through the pez online or mail order site. Included in this inventory are the Glow in the Dark Set which includes several glow in the dark dispensers only available in this set – GID Peter Pez, GID Bubbleman, GID Icee Bear, GID Skull, along with the GID Polly Pumpkin, Slimy Sid, Naughty Neil and Happy Henry.
We also added the clear (colorless) crystal Kooky Zoo set and the clear (colorless) crystal Bugz set of 5.
The Red Crystal Hand Psychedelic Eye remake on a yellow stem and the Green Crystal Hand Psychedelic Eye remake on a pink stem have been added to our inventory along with a couple of misfits – the Yellow head Snowman on green stem and the Misfit Witch with a yellow face on a yellow stem.

The Lightning McQueen Collectors Set was added to our inventory and it features 4 great Lightning McQueen pez dispensers from the Disney Cars movie. Each of the 4 dispensers has a printed stem indicating the version and each of the cars has a different paint job.
The Batman Collectors Set was also introduced to the Pez Collectors Store last month – this set includes one special dispenser – the Batman with a Batman logo printed on the stem.  We really think that Pez Co. missed the boat when they failed to print a J on Joker's stem, or an R or a "?" on the Riddler's stem – something to make the Villains stand out from the previously released versions. None the less, pez is pez and we just gotta have 'em all!  We are told that this version of Batman will be available only in these collector's sets.
We have also added a few of the retired and hard to find Jungle Book characters from Europe to our inventory - Baloo, Bagheera and Shere Kahn. We have these loose and also on a very limited edition collector's card from Europe. The cards have a note promoting the fact that the candy has no added coloring – and the card says so in 4 different languages! There were only 2500 of these cards produced.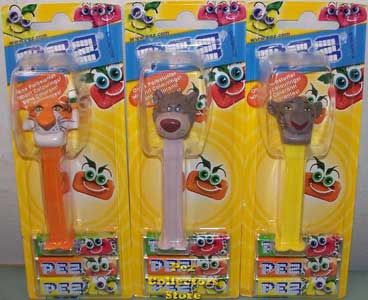 Also new to the Pez Collector's store are a few (very few!) Yellow Eyed Sasha pez on two different Bratz cards. The yellow eye version of Sasha was released primarily in Australia and the candies are European candy packs.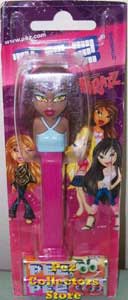 We also added a few complete sets of Looney Tunes Soccer pez which have been discontinued. The complete set features Taz who has a soccerball in his mouth, Tweety and 4 different color stem Bugs Bunny pez, each with a soccerball decorated stem.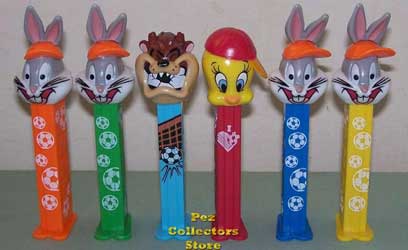 Also new to the store are the new European Looney Tunes on different colored stems. These will not last long! We also added another 2008 soccerball from Europe.
There is a great deal of concern about credit card fraud and website security nowadays. The Pez Collectors Store is committed to being certain that your information is secure and we have completed thorough site certification testing which has resulted in the Pez Collectors Store passing all Payment Card Industry Data Security Standards. We have always had the security in place, and we are now officially certified as compliant with all standards. We now proudly display our SecurityMetrics Certified logo on our website – just one more way we have worked to assure our customer's security and privacy.

That is all the news and updates that we have for you for November. We hope you have enjoyed this edition of the Pez Collectors Store Newsletter and we look forward working with you!