May 2020 PCS Newsletter
It sure is nice to have new pez to help brighten our days while many of us are continuing to observe social distancing practices and stay-at-home orders. New releases are always fun, and it is nice that there have been so many new releases coming out of Europe and the USA! It is sad that the Northeast Pez Convention had to be canceled, but the Virtual Pez Convention was a lot of fun! It was a great way to connect with fellow pez collectors! And, getting new pez in the mail is a great way to bring a smile and lighten your mood!
The European Mickey and Minnie pez set arrived and these new molds with new features look great. Mickey with bow tie and Minnie with pearls are dressed formally, while Mickey with printed stem and Minnie with a striped and polka-dot bow are dressed more casually! They are available now in the Pez Collectors Store!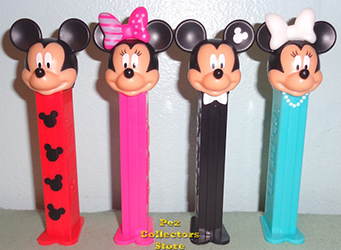 The European Mickey and Minnie Pez are very different from the new 2020 Mickey and Minnie from the USA. The USA set of 4 includes Pill Box Hat Minnie and Steamboat Willie. These are back in stock now in the Pez Collectors Store.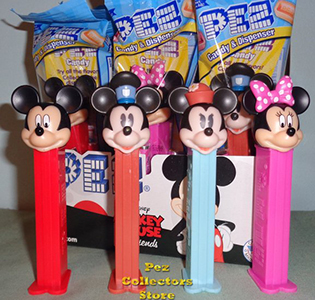 The new 2020 SpongeBob pez assortment includes a Bubbles SpongeBob (common), a Yellow Crystal SpongeBob (special), a colorless Glitter Crystal SpongeBob (rare), a Gold SpongeBob (ultra rare with only 1000 pieces made) plus Patrick and Squidward. The Patrick dispenser has a copyright 2014 Viacom and is 'half-dressed', meaning the printing does not go behind the arms. The original Patrick released in the USA has a copyright 2004 Viacom, and has the clothes printed behind the arm as well as in front (fully dressed). The European versions were the first half dressed and have a copyright 2008 Viacom. This same dispenser was later released in the USA with the same copyright and half-dressed printing. Squidward was originally released in the USA on a green stem with a 2004 Viacom copyright. The European version came on an orange stem with copyright 2008 Viacom and the same released in the USA later. The newest Squidward has a copyright 2014 Viacom.
Revised Scooby Doo have added features and some different stems. Scooby has a printed SD emblem on his stem, Shaggy has Whiskers, Velma has freckles, Daphne is on a purple stem and Fred is on a white stem. These are in stock now in the Pez Collectors Store.
Scooby Doo Pez twin packs feature Scooby Doo graphics and include the revised Scooby and Fred dispensers, along with 6 rolls of pez candy! They are available now.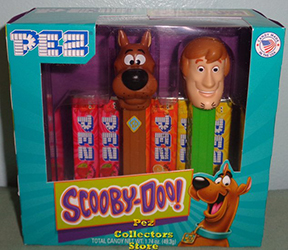 The Justice League pez assortment has a brand new Wonder Woman with a great new mold, a new Batman and new Superman. The Batman and Superman are most similar to the European Batman and Superman, but they have different copyrights. The European is copyright DC (s16) and the new copyright is DC Comics (s19). Superman has a blue collar and the new version is a different shade of blue with a matching blue stem, while the European version stem does not quite match the shade of the bust.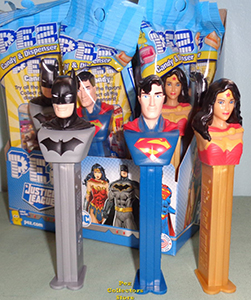 Our first shipment of Marilyn Monroe Exclusive Pez sold out very quickly, but they are back in stock now in case you missed them last month!

May 1 is the first scheduled shipping date of the new Minions Rise of Gru pez. Stuart, Bob, Otto, and Kevin, each have little arms and hands! They will be on light grey stems and look cute as can be! We will have these in stock just as soon as they are shipped to us from PEZ!
May 1 is the first scheduled shipping date for the new My Little Pony Crystal pez. Rainbow Dash, Twilight Sparkle, and Pinkie Pie will be released with glitter crystal heads! We expect these to arrive very soon and will list them as soon as we have them in hand!


The charm style Harry Potter, Hermione and Ron pez from Europe are back in stock in the Pez Collectors Store!
June 1 is the first scheduled release date for the charm style Harry Potter pez in the USA. Harry Potter, Hermione and Ron will come with Mystery Flavor pez candies, which is a new treat for candy pack collectors!
Harry Potter, Hermione and Ron on mini stems will come in twin packs! The pair of twin packs will each feature a mini Harry with mini Hermione and mini Harry with mini Ron. The twin packs will come in Harry Potter graphic boxes with 6 rolls of Mystery Flavor pez candies. These are due to begin shipping from Pez Candy June 1 and we can't wait to receive our order!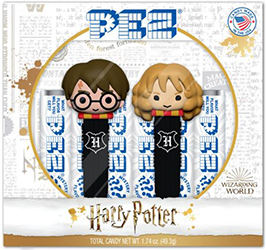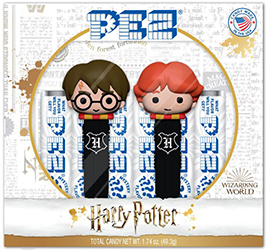 June 1 a new Marvel Spiderman and Miles Morales will be added to the Marvel pez assortments. The new mold Spiderman has heavy black webbing across the face with a squared neck and was released in Europe a few months ago. Miles Morales is the same mold but features a black head and stem, with red webbing and red outlined eyes. We will have these in stock soon!


Sadly, the Sweets and Snacks Expo 2020 was canceled, but we got a sneak peek at the Mickey and Minnie Holiday Twin Pack Gift Sets in the Candy and Snack Today March/April 2020 magazine. Mickey and Minnie are wearing Santa Hats! These will begin shipping September 1!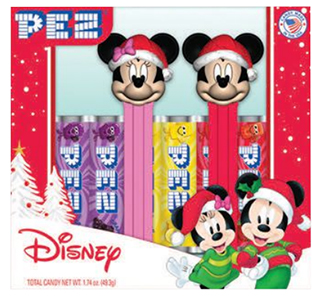 Funko sent the following letter regarding Funko Production updates. There are no new POP! PEZ available for order through the August, 2020 product offerings anyway, so the reduction of products being offered doesn't really change anything for POP! PEZ through August, but could mean we won't be seeing anything new in the way of POP! PEZ for a while.
At this time, convention hosts are carefully monitoring the stay-at-home, social distancing and other precautions in effect and recommended for their locations. In these uncertain times, plans can change, so be sure to monitor the websites for any updates that might be forthcoming!
Michigan Pez Convention, scheduled June 25 – 27 in Ann Arbor, MI information can be found at www.mipezcon.com
Pezamania, originally scheduled July 16 – 18, in Cleveland, OH has been canceled for 2020 and the 30th Family Reunion will take place in July of 2021. Information can be found at www.pezamania.com and on Facebook at PEZAMANIA "The World's Largest Gathering of PEZ Collectors"
Pez on the River, scheduled September 10 – 12 in Winona, MN information can be found at www.pezontheriver.com
We will pass on any information we receive from the hosts regarding modifications or changes to plans!
That's all the news for now! Happy Pezzing!
All the best,
Chris Jordan
www.pezcollectors.com