May 2014 Newsletter
Pez Heroes is a new pez release that features a Fireman, Policeman, Army Soldier and Nurse. The counter display box features a city skyline against a background of stars with red and white stripes at the bottom, suggesting perhaps the American flag. These Pez Heroes represent some of our fine, hardworking professions that keep us healthy and safe! The Heroes are reminiscent of the Emergency Hero pez, but the new Hero pez lack the finer details and are less realistic than the previous Emergency Hero release. Still, they are great new pez!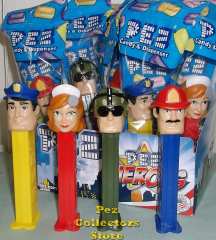 Office Depot promotional pez trucks are available from the Pez Collectors Store. This truck has the Office Depot logo, along with their website and phone number on the side of the truck.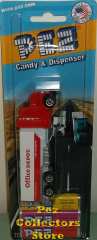 We received some Hello Kitty Plush Bunnies for Easter that are cute as can be. The Hello Kitty plush keychains/clips are wearing bunny ears and feature a headband and Bunny ears – the Pink body and bow has a green headband while the purple body and bow has a yellow headband. These are really cute Hello Kitty Plush pez!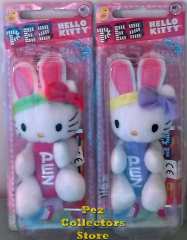 SpongeBob is being re-released in May and our order is in, waiting to be filled! We are excited to see if there are any differences between the original release, the re-release in Europe and the newest SpongeBob Squarepants dispensers!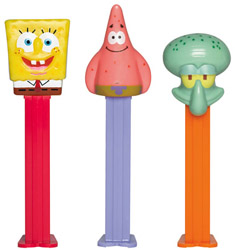 June is the scheduled release date for a new DC Comics pez assortment that will include Flash as the newest member of the Justice League. We are hoping that he will arrive in the Pez Collectors Store super-fast!
April brought a close to the March Madness with the UCONN Huskies facing off against the University of Kentucky Wildcats. Both teams have a basketball pez dispenser with their logos!
Some of those other great teams might have made it further if they had had a basketball pez dispenser with their logo, right? UCONN pulled it off, perhaps because they have a second basketball. We did some checking on the plain UCONN basketball logo with no mascot that we mentioned last month and we have placed an order for these and we are told they will be shipping to us tomorrow, so we expect to have them in stock within a week.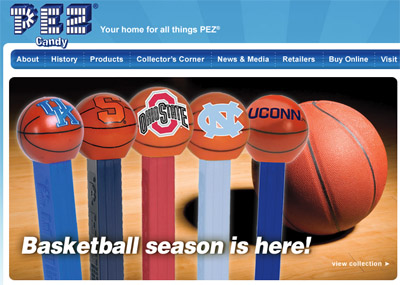 We have been adding pez to the Vintage pez category and still have more to add. We try to get a few new ones up every day or so as we have time, but they don't always last long! Be sure to check in frequently to see what new vintage pieces have been added!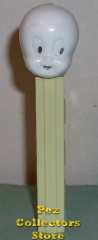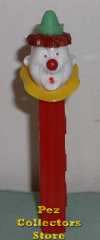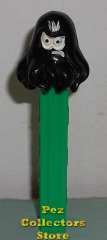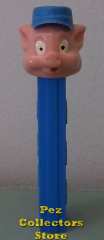 June is also the scheduled release date for the Disney World of Cars assortment which will include Mater with a printed stem, Dusty Crophopper the crop duster and El Chupacabra the Mexican race plane. Dusty and El Chupacabra are the Disney planes released in Europe several months ago. As far as we know, the versions released in the USA will be the same, but the Mater with the race flag printed stem is a new addition that was not available in Europe. The stock photo from Pez Candy is shown and Mater looks good!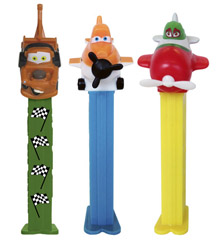 Emoticon pez are supposed to be back in stock in June. We don't know exactly when in June, but we are anxiously waiting for these.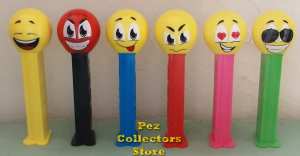 In July, Europe will release the Planes 2: Fire and Rescue pez set. Pez International has released their stock photo of this new assortment. Dusty will trade his landing gear for pontoons and will join forces with Blade Ranger the helicopter, and Lil' Dipper the super scooper plane. The pez dispensers in this new Planes 2: Fire and Rescue set are European only releases. At this time, there is no word that they will be released in the USA, but we have placed an order for plenty of them!
The NorthEast Pez Convention is underway now in Stamford, CT. Richie does a wonderful job as host for this convention and it is a guaranteed good time! If you can manage to get there today, tomorrow or Saturday, you're sure to find some excellent pez deals and maybe that special pez you've been searching for!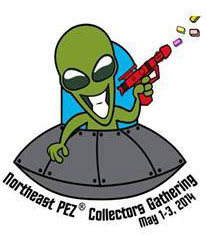 John Cool Pezman Devlin is working hard getting ready for the 22nd Annual National Pez Convention to be held in St. Louis, MO June 19 – 21, 2014. The Pez Collectors Store is also getting ready to attend and we look forward to seeing many of you there! Details can be found at
www.pezconvention.com
so hurry and get your reservations made and your registrations sent in - June 1 is the deadline for early registration!
Get set now to join John and Linda Gliha for Pezamania 24 in Cleveland, OH July 17 – 19, 2014. This convention is huge and we always have a great time! Details can be found at
www.pezamania.com
. We hope to see you there!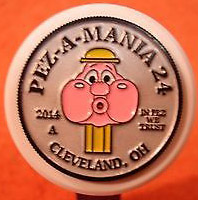 There are a couple of pez gatherings coming up later in the year as well. The Steel City Pez Gathering will be held on September 20, 2014 in Pittsburgh, hosted by Eric W. (Pezburgh Punk) and Brant Olbeter. More details to come!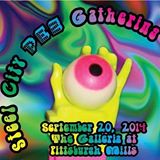 Next up will be the Pez on the River Gathering October 10 – 11, 2014 in Winona, MN, hosted by Sandy and Cheryl Gardner-Ghionzoli. Check out their website at
www.pezontheriver.com
and come support them on their maiden voyage! It is sure to be an excellent excursion!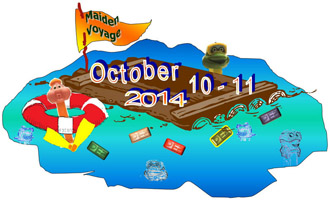 That's all that we can share at this time! Happy pezzing!
All the best,
Chris Jordan