May 2013 Newsletter
New pez are going to be popping up like spring flowers this month, and we are really excited about these new releases! European pez , USA pez releases and 'private' label pez releases! Four solid months of Pez Convention fun begins in May begin planning now!
The new Super Mario Pez set of 3 includes an all new Mario, an all new Yoshi and Toad, a.k.a. Kinopio. In this picture, we are showing the old Mario and the old Yoshi on either end, just so you can compare. The complete 2013 Super Mario set is the three in the middle of the photo. These are in stock now in the Pez Collectors Store!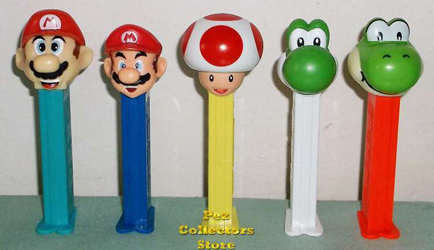 The set of 4 different sugar free peppermint pez gift tins are shipping to us now and should arrive within a week or two! These nostalgic tins are really awesome looking and very retro!
Monsters University are supposed to begin shipping to dealers from Pez Candy, Inc. May 13. The US set includes 4 dispensers – an all new Mike, an all new Sully, Randall and Squishy. Squishy is being released in the USA and Japan only! These have been on display in the Pez Visitors Center for several weeks already! These should be available in the Pez Collectors Store in about 3 weeks!
A new set of Crystal Hello Kitty should be released in Europe in 10 to 15 days. I love the printed stem one! We have an order placed and should have these hopefully by the end of month.
New Hello Kitty Plush are scheduled for release in the USA in June. There are only 3 in this set, and only two are actually new. The set includes Hello Kitty Plush with Red bow on Red stem, Hello Kitty Plush with Pink flower on Pink stem and My Melody (top photo) which looks the same as those released with the past two versions of Hello Kitty Plush Pez (bottom photo).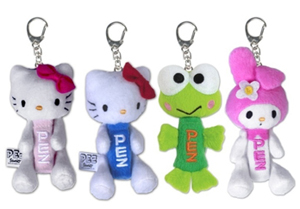 New Looney Tunes Pez will be released in June in parts of Europe. From the photos, it looks like Tweety has the mumps with a real pronounced chin and lower jaw, Bugs Bunny may have gotten bigger buck teeth, Daffy got a new printed stem, Sylvester's whiskers may be different and Taz has new teeth! We will get these in stock in the Pez Collectors Store as soon as possible.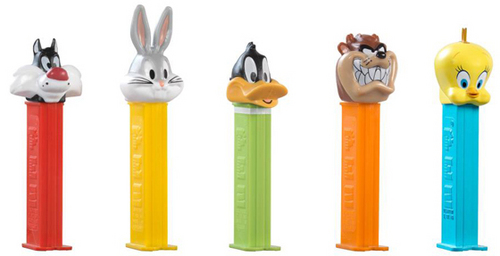 There is a new version of Cinderella that has been released in Austria. We have received conflicting information about this dispenser. Our pez rep indicates that there are no plans for an updated Cinderella in the USA, but a representative of Pez International has posted on Facebook that it will be released in the USA in June.  Be watching – the new princess on the left has an updated hairstyle with side sweep bangs and a new dress with white sleeves. Pez International also reports that there will be new Belle and Snow White updates coming at the beginning of 2014, but no word on these being released in the USA.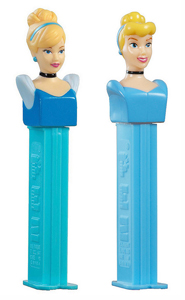 There is a new version of Winnie the Pooh available in some European countries. It is shown on the right in the photo below. The head is taller with a thinner face and he has a painted tongue. We are told that there will be no update to the USA Winnie the Pooh pez, so this may also be European only. We are working on getting some of these as soon as there is broader distribution.
There will be a set of 8 new Soccer Balls featuring German Bundesliga Football teams – Hamburg HSV, Schalke 04, Dortmund Borussia BVB, FC Koln, Werder Bremen, Borussia Gladbach,  Eintracht Frankfurt and Fortuna Dusseldorf. These have been ordered and will be shipping to us in the later part of June so we expect to have them by the end of June.







We had been told that the US Presidents Pez would be sold only in the boxed sets, but apparently William Henry Harrison has been packaged on a generic Pez card for the Grouseland Foundation to help the support, restoration and interpretation of William Henry Harrison's Grouseland. I am told that the foundation had 10,008 of these packaged on card. Since we believe that most collectors prefer the whole set and have no particular fondness for just William Henry Harrison, we opted not to add any of these to the Pez Collectors Store, but they are available through the Grouseland Foundation.

First, the European Hello Kitty KISS pez that were rumored to be planned were dropped. Then in further news from Pez International, their Facebook page reports, "It is correct that PEZ Smurfs are cancelled for this year ... and in a recent comment we mentioned that it was possibly more accurate to say they will be postponed, but we did not say they would be launched in 2014. Could as well be 2015 ...", so the Pez Collectors Store won't be planning on getting the Smurfs anytime soon. We are really disappointed about this, but we will have them available whenever Pez International does release them!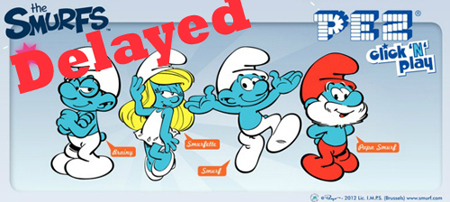 The Northeast Pez Gathering is in a few days – May 2-4! We wish we could be there, but hope that everyone attending has a great time!

Next up is the St Louis Annual National Pez Convention June 13, 14 and 15! Hotel reservations should be made by May 20, so don't delay! It is always a good time with CoolPezMan! The Pez Collectors Store will be there and we hope to see you there! Get more information at www.pezconvention.com!
July 25-27 will be the Pezamania Pez convention in Cleveland, Ohio. This convention is being held a week later than usual this year due to scheduling conflicts for the hotel.  More information can be found at www.pezamania.com.

The following week, August 1 – 3, the Minnesota Pez Convention will be held. The MNPezCon seems to have gotten earlier and earlier each year so these two will be nearly back to back.  That means some planning is really needed well in advance! Be sure to mark your calendars now! Check out all the information at www.mnpezcon.com!
There is another special promotional pez coming in June and hopefully we will be able to add this information to our newsletter next month. For now, that's all the pez news we can share!
Happy Pezzing!
All the best,
Chris Jordan
www.pezcollectors.com