May 2012 Newsletter
This past month has flown by with many new pez additions! May will bring even more different pez releases and having visited the Pez Factory we were able to see them in action working on these new dispenser releases!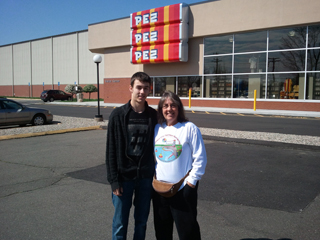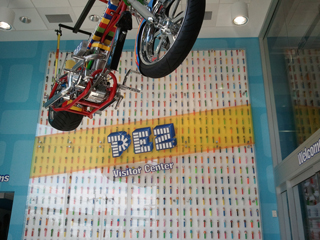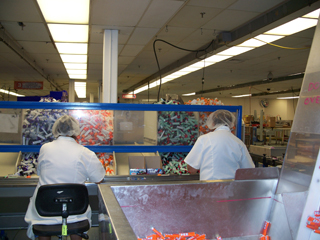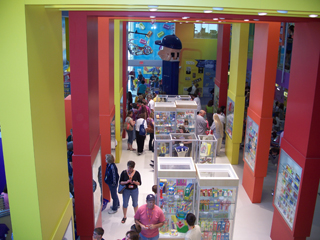 The HyVee Pez Hauler truck arrived in mid-April. It is different from the other promotional pez rigs because the HyVee logo is pad printed on the trailer rather than a sticker – probably because it is a mono color and easily printed! The HyVee advertising promotional pez is available now in the Pez Collectors Store.

The Marvel Avengers Pez arrived and the Metallic Ironman Pez with a gold face and red stem has replaced the yellow face on yellow stem version. These are also available in the Pez Collectors Store – just click the picture to link directly to them!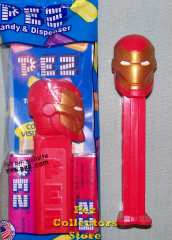 We have added the Pez Visitor Center exclusive dispensers to the Pez Collectors Store. The Pez Visitor Center Pal Boy is an exclusive pez release produced for sale at the Pez Visitor Center in Orange CT. This pez pal boy is a dispenser which looks like the very large Pez Pal Boy in the entrance of the Visitor Center and it comes in a special official exclusive box and six rolls of assorted fruit pez candy packs!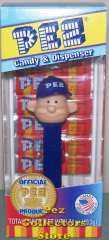 The Pez Visitor Center in Orange, CT offers three different blank dispensers with stickers so you can decorate your own dispenser any way you want. These exclusive Pez Visitor Center dispensers are available only through the Visitor Center or from the Pez Collectors Store – they are not available in general retail outlets.  First is a blank Pez Ball with stickers on the insert which include a variety of facial features so you can make a face of your choosing! The ball pez dispenser comes mint in bag with pez candy and stickers!
Next is a blank Pez Hockey Puck with stickers.There are two blank circular stickers that you can draw on or print on to make your own image or logo, a Pez Visitor Center logo and three blue stars so you can decorate any way you want! The hockey puck pez dispenser comes mint in bag with pez candy and stickers!
The third dispenser is a blank Pez Rigs Truck with a Pez Visitor Center logo sticker, two PEZ logos in the pez block font and two blank stickers so you can design your own! The truck pez dispenser comes mint in bag with pez candy and stickers! All three of these blank trucks are available now through the Pez Collectors Store!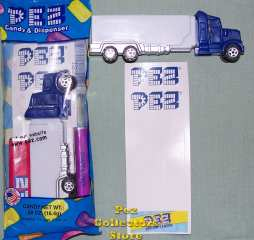 A visitor center exclusive set of the Caucasian Bride and Groom pez dispensers come mint on a special Pez Visitor Center exclusive card with a pez candy background! The bride is a brunette pez pal and is beautiful alongside her pez pal groom! This special packaging is available only at the Pez Visitor Center or here in the Pez Collectors Store.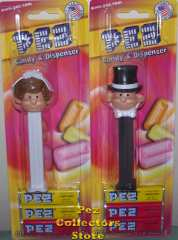 This Pez Visitor Center exclusive set of Pez Regular remake dispensers comes mint on the official Visitor Center cards and are available for purchase only at the Pez Visitor Center or through the Pez Collectors Store. This special card features the Pez Girl and has outstanding graphics! The 6 different colored regular pez include red, white, blue, yellow, purple and grey dispensers and each comes with 6 packages of pez candy, mint on the great visitor center exclusive cards.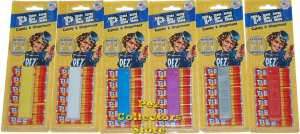 While at the visitor center, the factory was packaging Halloween pez dispensers which will include the new 2012 pumpkin! We were able to purchase just a few of these pre-release pumpkins, mint on card! This pumpkin pez dispenser is a completely new mold and looks really great!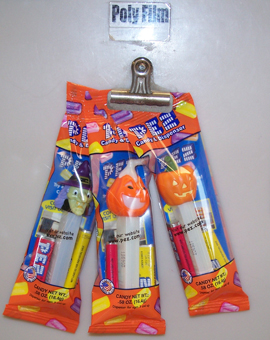 Catwoman is supposed to be added to the DC Comics assortment and is scheduled for release soon. These were also being packaged while we were at the visitor center and we have a few available on the Batman graphics card and available in bag as a pre-release.

The University of North Carolina with 2009 NCAA Champion printed on the stem has been very difficult for us to get in cases ordered from Pez, so we purchased a number of these while at the visitor center and they are now finally available in the Pez Collectors Store!

The 23rd Edition of the Original Collector's Price Guide to Pez by John LaSpina has just been released and has all the new dispensers, plus many old, vintage dispensers which have recently been discovered from Brazil along with updated pricing. As always, it includes checkboxes to help you track your collection and includes pricing information about other candy dispensers such as Yummy, Totems, Funny Face and TV Pals. It is available now!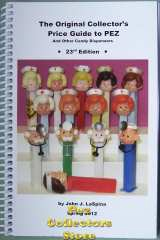 While at the NorthEast Pez Convention we were able to pick up some dispensers that we have not had in stock for a while. We added just a couple of the Elvis Mini Mint sets, a couple of Silver Whistle pez, some Droopy Dog and some Tykes and Spikes, and a variety of other older pez. We also have added some more of the Bandai Mini pez dispensers from Japan, so if there are items you are wanting but have not found, you may find them if you check again. We are working on getting all the pez we acquired listed in the website so more are being added daily! Have fun browsing through the Pez Collectors Store!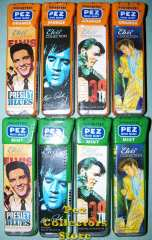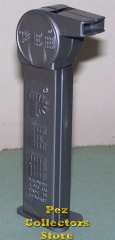 Pirate Pucks from the European Pirate bags have made their way across the ocean and the dispensers are now in stock in the Pez Collectors Store.
The European Sports bags now include a soccer ball or an American football in addition to the basketball, hockey puck and baseball. These all have the PEZ candy brick font logo on the balls. These will also now in stock in the Pez Collectors Store!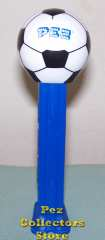 The Amazing Spiderman and Lizardman are shipping to us today, May 1, and we expect to receive our first order within a week! We saw several of these while taking the tour at the Pez Factory and they look even better in person than they do in the photos!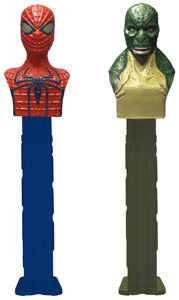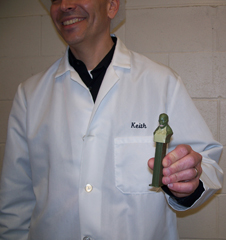 The next Pez release is scheduled for June 1 – Strawberry Shortcake and her friends Lemon Meringue and Orange Blossom. We now have images of the dispensers and they will just be the heads instead of bust up versions! They look very cute! Just another month until they are released!
If you missed the NorthEast Pez Convention, the 20th Annual National Pez Convention will be held in St. Louis June 14 – 16. While it may not include a tour of the Pez Factory, Shawn Peterson will be presenting a seminar and will surely have lots of insider information from Pez Candy. Shawn is a collector who wrote the Peterson's Collectors Guide to Pez and is now an employee at Pez Co. The Visitor Center is his brain child and seeing him speak is great opportunity if you can't make a trip to the Visitor Center! The St. Louis ANPC is always a lot of fun with games and activities, room hopping and the hotel filled with Pez Collectors having a great time! We hope to see you there!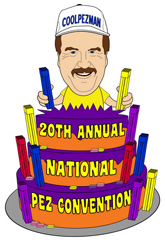 That's all the news for now!
Happy Pezzing!
Chris Jordan
www.pezcollectors.com