May 2010 Newsletter
May 2010 Pez Collectors Store Newsletter
There has been a lot happening in the world of Pez this month, including lots of exciting news from Pez Candy, new dispensers being released and news of new dispensers to be released in the future. The Pez Gathering and Convention scene is heating up as the weather warms and the deadline for discounted early registration to the 2010 Kansas City PezHead Gathering is today, April 28th! So, with lots to tell you about, we will get right to it, beginning with some new pez that have been added to the Pez Collectors Store.
We have received more of the new New York Yankees NY logo pez dispensers, so while they last, we have them in stock now. We also received the new Detroit Tigers with the mascot tiger coming through the D logo and these are in stock now, both mint on card and loose for those who would like to save on shipping costs.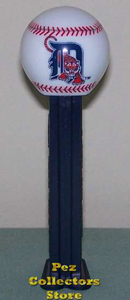 We also received a few of the New York Yankees 27th World Series Championship dispensers. We only received a dozen or so, and they have sold out in less than 24 hours, but we have another order placed and hope to receive more soon! It is interesting that for each of the new versions of previously released Major League Baseball Pez, while the logo on the dispenser has changed, the logo on the card remains the same. Check them all out in the Pez Collectors Store!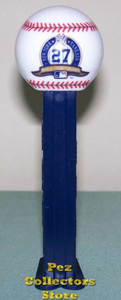 Five additional Major League Baseballs with revised logos will begin being added to shipments from Pez Co. in late July or early August, as inventory of current logos runs out. These revised logo teams include the Saint Louis Cardinals, Los Angeles Dodgers, San Francisco Giants, Philadelphia Phillies and New York Mets. Also, a new Kentucky Basketball is supposed to be released soon. Of course, the Pez Collectors Store will have these available just as soon as we can get them!
Another Promotional Pez has been released for Ace Hardward Stores. The Ace Hardware Stores are independently owned and operated, so it is up to the owners and managers if they will get these in stock. Some will and some won't, but we have them now! There are also Geico Gecko pez, Chuck E Cheese pez and a new Get Go Hauler with a red truck in the lineup, but we don't know for sure when or how these will be released. The Ace Hardware Promotional Pez Hauler is now available in the Pez Collectors Store!
There are still no signs Hamm, Slinky Dog and Jessie in our recent shipments of Toy Story, but they should be coming out soon. We keep placing orders in hopes of getting them and will continue trying.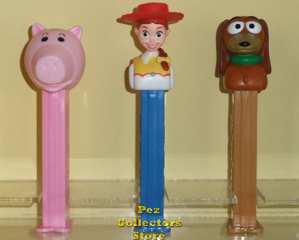 We also ordered more Disney Princess in hopes of finding Tiana included, but sadly, none were included though we have seen an actual image of what she will look like. Please know that the Pez Collectors Store is trying hard to get all the newest releases as soon as possible.

Coming in June are new Hello Kitty Pez. First are the Hello Kitty Plush Pez. The set of three plush Hello Kitty Pez feature Hello Kitty with a pink body and pink bow, Hello Kitty with a blue body and a red bow (though we have also seen images from Europe showing the blue body Hello Kitty Plush with a  hibiscus flower) and My Melody. Each of these plush pez come with a clip-on keyring! They look really cute! These are scheduled for release in June and will be in stock in the Pez Collectors Store just as soon as the order is shipped to us.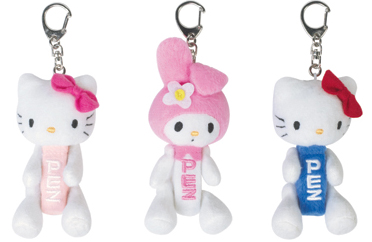 There is also a new Hello Kitty Gift Tin Lunchbox scheduled for release in June. This gift tin has crystal Hello Kitty with Red bow, Crystal My Melody, Crystal Kitty with flower and a Crystal Full Body Hello Kitty. The Lunchbox tin has a somewhat smaller viewing window and a larger Hello Kitty image, making it look very different than the original Lunchbox tin. Again, our order is in and we should receive these sometime in June as soon as they are shipped to us from Pez.
So far, it appears that only two of the Full Body Hello Kitty are being released in the USA. The Hello Kitty holding a heart and the Hello Kitty in red shirt with red bow have been spotted, but we have the entire set of Full Body Hello Kitty from Europe with the open eye, smiling the and winking Usahana pez. These are available now in the Pez Collectors Store.
We try to keep an eye out for all news related to Pez and happened across an article from the San Mateo County Times stating "A judge has dismissed a lawsuit filed against the Burlingame Pez Museum by the makers of the iconic candy dispensers. The case was dropped after the sparring parties agreed to a settlement. One point of contention was a 7-foot 10-inch dispenser. It was certified by Guinness World Records as the world's largest dispenser in 2007. Pez Candy Inc. claimed in the suit that it did not authorize the giant replica and demanded its destruction." We don't know what the terms of the settlement were, but we sincerely hope that Frosty and everyone will live happily ever after. I just love fairytale endings!
In further news, the April 2010 Candy Industry Magazine the cover page article features an interview with Joe Vittoria, the President and CEO of Pez Candy, Inc. The article gave some great insight into releases scheduled for 2010 and mentions new NASCAR Pez being released. We told you about the Joey Logano Home Depot NASCAR Helmet Pez last month and have now discovered that a Phoenix Racetrack NASCAR Helmet and a Chicagoland Racetrack NASCAR Helmet Pez have just been released. We will get these in stock just as soon as possible!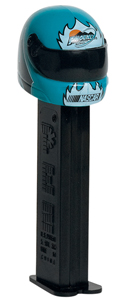 The Candy Industry Magazine article also lists some pez on schedule for 2011 including "a host of tie-ins with Winnie the Pooh, Thomas & Friends, Superman, Captain America, Rapunzel, Phineas and Ferb, and a special Lord of the Rings collector's set." We are really, really excited about the Lord of the Rings gift set – it should be outstanding! In addition, Pez Co seems to be getting close to releasing the new gum product. At the 2009 Kansas City PezHead Gathering last year, Shawn Peterson donated a preproduction Christmas Bear Pez which he had received at the All Candy Expo the week before. My youngest son, Kyle had the highest bid in the charity auction on this item and he discovered it had not candy, but gum inside. Now, a year later, it sounds like this product is close to being ready for release and Kyle would testify that it was "pretty good" a year ago!
The article also discusses plans for Pez Candy, Inc. to open a visitor center. "This year, the company looks to open up a Visitor's Center, one that will feature a historical display, an adjacent viewing area next to the factory production area and possibly a theatre. "When it opens, we're hoping to attract between 75,000 and 100,000 visitors annually," Vittoria says."  Gee, I wonder who might be the perfect person to have a hand in running that? Totally cool! The entire article can be read here.
The pez.com website is now back up and running and it is fantastic! I think I see the hand and work of Shawn Peterson in the new site, though I cannot say for sure who is responsible. The new site is loaded with information including the History of Pez and timeline, dispenser archives by year that show pictures of various dispensers released at different times and a special Collectors Corner section where we are thrilled to have top billing under Conventions and Gatherings (we assume this is strictly because the next gathering coming up is the 2010 Kansas City PezHead Gathering).
The 2010 Kansas City PezHead gathering is just a month away – May 28 and 29th! The deadline for discounted early registration for the 2010 Kansas City PezHead Gathering is today, April 28th at 5:00 pm CDT. Hurry and get your registration made at www.kcpezgathering.com. Prices increase by $10.00 after that. The deadline to register for the Gathering with the Works Registration is May 12 at 5:00 pm cdt. After that, only Economy Registrations will be available. Lots of people have already registered so come and share a World of Fun with us! Our room block at the Holiday Inn completely filled, but they were good enough to add extra rooms at the same discounted rate through May 7, 2010. Be sure to check out the Crohn's and Colitis Foundation of America Charity Pin as well. It is not included in the gathering packet and only 50 were produced.
We currently have an auction running on eBay for a very limited edition special Thank You pin for the 2010 KC PezHead Gathering. Only 15 of these pins were produced. This auction #400117105161 ends tomorrow, April 29.
Extra goodies such as pins, shot glasses, T-shirts and candy packs are also available through the website. If we have any extra Gathering dispensers, pins or other goodies left after the gathering, they will be listed in the Pez Collectors Store.
Whew – there was a lot of news to share this time, but before closing, we want to mention the Annual National Pez Convention which will be held in St. Louis, MO June 17 – 19. If you can't make it to the KC PezHead Gathering and want a great opportunity to spend some time with other pez collectors, the St. Louis ANPC is the next opportunity! If we don't see you in KC, we'll meet you in St. Louis! Check it out at www.pezconvention.com!
That's all for this month!
Happy Pezzing,
Chris Jordan
www.pezcollectors.com
www.kcpezgathering.com