May 2009 Newsletter
The Pez Collectors Store has added quite a few new pez since our last newsletter. Some of the anticipated new releases have now arrived and are available for sale. We have new European only releases, new USA releases and have added some new, very limited pez to our inventory as well as a new Collector's Price Guide. The convention season is about to kick off and registrations have been coming in for the 2nd Annual Kansas City PezHead Gathering which will take place May 23rd – just a few short weeks from now.
So, what is new in the world of Pez? Ice Age 3 Dawn of the Dinosaurs has been released in the USA and we have the full set which includes Dino Momma and the Squirrel with Nut. We were rather surprised to see the Scrat from the Ice Age 2 release still included, and Diego and Sid are on the same stems as in the previous release. Our initial shipment included very, very few of the Squirrel with Nut, but we still have a few left in complete sets and have placed an order for more which we hope will include more Nutty Squirrels!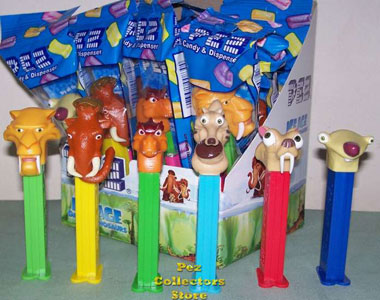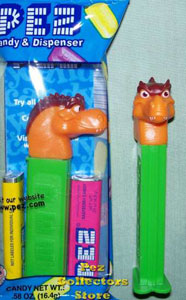 The Disney Clubhouse set is finally completely updated with the addition of a revised Pluto and revised Daisy. Now all of the characters in the Disney Clubhouse set are available from the Pez Collectors Store and we are not seeing any of the Disney Classics in the assortments any longer. We have shown side by side comparisons for the new clubhouse characters (on the left) and the old classics (on the right).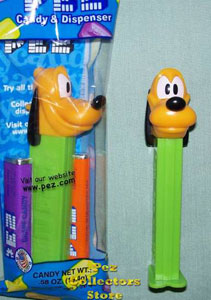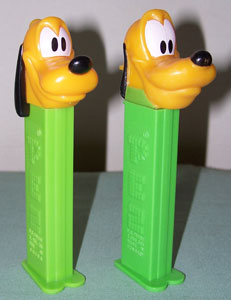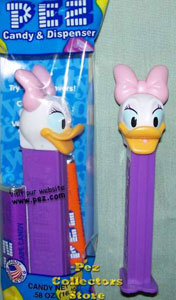 The Yankees Stadium commemorative dispenser and the Phillies Major League Baseball pez arrived in early April and are available in the Pez Collectors Store.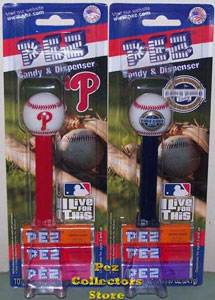 The newest Pez Price Guide – LaSpina's 2009 Original Collector's Guide to Pez (and other candy dispensers) is now available. This spiral bound book includes the different prices for different color combinations or variations of all the different dispensers and is a great resource with the most up to date pricing information. Also available is the Warman's Companion Pez book by Shawn Peterson. This is also an excellent resource as it has photos to help identify different dispensers and different versions. It also includes pricing information for dispensers. This pair of books should be found in every collector's glove box!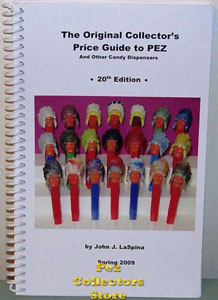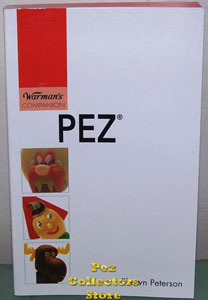 We have received several new releases from Europe that are not scheduled for release in the USA. Winnie the Pooh and Tigger Sleuth Pez are now available.
We also added the new European Hello Kitty Pez set which includes two different Hello Kitty with Hawaiian flower or Hibiscus flowers, and two Hello Kitty with crystal bows. These are really cute with their pretty pastel color stems!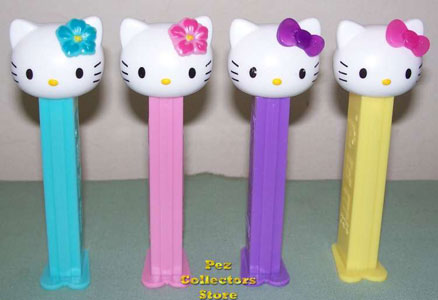 Also from Europe are a few very limited dispensers. We now have available the Gold and the Silver mono colored whistles from Austria. There were only 300 of each made and we have extremely limited inventory for these – hurry or they will likely be sold out!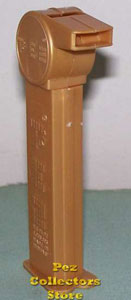 We have a few of the very limited dark blue crystal test pumpkins which were never released for retail sales. There are 4 different colored faces – white eyes, reddish orange eyes, orange eyes and green eyes. Several of these come on no feet test stems which have never been used on any other dispenser. We were told that these stems were originally made in anticipation of the production of the Planet Series – the first and only dispenser in this series was the Earth. We have very few of these test pumpkin heads on test stems, so don't delay if you would like to add them to your collection.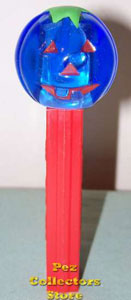 The 2007 Linz Crystal Hearts are also very limited dispensers, only 300 of each produced. These were given out in the registration packets for the 2007 Linz Austria Gathering.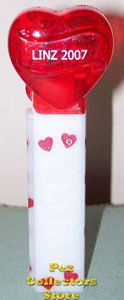 As you can probably see, we have added a lot of new items to the Pez Collectors Store over this past month. Actually, we have added more pez that aren't even shown here in the newsletter – two tone Pumpkin A pez, a few other vintage pez pieces, colored crystal Bugz sets, etc.
You can always click on our New Products link to see what items have recently been added to the Pez Collectors Store. You can browse through the different categories to see items which we once had in stock, ran out of, and now acquired more of which are now back in stock. These items will not show in the most recent New Products list, but you can always use the search box to see if we have a particular dispenser you're looking for.
Some customers would like to know the minute we add new items and we have now joined Twitter as "PezCollectors" so that we can send you a tweet as soon as we add new items or get in new releases. You can follow us at http://twitter.com/pezcollectors and receive notices of what's new in the Pez Collectors Store in 140 characters or less. We won't inundate you with our every thought – we just tweet new items you may be wanting! For a quick link to follow our tweets, click the Twitter icon on the top of our homepage.
We are getting very excited about the May 23, 2009 Kansas City PezHead Gathering. May 9 is the deadline for us to receive registrations for those attending with a complete gathering packet or to order an absentee packet. Please get your order or registration in soon so that we can assure you will receive the complete packet and the T-shirt in the size you want. After May 9, the complete gathering packet will not be available as shirt orders will have already been placed. You are still welcome to attend, but will need to select the Economy Registration which does not include any of the souvenir goodies, but does include all the activities, lunch and the tour of the Toy and Miniature Museum. Crohn's and Colitis Foundation Charity Pins (which are not included in the gathering packet) can still be ordered separately, as can the two different regular gathering pins, until we sell out. All absentee orders will be shipped on May 26, just after the gathering! We can't wait to see you in Kansas City on May 23!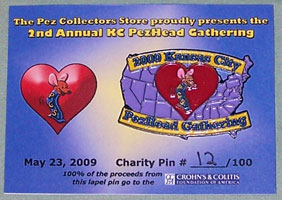 That is all the news we have for you this month. We are sad to report that there are no sneak previews or new pez we can report on at this time, because there is nothing scheduled to be released in May or even in June according to the information we have received. Shawn Peterson, author of the Collectors Guide to Pez, will be giving a seminar at the KC PezHead Gathering. Since he will have just returned from the All Candy Expo where he will assist PEZ Co, I am sure he will provide us with whatever new information he can share at that time. If new items do come up, we will be sure to let you know with a quick tweet through Twitter, or in next month's newsletter!
Happy Pezzing!
Chris Jordan