May 2008 Newsletter
We were very surprised to find a completely unexpected release of the NASCAR Sprint Cup Series All Star Race car #76 pull and go car as well as the Helmet and the Helmet/Hauler gift sets.  These were unannounced as it seems they are an exclusive.  They do look good!
Chocolate Pez Candy has been added to the Pez Collectors Store.  The packaging looks great for the 8 rolls of candy on cards. The jury is still out on this new flavor – you will just have to try it yourself and decide.
Pez has announced the release of a new collegiate basketball.  The University of North Carolina will have a limited basketball scheduled for release on September 1, 2008.  We will have these in stock as soon as they are available.
The next series of Major League Baseballs will begin shipping on May 5 instead of the originally announced ship date of June 1.  The Cleveland Indians, New York Mets, Detroit Tigers and St. Louis Cardinals will be arriving soon in the Pez Collectors Store!
Pirates of the Caribbean and Winnie the Pooh with Buster and Darby are scheduled for release June 1, so we will be anxiously awaiting those as well.
There is a rumor of a very limited Nebraska Football scheduled to be released at only one candy store in Nebraska on July 9. This is all of the information we have about this item at this time, but if there is a way to get some for sale in the Pez Collectors Store, we will try to get them and make them available to our customers.
The mini Easter bunny pez with different colored ears are on their way from Austria and should be arriving any day now.  We will also be getting a few more Gary pez from Sponge Bob and the Swedish Soccer Balls, along with quite a few older European only releases such as Looney Tunes Back in Action, unmasked Incredibles characters, and Mickey Mouse 80th Anniversary in Tubes with European Candies.
We have been very busy getting ready for the Kansas City PezHead Gathering May 24.  The T-Shirt design and pin designs look fabulous and registrations are coming in.  It looks like attendance will be great! There is no cost to attend, but we do need to know that you are coming, so if you have not yet registered to attend, it is not too late, but please do so soon. 
If you would like to order either of the pins or the Charity pin or a registration packet which will include the T-Shirt, a very special KC PezHeads Gathering dispenser, candy packs, they are available online at the Pez Collectors Store.  If you can't attend, we do offer absentee packets and we can ship your order after the Gathering.  We must receive the orders for gathering packets postmarked by May 10 or online no later than May 20 to assure that you will receive a T-Shirt.  After that time, we will not be able to sell Registration Packets with T-Shirts and the other items will be sold only if some are still available after the gathering.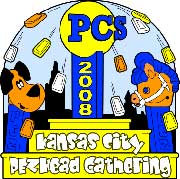 KC Gathering Pin #1    KC Gathering Pin #2   KC Gathering Charity Pin
We owe a debt of gratitude to several of the convention host for their assistance in helping us with the Kansas City PezHead Gathering.  Richie Belyski, host of the North East Pez Convention and Myrtle Beach Pez in the Sun convention, Dana and Juli Kraft, hosts of the MNPezCon, and CoolPezMan John Devlin and his wife Marian, hosts of the National Pez Convention in St. Louis have been invaluable in their assistance!  Thanks for all the help – it is truly appreciated!
Many generous PezHeads have donated items for our Charity Auction which will take place during dinner at Gates BarBQ.  RhinoPez Dale Pike has donated some charity only pins, PEZscrapper (aka Mrs. D or Cinders) has donated some awesome altered Skull Pez and PlayBoy Bunnies, John Devlin has donated some wonderful surprises from the National Pez Convention including some never before seen pins, Silvia Biermayr is sending some special treats and we are hoping for a few special donations from Pez Company themselves!  The Charity Auction will raise money for the Crohn's and Colitis Foundation and we are really hoping it will be a tremendous success!
It is so much fun to get together with our customers and we hope to see you at the Kansas City PezHead Gathering.  If you can't make it to KC, we will be attending multiple conventions over summer.  For information about the different conventions, be sure to checkout our links page under Pez Conventions in the Pez Collectors Store! The next convention is the National Pez Convention in St. Louis, June 19 – 21st.  Information for the 16th Annual National Pez Convention can be found at www.pezconvention.com and we hope to see you there.  From what I have heard, the hotel is filling up quickly, so make reservations soon to attend.  We really enjoy this convention for many reasons.  John Devlin and his wife and staff have been hosting conventions longer than anyone so they know how to do things right! Our hosts have a few new things in store for us at this year's convention and we are really excited about it. Our room will be open for room hopping on June 19 (as early as we can get in and get set-up) and we will have multiple dealer tables at the convention show on Saturday.  Meet Me in St. Louis and it will be a blast!
That is all the news we have for now!
Happy Pezzing!
Chris Jordan